The Ultimate Guide to Visit the Abruzzo/Abruzzi Region in Italy
Whether this is your first time hearing Abruzzo or you've visited the Abruzzi region before, in this guide you'll find lots of useful information and local insights to discover this destination and help you make your visit to Abruzzo memorable, remarkable & stress-free.
With less crowds, Abruzzo offers ample recreational activities along with a regional culture deeply rooted in gastronomy, literature, and music, and ancient architecture. You'll end up wondering why you never thought to visit here before!
Above all, here we find the land of mountains, national parks, seascapes, hidden natural gems, enchanting villages, and overall breathtaking views, and not to mention it gifts some of the highest-quality wines and agricultural produce. Thanks to its unique geographical location, the vast and scenic landscapes of Abruzzi will never fail to captivate anyone who visits. Whatever your preference, there is something for everyone!
Short Video Presentation of Abruzzo
Map of Abruzzi italy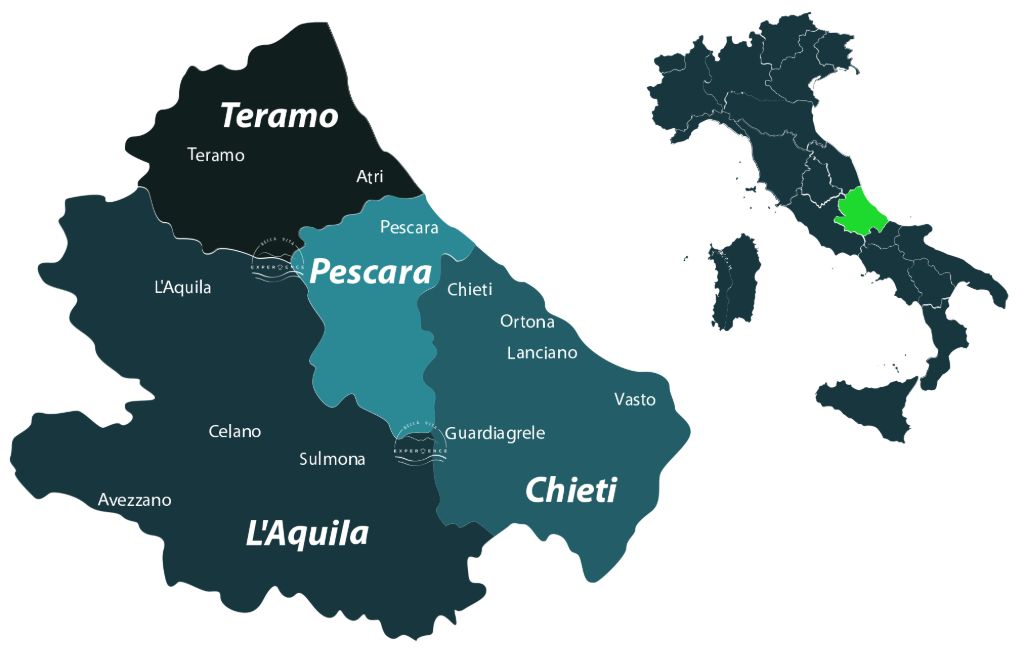 The Abruzzo region is bordered by the Marche region to the north, Lazio to the west and southwest, Molise to the southeast, and the Adriatic sea to the east. The region spans an area of 10,795 square kilometers, within a third of these lands there are three national parks, nature reserves and protected areas. Furthermore, it is home to the highest mountains of the Apennines, such as the Gran Sasso, along with the southernmost glacier in Europe and a vast 130 km stretch of beaches.
Abruzzo Population
Abruzzo hosts a population of approximately 1,322,247 residents.
Abruzzo's Cities
Abruzzo is divided into 4 provinces, which are also the cities: Teramo, L'Aquila, Pescara and Chieti.
Within our 4 provinces there are 305 Municipalities:
104 in the province of Chieti;
108 in the province of Aquila;
46 in the province of Pescara;
47 in the province of Teramo.
Abruzzo or Abruzzi? Abruzzy or Abruzzos? Which is the right name?
Let's get this straight…What is the difference between Abruzzo and Abruzzi? Wonder why so many names? Us too! So we did a little digging in this blog post.
We found that the right word is, Abruzzo. In fact, the word Abruzzi was used until 1963 when Molise and Abruzzo were united under the same region, thus called 'Abruzzi.' If you would like to read the history and research, please read the blog post about Abruzzo's Names and History
Abruzzesi, Abruzzo's Strong and Gentle people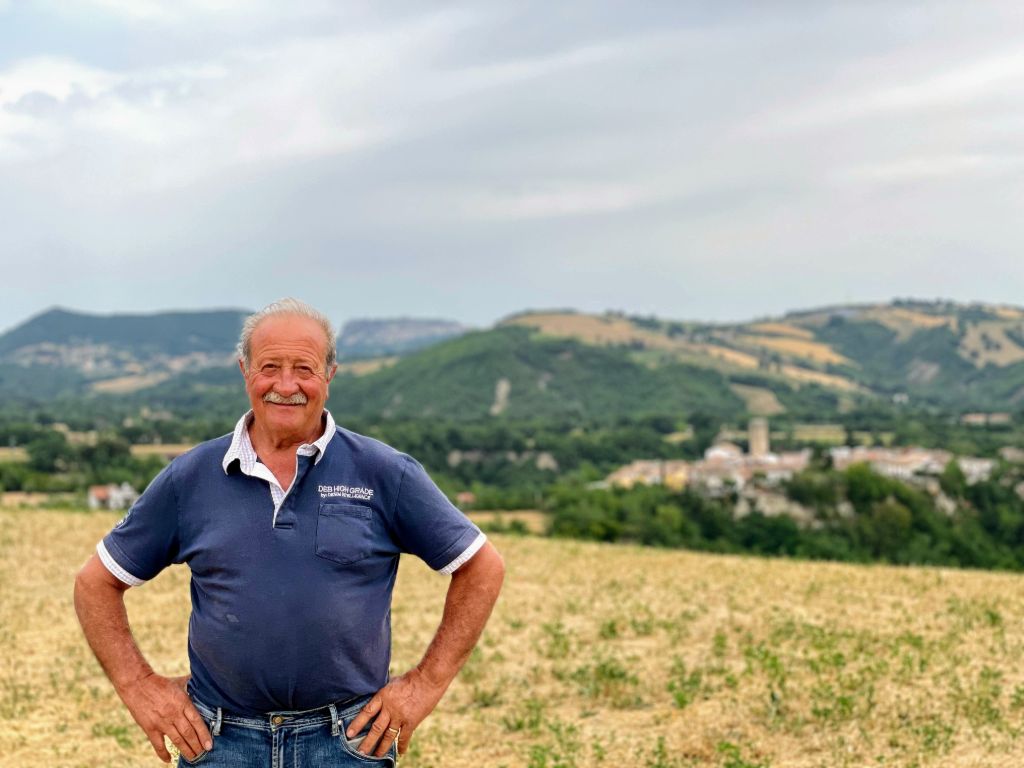 Abruzzese people or better pronounced in Italian Abruzzesi, are the people from Abruzzo.  It was Primo Levi, an important writer and journalist that in 1883, published his book ' Abruzzo Forte e Gentile' and used for the first time the words "strong and gentle". He was trying to describe the Abruzzese soul, where strength and kindness are manifested in the locals and in the surrounding environment. Since then Abruzzo and its people are often referred as 'forte e gentile' strong and gentle.
Abruzzese the local language: Things You Need to Know
The Abruzzese dialect in fact is a language, or we would better say many languages. From north to south Abruzzo, from town to town you will not only notice different accents but also different words, as a result different dialects. We're not going to go deep into the differences and the history, but know, and trust me! – from village to town you will find different languages. The base can be attached to the same dialect 'Abruzzese' but there are many variations.
Don't be surprised if you speak Italian and can't understand some of the locals. You can ask any foreigner living here and they will tell you the hard time they have understanding locals. Mostly older people speak dialect, but don't be surprised if even young kids speak the local language. You have to know that Abruzzese is spoken widely across the region especially in small towns where traditions are still strong and dialect is the easiest and best way to understand each other. Lastly, in Abruzzo a very few people speak english!
L'Aquila definitely worth a Visit! Abruzzo's Capital City
L'Aquila literally translates to 'The Eagle.' and is the capital city 'capoluogo' of Abruzzo and the province of L'Aquila (isn't correct to write Aquila or l Aquila). Laid out within medieval walls, it sits between four mountain peaks above 2,000 metres (6,600 ft) resting upon a hillside in the centre of a narrow valley surrounded by the Apennine Range, with the Gran Sasso d'Italia to the north-east. Besides, in L'Aquila you'll find a city of history and heritage complete with cultural institutions such as a fine-arts academy, a symphony orchestra, a film institute, a repertory theatre, and a state conservatory. Lined with Renaissance, Baroque buildings and churches, L'Aquila is a fascinating maze of narrow streets all of which open onto elegant piazzas. Of its cool climate, L'Aquila is said to enjoy 11 cold months and one cool one!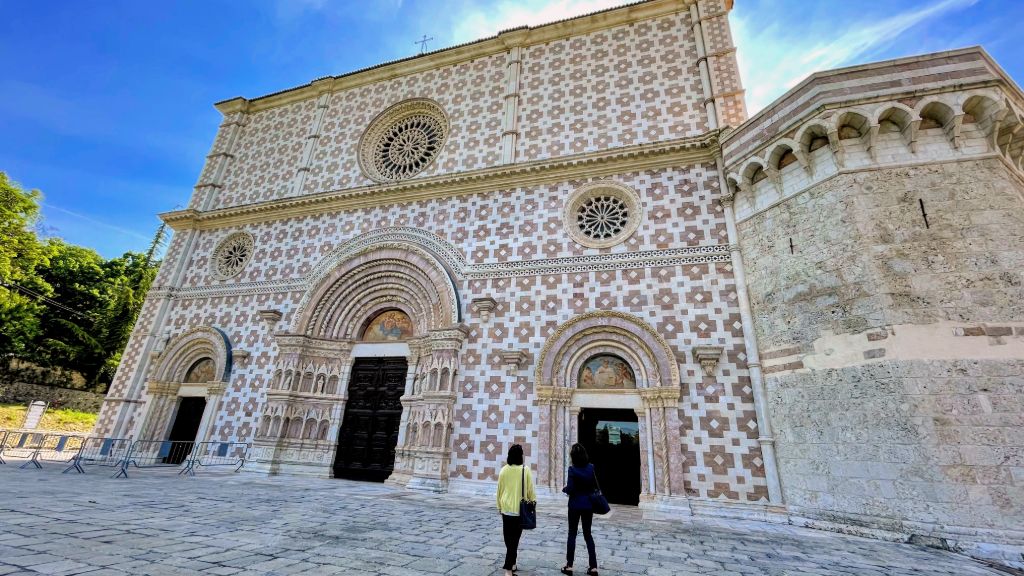 In fact, the mountains shelter the city from warm and humid Mediterranean air currents, therefore we find a climate with cooler temperatures compared to other parts of central Italy. A great option in summer if you want to cool down and escape the heat of a typical Italian summer especially from the coast, or even sweltering Italian cities like Rome or Florence!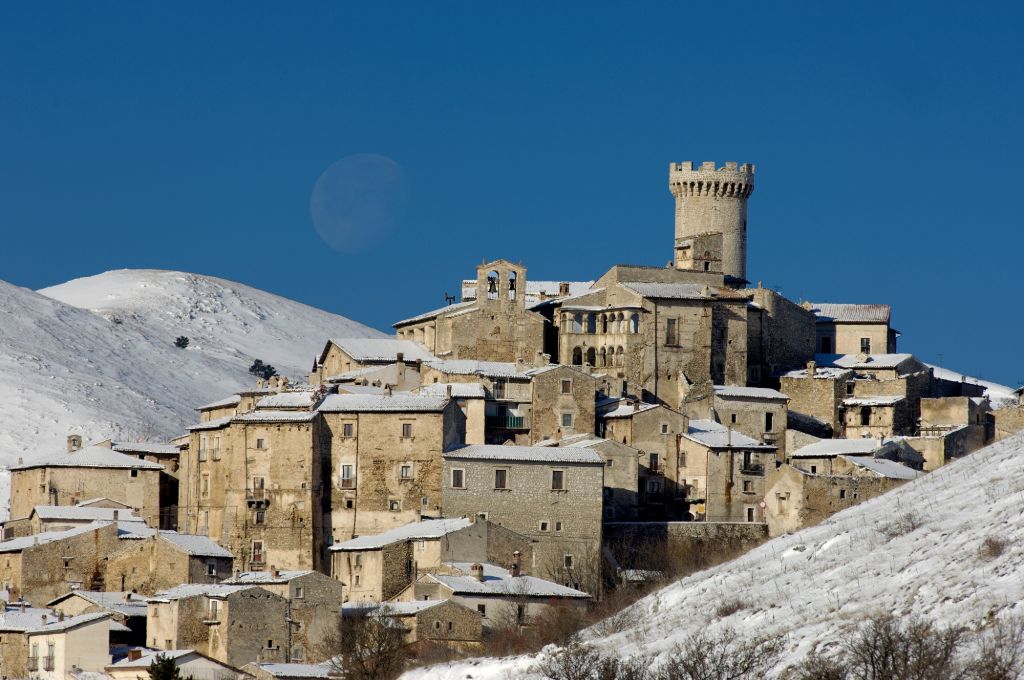 Finally, speaking of cool, Abruzzo is also a favourable destination for winter sport enthusiasts! The province of L'Aquila is home to several popular ski resorts at Campo Imperatore, Ovindoli, Pescasseroli, Roccaraso, and Scanno. And in case you're wondering, L'Aquila is approximately 100 kilometres (62 mi) east-northeast of Rome, connected by a highway or 'autostrada' through the mountains. It's quite a scenic drive!
Abruzzo 101: Lessons in Culture, History & Regional Traditions
Whether you are looking for gastronomic scenes, good wine, history and art, magical natural places, Abruzzo is a top choice!
A land of authenticity, with a welcoming nature and hospitable 365 days a year. The Abruzzese will make you feel at home by sharing their traditions, habits, awakening your sense of 'slow life' and even 'dolce far niente' the sweetness of doing nothing!
truffle festival abruzzo italy
How about taking in a town celebration or festival? 'Sagre' and 'feste' take place all-year-round across the region and offer a glimpse into local traditions, music and authentic cuisine. There are even activities for children, as well. Have a look at month by month events in Abruzzo.
Guide to the Best Stays in the Region

Whether you're looking for an Abruzzo hotel, B&B, apartment rental or country house, near the mountains or by the seaside, there are plenty of options to find accommodation in Abruzzo to suit all budgets and to suit your style of travel. If you're looking to try something a little different, the agriturismo is a popular option. We've initially listed some of the best Hotels, B&Bs, agriturismi, farm houses and luxury stays in the region, but later we found out we couldn't list everyone and make everyone happy. Thus, we've decided to remove the list (sorry). If you've travelled to other parts of Italy and the world you will know how to look for a proper accommodation. Most of the b&b and agriturismi are usually in the countryside, so you will need a car for everything, on the other side you will enjoy a relaxing, quite and relaxing holiday.
Abruzzo's Most Beautiful Towns: The 'Borghi più belli d'Italia'
Abruzzo is home to many of the best preserved medieval and Renaissance hilltop villages and towns in Italy, 24 have been nominated for the 'Borghi più belli d'Italia' which are the most beautiful towns in Italy .
Quite an honour! Here in Abruzzo's finest you can discover local history, art and traditions, admire its ancient medieval architecture and sample delicious cuisine and fine local products. Exploring these very special places is a truly unique experience! Towns like Campli, Civitella del Tronto, Santo Stefano di Sessanio are some of the medieval towns that boast stunning scenery and an authentic regional experience. Some of these towns even have castles! Rocca Calascio has a 10th century watchtower and it still remains the highest fort in Italy today.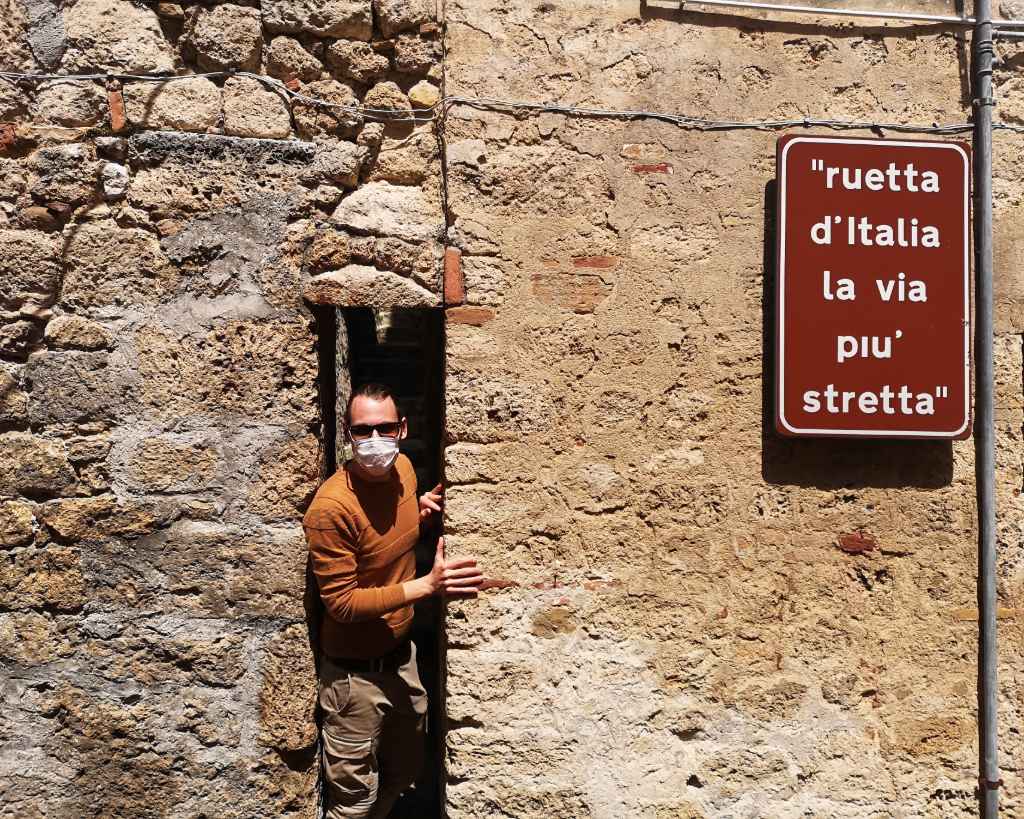 To discover all the most beautiful towns in Abruzzo, follow this link.
National Parks & BioDiversity in Abruzzo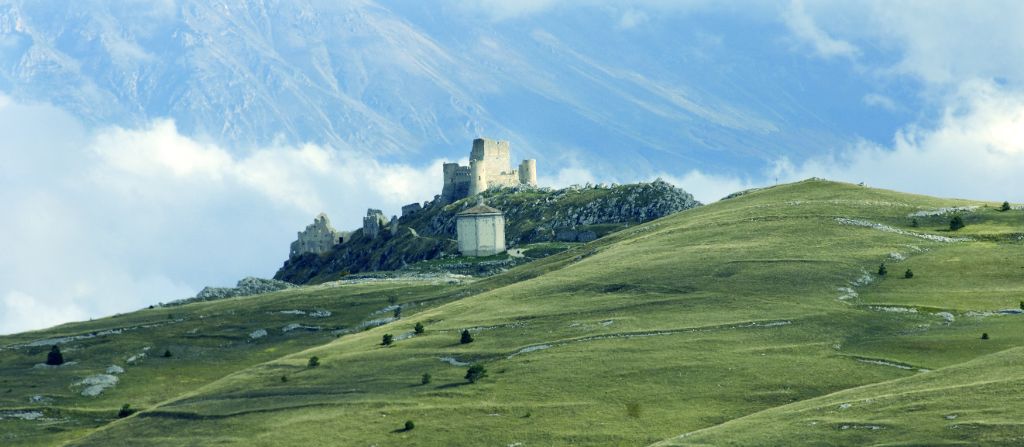 Bring your binoculars! Here in Abruzzo, a relatively small region, believe it or not it's called 'the greenest region in Europe.' Seriously! In fact, here you can find 75% of all European plants and animals. It's true! Almost half of the territory of the Abruzzo region is occupied by nature reserves, 3 National Parks, regional parks, and marine areas. In addition, in the National Parks of Abruzzo you can find rare endangered animals such as the Abruzzo Brown Bear, the Apenine wolf and more.
Abruzzo Beaches and the Adriatic Coast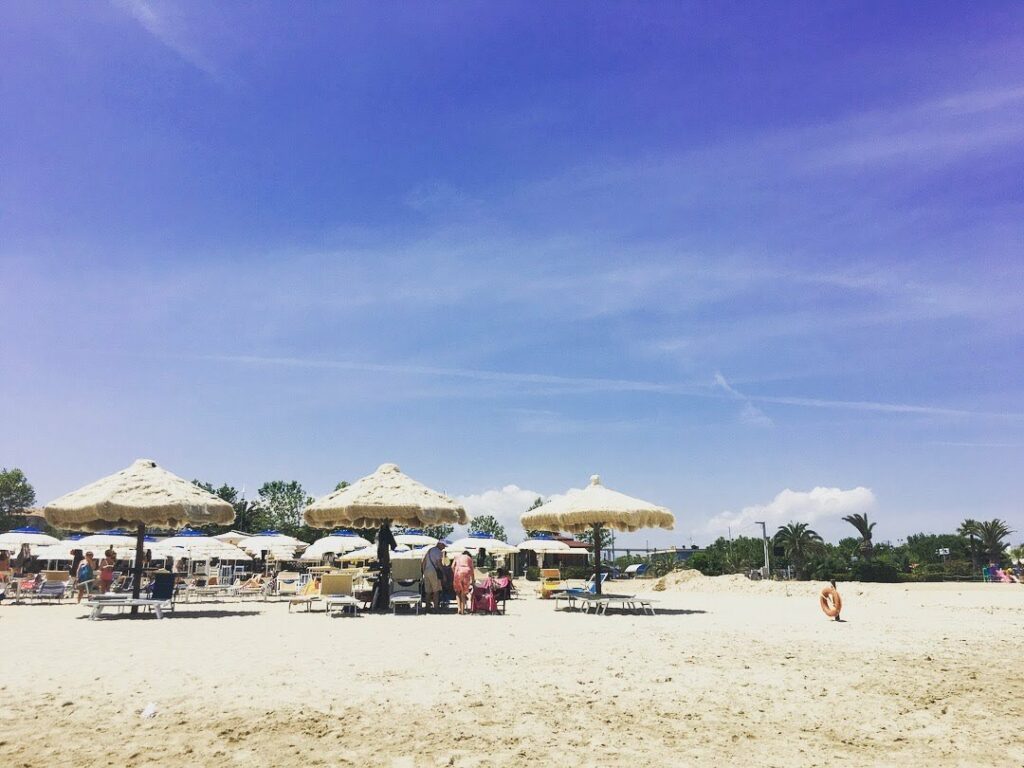 Please don't call it ocean, Italy has no oceans, call it sea. The Abruzzese Adriatic coast is characterized by long and sandy beaches to the north and pebbly beaches to the south, 130 km (8 miles) in total. It's perfect for catching some rays and spending sunny days lingering under the summer sun then cooling off with a fresh dip in the sea. Or what about marvelling over stunning sunsets, enjoying refreshing aperitivo or fine dining at beach-side establishments, or cycling along lengthy bike paths overlooking a beautiful seaside panorama.
North Coast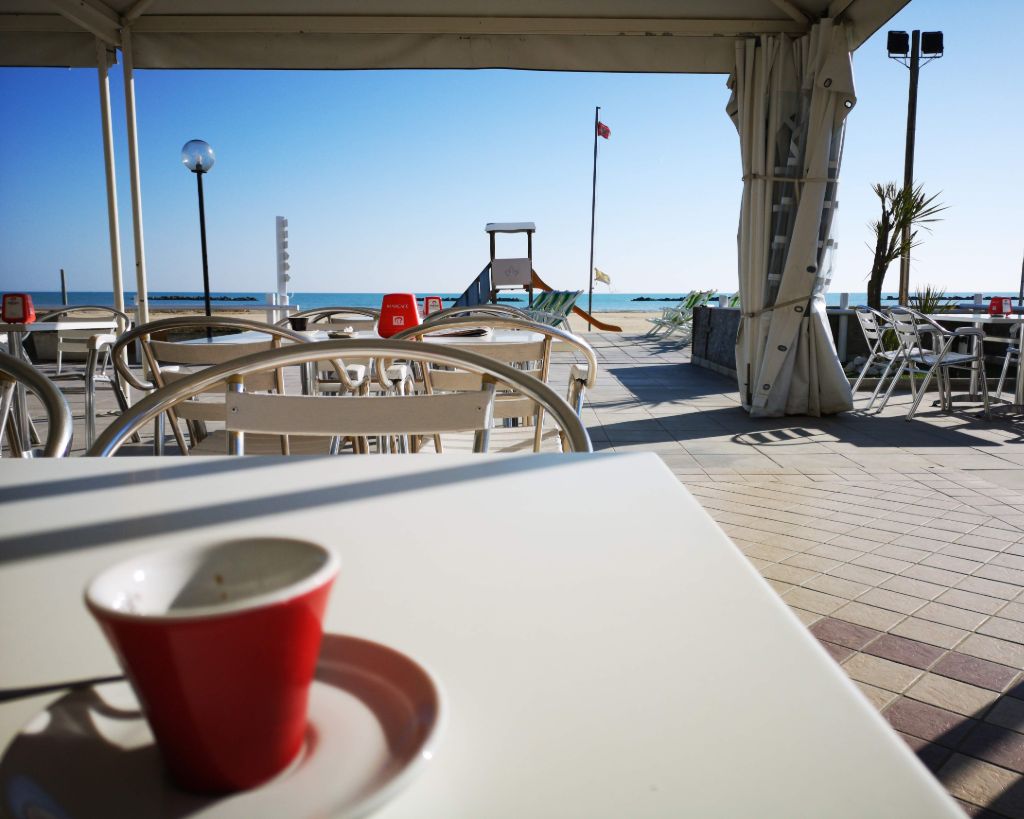 Much of Abruzzo's North Coast is characterised by long stretches of sandy beaches lined with beach clubs and their festive, colourful umbrellas, deckchairs and children friendly play areas, along with beachside restaurants serving daily-fresh seafood and refreshing drinks. In the picture above, I'm enjoying an espresso at a seafront bar in Roseto degli Abruzzi.
South Coast & the Trabocchi Coast
ortona wild beach italy
While the 70-kilometer stretch of beaches in the south coast from Ortona to San Salvo Marina is mainly peebles beach, mostly wild. This beach-side establishments in the picture above, is located in Ortona and is one of the few establishment you can find south.
Visit the Trabocchi Coast and its Ancient Fisherman Huts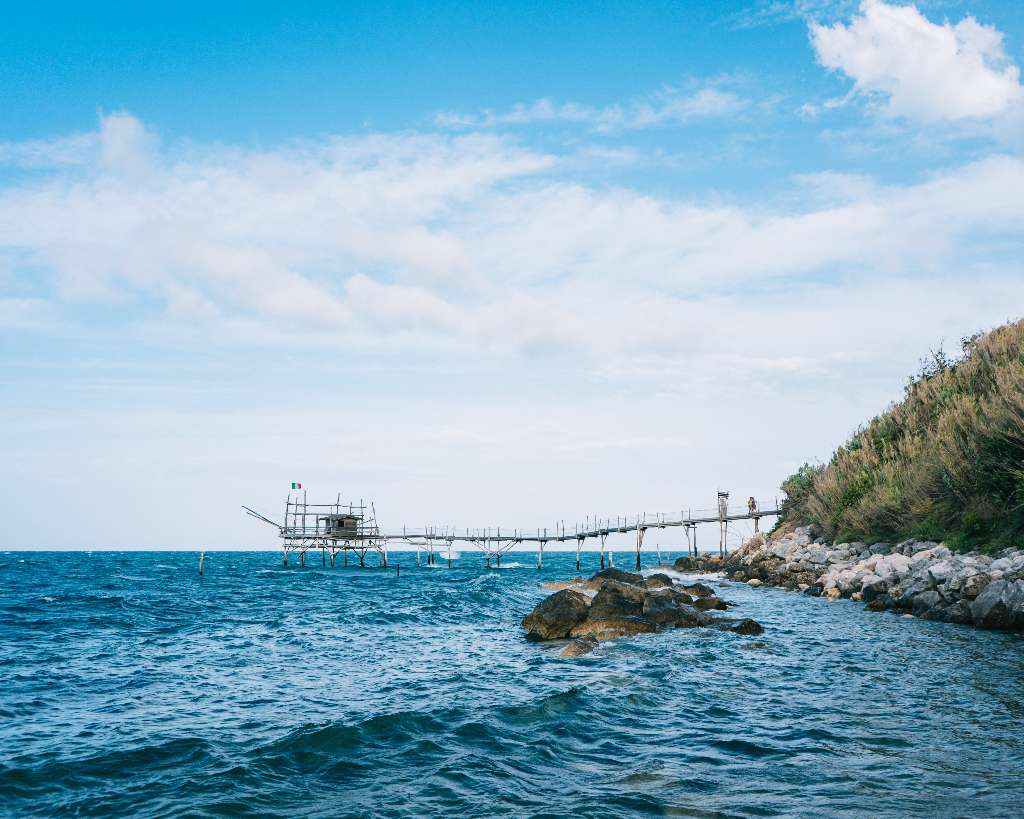 In the south, in the province of Chieti you can also find the historic and iconic Trabocchi Coast, with its Trabocchi, ancient wooden fisherman huts placed straight over the water on stilts. When you drive down the scenic beachfront route, you'll observe these odd trabocchi connected to the shoreline by small boardwalks.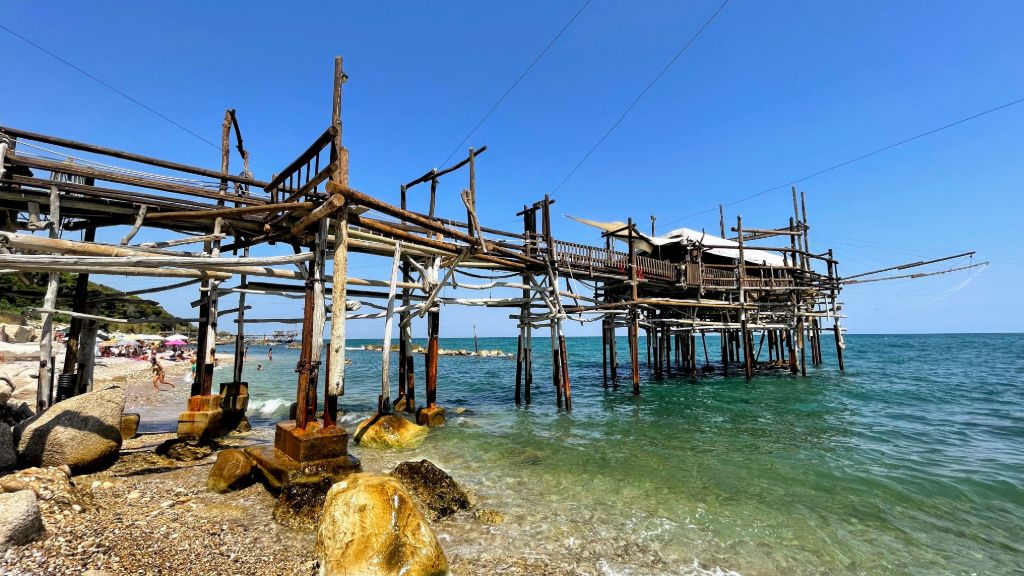 Many have long antennas that hold a huge net that stretches into the water, like this one in the picture above. If the trabocchi weren't intriguing enough on their own, several have been converted into seafood restaurants. Fancy eating above the sea, cuddled by the Adriatic breeze?
Hiking in Abruzzo
Nature lovers can also find a plethora of accessible routes (regardless of fitness levels) to discover springs, waterfalls, streams, some of the most remote hermitages in Italy and the many lakes such as Campotosto lake, Lake Sinizzo, San Domenico, Penne, Scanno or Bomba.
To find hiking, country walking, trail running, and cycling trails in Abruzzo here are some great online resources for trails and itineraries:
Adventure Parks, Rafting and Canoeing in Abruzzo
For adventure seekers, Abruzzo also has plenty of adventure parks with ziplines, canoeing, rafting, bungee jumping to get your heart pumping and here we've compiled a list for you. (link soon)
Cycling in Abruzzo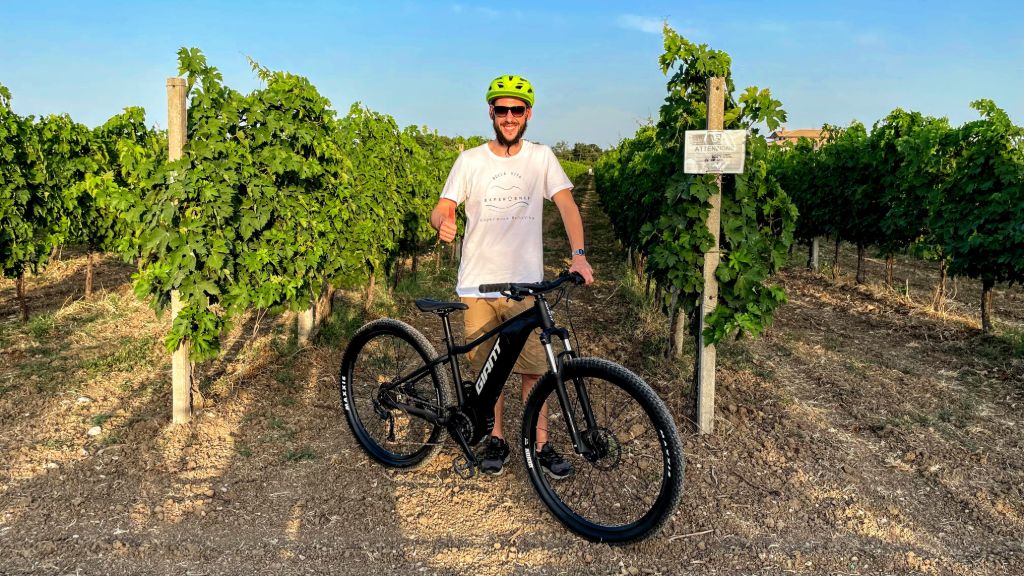 There are bicycle rental outlets around the main cities in Abruzzo, mostly open in summer. If you're spending some time in Pescara and want to zip around, there are bicycles and push scooters parked throughout the city which are available for rent via the Helbiz app. From other seaside locations, if you fancy cruising freely along the seaside bike paths with the wind in your hair, look for signs that read 'Noleggio Cicli' and grab yourself a rental! Don't forget to wear a helmet!
World-Class Wine is produced in Abruzzo
Italian wines are renowned for their great quality. Abruzzo is indeed one of the most interesting wine-growing regions in the world, and until recently it was a closely guarded secret. The climate and geography of the region play in favour of producing some of the best wines of Italy. In fact, If there is one thing the Region has always been known for (by a very few) is the Wine. Most of all, in the past 20 years the quality of wines in Abruzzo has increased exponentially and placed itself at the top list of wine connoisseur and aficionados.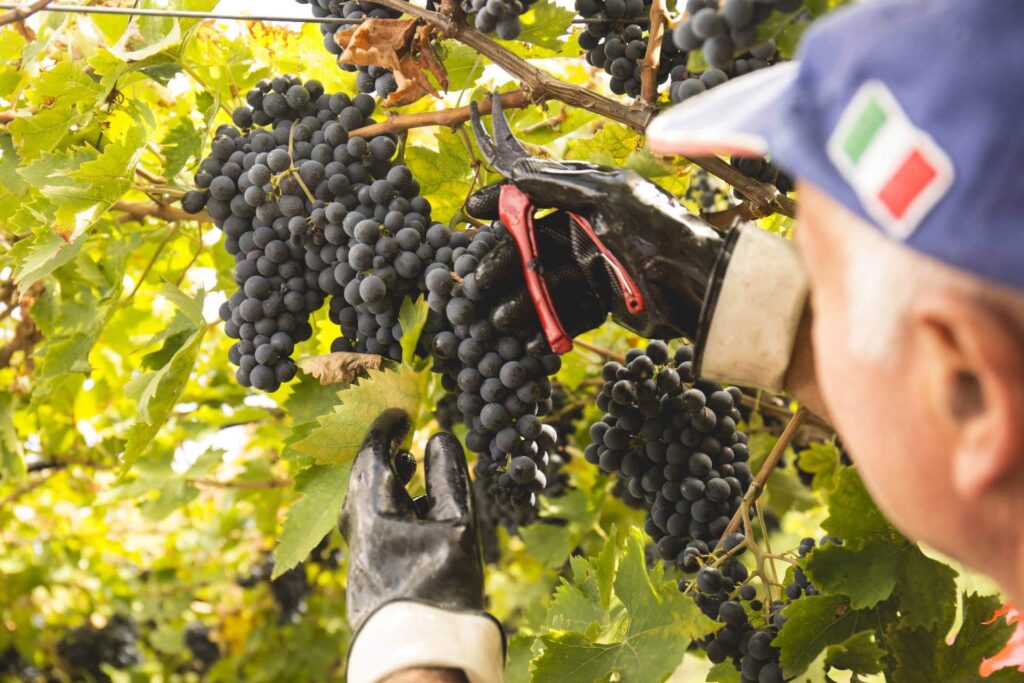 First of all, Abruzzo is mostly known for its king! The red Montepulciano d'Abruzzo, which is made from Montepulciano grapes, has received many wine awards in the past years. Please, don't confuse it with 'Vino Nobile di Montepulciano' from Tuscany, which is made from Sangiovese grapes.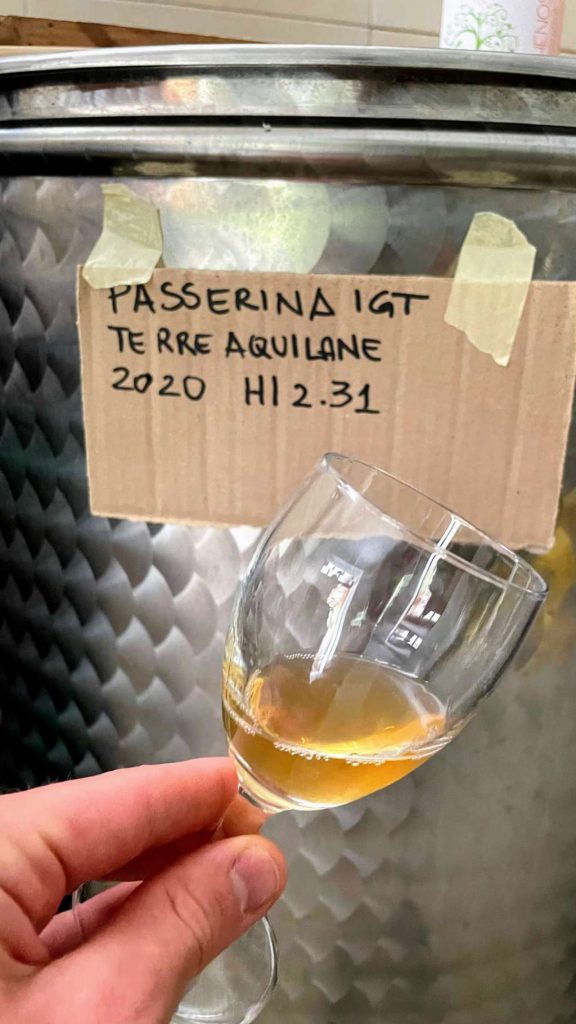 From the same Montepulciano d'Abruzzo grapes vinified in white (without or little skin maceration) we make one of the best rosè of Italy, the Cerasuolo d'Abruzzo (don't call it Rosè, call it Cerasuolo). For example, I invite you to see and taste some of our rose' versions which will look like red wines.
cerasuolo d'abruzzo wine
The other most consumed and important wine is the Trebbiano d'Abruzzo, our white made from Trebbiano d'Abruzzo grapes. You will find different expressions from the very old and aged bottle to the young and fresh vintage.
The other used grape varieties are the: Pecorino (not the cheese), Cococciola, Montonico (used mostly for sparkling wines), Passerina, Pergolone and Moscatello di Castiglione.
Wine Tours in Abruzzo
Wine tourism has increased too, you will mostly find small family-owned wineries which production is very limited and the only way to taste their wine is to go there.
Want to see what wineries we recommend? Have a look at our favourite wineries!
Abruzzo Offers Unique Traditional Food
I think you'll agree with me when I say that Italy is renowned across the globe for its delectable food. You all know Pizza from Naples, lasagna, tiramisu and many more. But these aren't the only dishes available in Italy. In each region, provinces of Italy you will find diverse and unique offerings of the best and most authentic dishes. To discover some of the least known food of Italy, you will have to travel deeply, off the tourists radar. For small crowds and a wide variety of tastes, landscapes and traditions, visit Abruzzo, one of the most interesting and gastronomic rich regions in Italy.
The geography diversity reflects the backdrop of Abruzzo's large culinary customs and long-standing unbroken tradition: it is here that seafood and mountain cuisine comes to life in Abruzzo food.
And the best part is, the use of a few ingredients, but of high quality and well cooked and you will fall in love with the genuine simplicity of the local cuisine. Chefs from Abruzzo, especially the Nonnas are specialists at transforming basic ingredients into delectable dishes.
You find the best truffles, saffron, extra virgin olive oil and Pecorino cheeses here. But that's not all, we recommend trying some of our favourite regional food like:
Spaghetti/Maccheroni alla chitarra: Abruzzo's favourite fresh pasta, thin squared spaghetti pasta.
Scrippelle Mbusse: abruzzos' crispelle/crepes in broth
Timballo: when you try it, you will never go back to Lasagna! You will fall in love with the abundant layers of crepes, fried artichokes and cheese.
Virtù: 3 days of preparation to make this tasty Minestra from Teramo's, only the 1st of May
Cheese & Egg Balls or 'Pallotte Cacio e Ove', fried cheese balls soaked in tomato sauce.
Porchetta: Abruzzo's juicy slow roasted pork. You can't miss the weekly panino with porchetta.
Arrosticini: the legendary grille mutton/sheep skewers that are considered the best street food in Abruzzo.
Confetti: delicious sugar coated almond from Sulmona used mainly for weddings in Italy.
cheese and egg balls
These are only some of our favourite food of Abruzzo, and if you fancy cooking, we've put together a series of Abruzzo's best traditional recipes, from our grandma's cookbook and they're right here! Try to make some of Nonna Amina's favourite recipes at home!
How to get to Abruzzo
Abruzzo conveniently has its own airport based in the vibrant seaside city of Pescara. The region is also easily accessible by car, train or bus from Rome, Ancona or Naples (the closest cities). We couldn't fit everything on this guide, so if you're looking at getting into Abruzzo, you can check this useful travel guide.
Transportation in Abruzzo – How to move in the Region
Moving with public transport isn't the easiest way! Buses run regularly only from/to the main cities and sometimes can be a horrible experience when you miss a bus either because it runs 15m late or before, or it doesn't even stop. It happens!
Anyways, the best way to check various transit routes is to download the app (if you can manage to download it) that can best help you navigate your way around and all of which include an ecommerce platform so as you can purchase any tickets you may need. We got this sorted for you and the Cicero app can help you plan and buy bus and train routes from point A to point B, nationwide. As mentioned, the app is brilliant (well not always) for helping you get around but take note that it's really important you check your public transit schedules ahead of time for return trips. Abruzzo transit does not generally run late into the night, to and from many locales.
Renting a car in Abruzzo
Car rental companies can be a convenient solution for exploring throughout Abruzzo. We advise that visitors stick to booking directly from well-known companies themselves and their respective websites, instead of big second-party sub-contractors that give you the impression you're fully covered when you book online (sorry, bad experience!). Know exactly what insurance you need so you'll find no surprises in the way of compulsory 'additional insurance' and extra costs when you try and pick up your car.
Private Transfer in Abruzzo and beyond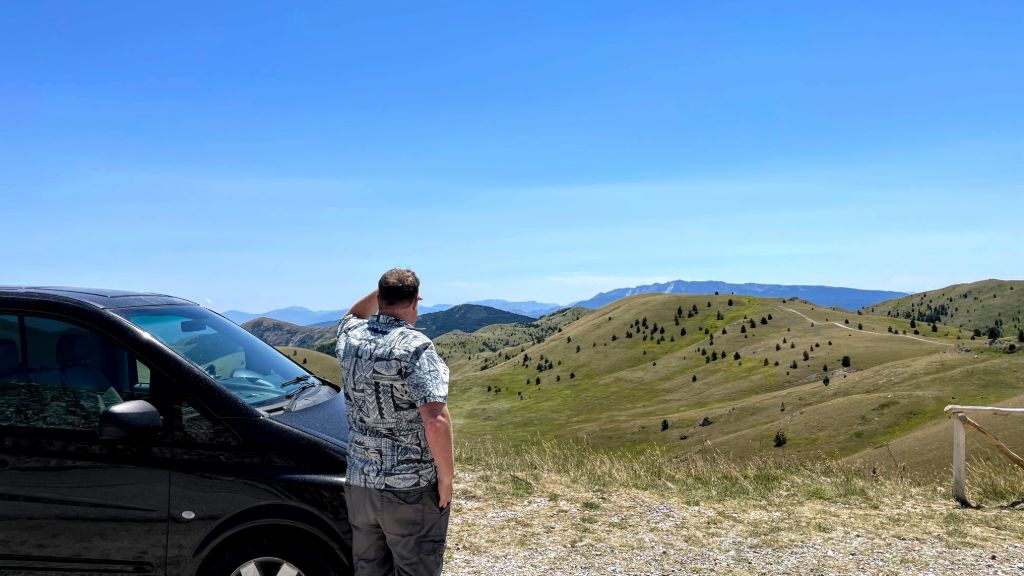 If you don't fancy public transport and are looking at a more complex itinerary, the best option for you is to hire a private driver for your tour within the region or for trip to cities like Rome, Venice, Naples and other parts of Italy. Don't worry, we've selected them for you and they also speak english! Easily request a transfer.
Abruzzo Weather: What to wear & what to pack
Given its contrasting geography, Abruzzo has two distinct climates, one being along the coastline and the other in the mountainous interior. Essentially, depending on your location and the season, weather in Abruzzo will differ somewhat, but here are some recommendations for essentials while travelling!
First, sensible and comfortable footwear is a must, whether it be for hiking in the National Parks or simply exploring cities and villages in their old historical centres over cobblestone streets and pathways.
Spring in Abruzzo (March, April & May)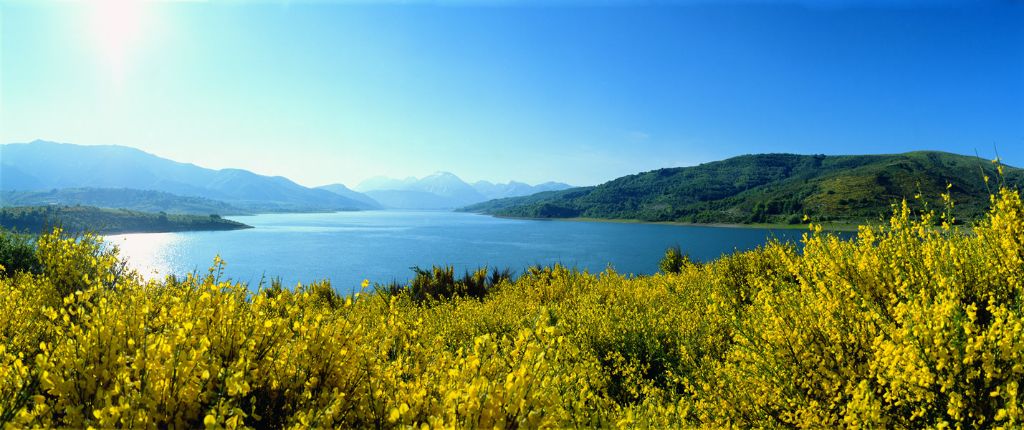 In the Abruzzese spring, you may occasionally encounter cloudy skies, although you will mostly find bright sunshine and temperatures will be comfortable and warm. Overall it's a great time to travel within the region especially if you don't fancy peak-season hot weather! It's a good idea to bring along a compact umbrella, incase of an impromptu shower, and keep a light jacket or sweater on hand if temperatures drop in the evening.
Summer in Abruzzo (June, July & August)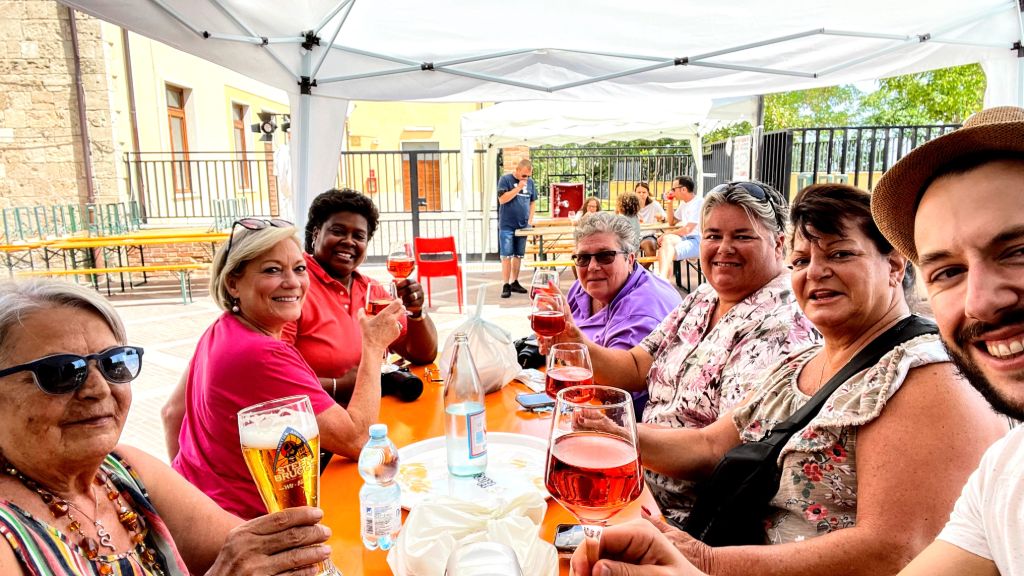 Feeling HOT, HOT, HOT!
Along the coastline you can expect some humidity and mostly sunny days with temperatures ranging between 82°F to 104°F or 28-38°C. However on higher ground between 2700 and 3200 feet (820 – 975m) you'll find a drier breeze during the day and at night a drop in temperature, roughly 71°F or 22°C . In the peak of summer, think light and breathable clothing, comfortable sandals or walking shoes and proper footwear. This is even more true if you plan to go hiking in the mountains or national parks. It could also be a good idea to take a windbreaker for higher altitudes, and finally for beach lovers – pack that swimsuit!
Autumn in Abruzzo (September, October & November)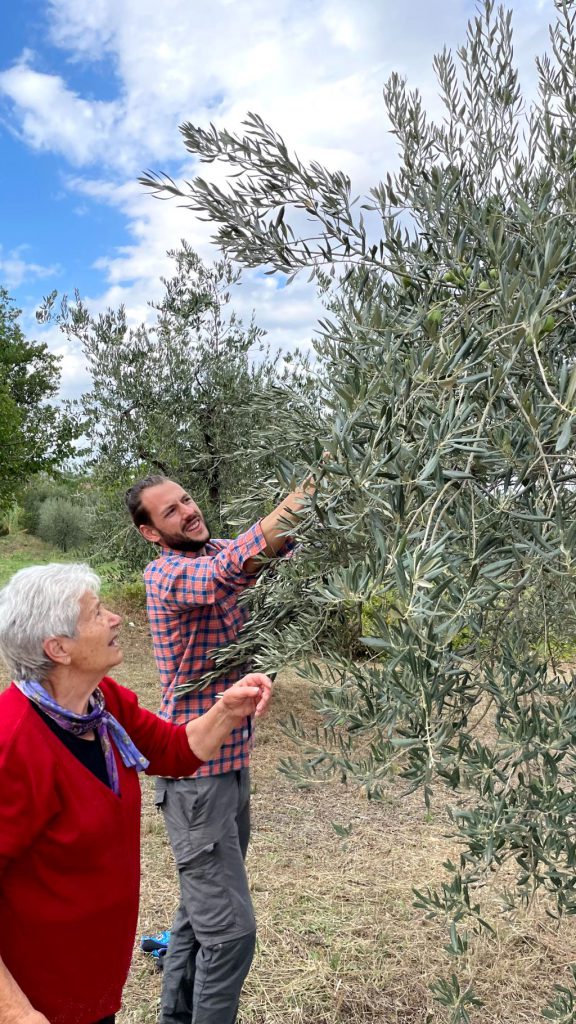 September or early October is perfect to enjoy outdoor activities in Abruzzo and if weather permits, have a swim in the morning then finish the day in the mountains. Expect temperatures to range from 78°F or 26°C during the day on the coastline and 57°F or 14°C during night in the hinterland. On the other hans, there could be a small chance of rain during September, but only 9 days on average. Good odds! Autumn is the time to harvest grapes, olives and saffron.
Winter in Abruzzo (December, January & February)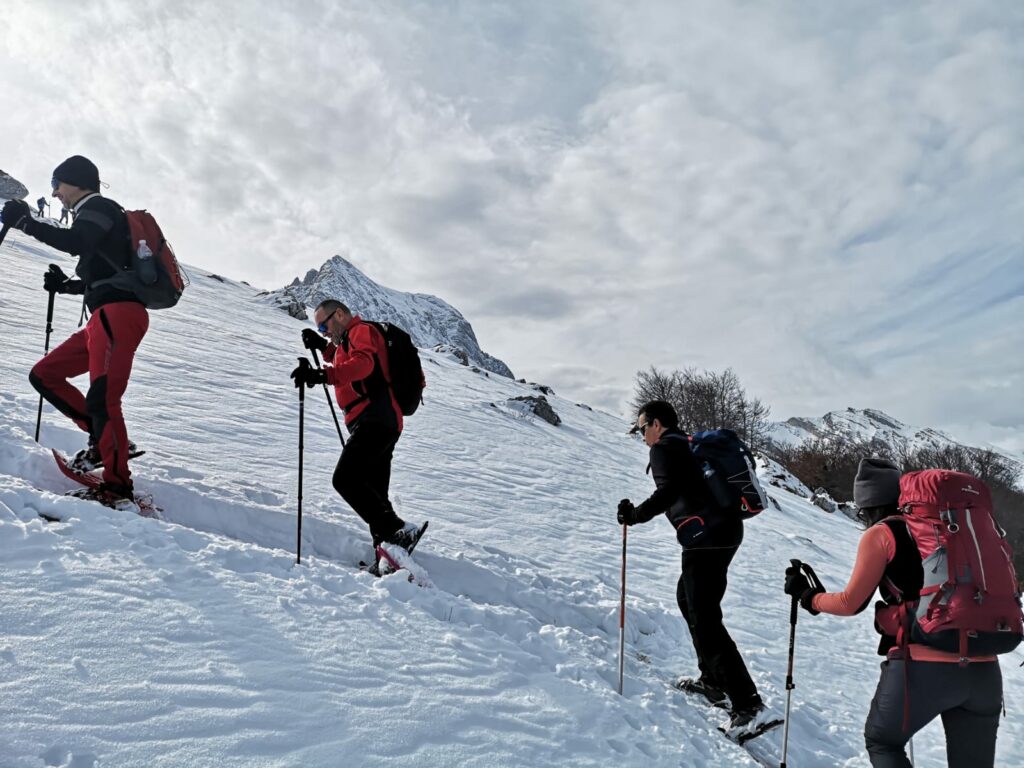 Abruzzo weather usually leans on moderately cold in winter months with some humidity and strong winds closer to the coast. This kind of cold can get in your body! In February 2021 we luckily saw a few bright sunny days and temperatures at around 16°c or 60.8°F, but then dropped to below zero! Then SNOW! Which even stuck around a few days in some areas near the coast. The closer you travel inland, you will find colder winter weather and conditions better suited for winter sports. If your destination is the mountains, think warm and cosy, in all zones don't forget your warm footwear with comfort in mind. On the other hand, closer to the coast you definitely won't need a swimsuit, but keep your options open, bring a decently warm jacket and think to layer! Not only you can rent your ski, snowboard or snowshoes to enjoy the snow fun in Abruzzo, but you can also attend unique winter fire festivals.
A Must Read Month by Month guide to Abruzzo
Once you've decided the month you're visiting Abruzzo, we've put together a month by month guide of the region for you to read before travelling. Here you will find weather, packing, itineraries, events and other useful recommendations.
Which is the busiest month in Abruzzo?
The first two weeks of August are Abruzzo's busiest time. Actually it's Italy's busiest month! The whole of Italy is a fun and festive region in the first half of August! Most Italians will be off work for their summer holidays at this time, especially the week of the 15th as this is 'Ferragosto' Italy's national holiday. This holiday is similar to Labour Day when one would get together with family and/or friends with plenty of food.
However the whole week around this festive day is usually celebrated as well. On the day, you can find shops closed, and during this period, crowded beaches, restaurants and hotels and B&Bs, fully booked months in advance.
August Ferragosto in Abruzzo
August is the height of tourist season, and hotel prices can soar to 3 or even 4 times their usual rates while restaurants are also reserved months in advance. Plus there tends to be less transit services as well during this time. Depending on your voyage, the trains and buses that are running at low-service, can be jam-packed!
The plus side is that there are many concerts, events and outdoor festivals to experience. There will be many spirited local folk in their lively small towns, some returning from other parts of Italy to reunite with their relatives for some quality time during their summer holiday and enjoy the festivities!
If you're coming in August don't worry, try to search for accommodation in towns inland of Abruzzo, in places such as Campli, Teramo and Civitella. For more info and tips, make sure to visit the guide for travelling in Abruzzo in August.
Abruzzo Folk Music
This is one of the most representative folk music from Abruzzo, and it's called 'Vola Vola Vola' literally Fly Fly Fly from the Orchestra Popolare del Saltarello Abruzzese. If you enjoy Abruzzo's folk songs, then you might like this Spotify playlist we've put together with the most popular traditional songs from Abruzzi.
Tour Abruzzo with a Local Expert
The amount of time we invested to put together this guide to Abruzzo is enormous. We've been promoting our Region because we love it, we live here and we want to be advocates of our traditions. Like our grandparents have done with us, we want our cultural and culinary traditions to be handed over! The only way we can do it, is to keep living in the small villages, attract back the young people, and inspire international visitors to travel responsibly to this authentic and surprising Italian travel destination.

By now, with all the info we provided in this guide plus the additional links, you've enough information to plan your stay and visit Abruzzo by yourself!
If you're looking for a trip of a lifetime, to travel responsibly and stress-free with friendly local experts, then we can definitely help you. Simply get in contact with us and let's make your Abruzzo dream vacation come true!