Abruzzo Wins the Prestigious Wine Star Award as Wine Region of the Year 2022
Driving 2 hours east from Rome, you'll arrive at one of the oldest wine growing regions and 2022's most celebrated, Abruzzo. Abruzzo's 36 thousand hectares are home to a variety of microclimates, including optimal ventilation, rainfall, strong sunshine, and varied day and night temperatures. These factors, together with Abruzzo's location between the mountains and the sea, result in some of the greatest wine production in all of Italy. 
Off-the-beaten-track destination
With its excellent wines and being an off-the-beaten-track destination for wine tourism, Abruzzo is gaining momentum and becoming increasingly popular with wine enthusiasts around the world.  Not only has the region won Wine Enthusiast's Wine Star Awards: Region of the Year 2022, but it is also receiving rave reviews and honourable mentions from global wine experts, including praise from Forbes magazine. Link: How And Why The Abruzzo Wine Region Of Italy Is Moving From A Low Cost To Ultra-Premium Wine Strategy (forbes.com)
Why Abruzzo for such a prestigious Wine Award?
Abruzzo fared well as one of the most interesting nominees in several categories. According to the Wine Enthusiast panel of judges; "the region is rich in tradition and imbued with innovation, a hidden gem for the most passionate oenophiles", exceeding Marlborough, New Zealand, Southern Oregon/Rogue Valley, Oregon, Uco Valley, Argentina, and the SLO Coast of California. 
Past regional winners over the last decade were dominated by the Americans, strong contenders with 6 awards – 4 of which were in California with the remaining in New York and Oregon, 2  regional winners in France (2017 and 2018 respectively), one award for Spain in 2013, with the Trentino region of Italy leaving with only 1 award in 2020.
The Abruzzo Wine Area
During the awards ceremony President Alessandro Nicodemi of the 'Consorzio di Tutela dei Vini d'Abruzzo' (the Abruzzo region's controlling body for quality control, designation and protection) describes Abruzzo as a "uncontaminated territory", adding that "hills of a thousand shades of colours and dotted with ancient villages, where the landscape has always been dominated by vines, set between the Adriatic Sea and the massifs of the Gran Sasso of Italy and the Majella". Within a few kilometres, imposing mountains and a stunning sea, naturally create the pedoclimatic conditions that are favourable to the cultivation of the vine. 
Abruzzo welcomes a new driving force, a generation of young, sustainable-minded, dynamic winemakers. These visionaries are taking the family winemaking businesses to the next level.
Wine Tours in Abruzzo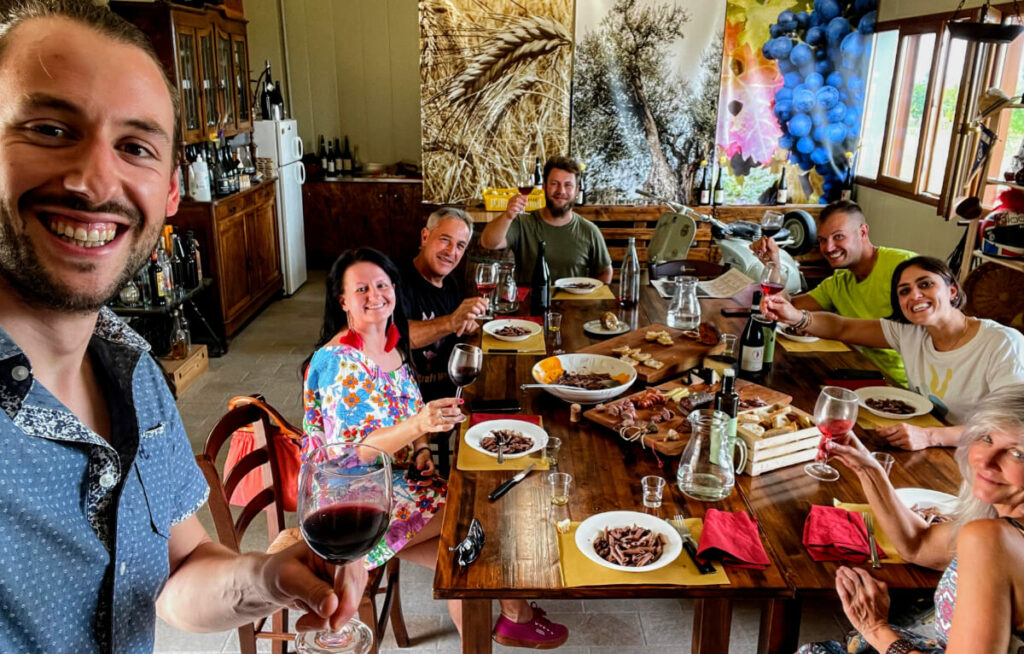 For wine aficionados interested in Abruzzo regional wines or a particular winemaker's bespoke wine tours can be arranged to specification. The possibilities are endless. 
Spend a relaxed day touring wineries off the radar and sampling the best Abruzzo wines. We're not just passionate local experts, our team is made of sommeliers and we also have hands-on experience in producing our own exceptional natural wine.
Come join us for a unique wine tour and discover off-the-radar wineries with a team that truly knows and loves the craft of winemaking. Let's explore the world of Abruzzo's wines together!
So why wait? Get in touch today to schedule your unforgettable wine tour with us at Experience BellaVita!