Abruzzo's Media Buzz: What the foreign press is saying!
Discover Abruzzo: Italy's Best Kept Secret Holiday Destination
Although Abruzzo is still considered an off-the-beaten-track holiday destination, in recent years tourism has steadily grown and caught the attention of prestigious publications abroad.
A perfect location for seaside and mountain-lovers alike, Abruzzo offers excellent food wine and plenty of recreational and cultural experiences.
Abruzzo named as one of Travel and Leisure Magazine's Best Holiday Destinations of 2022
US-based Travel and Leisure Magazine named Abruzzo as one of 2022's best holiday destinations alongside others like Alaska, Barbados, and the Galapagos Island, adding that  "Abruzzo has long been one of the country's most overlooked destinations despite its unspoiled villages, picturesque Trabocchi Coast, and stunning natural escapes."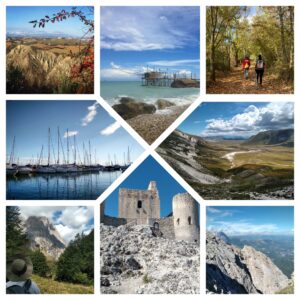 National Geographic Features Abruzzo's Trans-Siberian Railway and Sulmona-Carpinone Route
While National Geographic in 2021 featured Abruzzo's Trans-Siberian Railway and its Sulmona-Carpinone route. The train dates back to the days of the industrial revolution and with its vintage fixtures including ornate rails, glass lamps, and velvet lining, the interior is a testament to a rich history. "Much like the other towns along the route, Sulmona offers a glimpse of old Italy, with its ancient stone buildings, bustling outdoor markets selling seasonal produce, and lively musicians… Life in these towns is a stark contrast to life on the coast, where beaches draw a constant stream of crowds."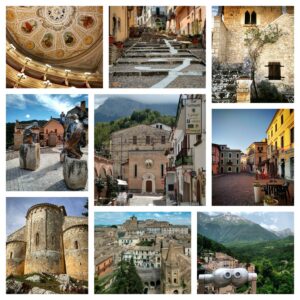 10 Reasons to Visit Abruzzo: CNN's Guide to Italy's New Hot Destination
In a 2018 article CNN sings the praises of Abruzzo via 10 Reasons to Visit Abruzzo, Italy's new hot destination. Noting it's idyllic beaches, excellent wines, medieval towns and recreational outdoor activities, to name a few.  Of course Abruzzese cuisine and its regional specialties gets an honourable mention; "With mountains and sea as its strategic borders, fishing and farming are this region's lifeblood. The cuisine therefore varies significantly from the coast, where seafood dishes are prominent, to the inland areas where legumes and meat – especially mutton and pork – reign supreme. 'Arrosticini', thin mutton skewers, are one of its most famous dishes. Simply salted and flame-grilled, they are ordered at family dining tables in the hundreds. Abruzzo also has a long history of pasta-making and has produced handmade 'spaghetti alla chitarra' for more than 200 years. This variety of egg pasta is pushed through a wooden contraption that has stainless steel guitar-like strings."
The Telegraph – The Italian region with beautiful landscapes and ancient villages – but no tourists
UK's The Telegraph, in its article goes a step further and suggests; "Skip Tuscany and Umbria in favour of Italy's most underappreciated region." Of course we couldn't agree more with the author's assessment! He goes on to mention; "Travellers are finally learning that its mountains, still the haunt of wolves and bears, are the finest in Italy outside the Alps, that its coast is gloriously wild in places, and that many of its ancient villages are timeless and traditional in the best sense. And if visitor infrastructure is still in its infancy – part of the region's charm, of course – newer destination hotels are gradually opening, and the food, as ever in Italy, is superlative." Although, despite this most flattering praise, we draw the line at the author claim's no one comes to tour Abruzzo's vineyards! We couldn't disagree more!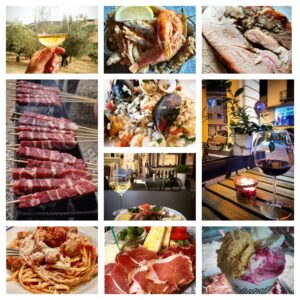 Cheers to Abruzzo: Wine Enthusiast's Best Region of 2022
Abruzzo is booming in wine tourism and has just won Wine Enthusiasts magazine's 2022's prestigious 'Wine Star Award' for Best Region of the year!
Experience Abruzzo Like a Local: Join Us for an Unforgettable Journey of Discovery and Authentic Flavors!
Looking to experience Abruzzo like a local and savor the region's finest offerings? Look no further than our expert-led tours! Join us on an unforgettable journey through the beautiful landscapes and rich cultural heritage of Abruzzo, led by Experience BellaVita's team of passionate locals. From visiting charming hilltop towns to indulging in authentic local cuisine and wines, we'll take you on an immersive journey that will leave you with unforgettable memories. Don't settle for a generic tour – come with us to experience the best of the best that Abruzzo has to offer!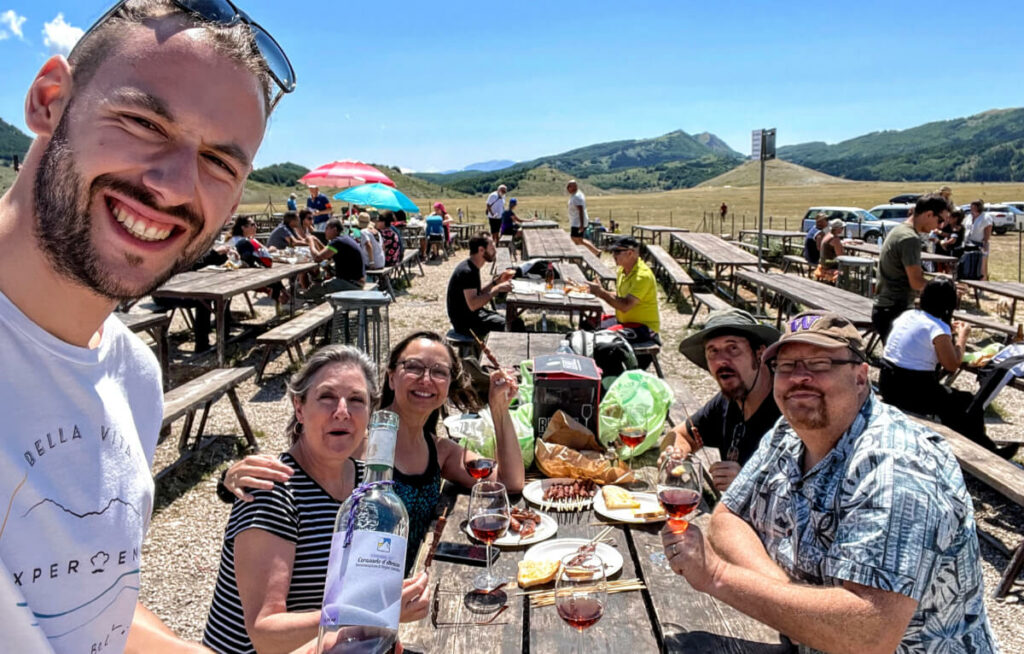 As a specialized tour operator, we have made the decision to limit the number of visitors we work with each year to ensure the highest level of quality and exclusivity for our clients. We believe in providing a premium and personalized experience for each of our guests, tailored to their specific interests and preferences. If you are looking for a truly unique and customized tour of Abruzzo, we encourage you to get in touch with us to discuss your travel plans and see how we can create an unforgettable journey for you. Don't wait too long, as our availability is limited and booking early is essential to secure your spot.
Contact us today to start planning your dream trip to Abruzzo.