Abruzzo in May: Travel Tips, Weather, Food & Wine
Abruzzo in May – At a Glance
Abruzzo in May – What to Expect
It being May, there is plenty of activity in Abruzzo. As we'll finally see more daylight and sunny days, it's will be ideal for outdoor activities like biking and trekking, village festivals and sagre, exploring local markets, and as it's still outside peak-season you'll find available, affordable accommodation at hotels, agriturismo and B&Bs.
Weather in Abruzzo Italy in May
There may be cloudy skies occasionally, there will be mostly bright sunshine and temperatures will be comfortable and warm. Expect the temperature to range from 71F (22C) during the day on the coastline and 51F (11C) during night in the hinterland.
What to pack and what to wear in Abruzzo in May?
It's a good idea to bring along a compact umbrella in case of an impromptu shower and perhaps a light sweater or a jacket if temperatures drop in the evening. As always, make sure you have comfortable footwear whether it be for wandering cities, hiking in the National Parks or exploring villages walking over the cobblestone streets and pathways.
What to Visit in Abruzzo in May
The Narrowest Street of Italy – Civitella del Tronto
Have you ever been to the narrowest street of Italy? It's here!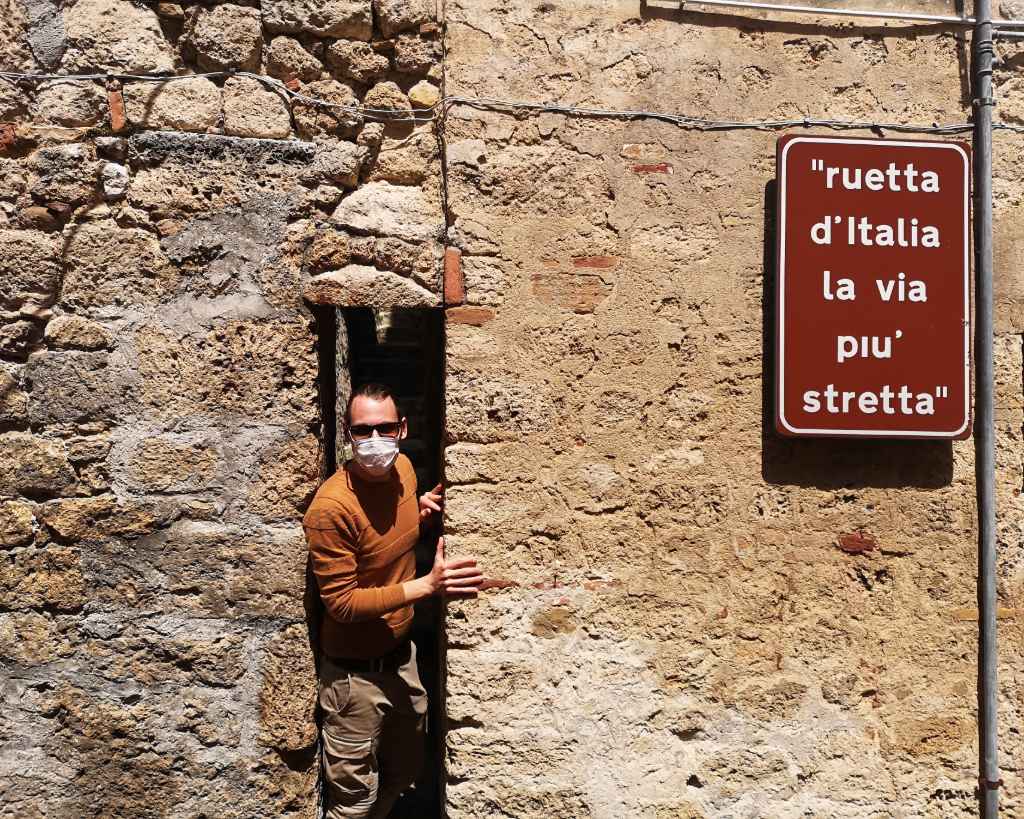 Holy Stairs of Campli
If you're a religious tourism enthusiast and I ask you where the 'Scala Santa' or Holy Stairs are, would your immediate answer be Rome? Well, that would be correct but they are not the only holy stairs in Italy!
Other lesser-known Holy Stairs, but equally as important in history and worship, are the stairs found in Campli, in the province of Teramo, in the Abruzzo region. There are only 3 sets of Holy Stairs in the world, one in Rome, one in Jerusalem and the other in Campli.
If you want to experience Campli as a local, making pasta with our granny, eating the best porchetta, making cheese, going on a truffle hunt, tasting local wines, visiting a liquor maker, and much more, then come by and visit us as we're from Campli!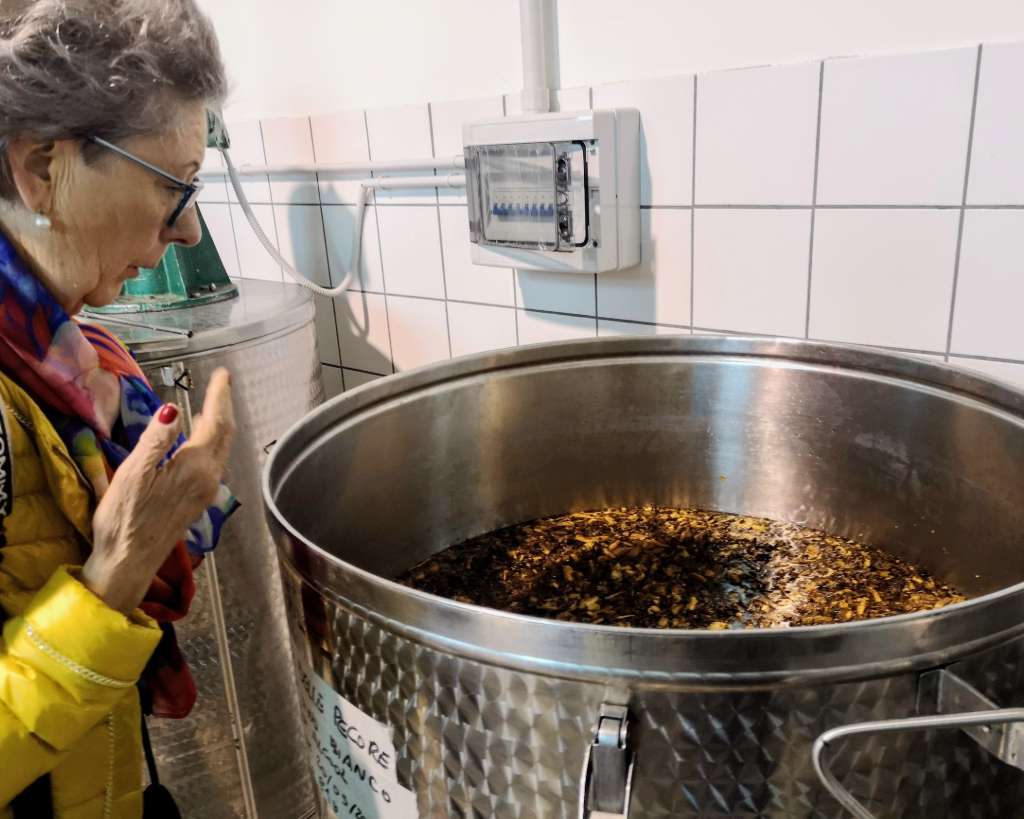 Salinello Gorges & Waterfall
From Campli, you can drive 15 minutes and hike to this beautiful waterfall. More info on how to get to this waterfall & gorges in our blog post.

Fried Stuffed Olives from Ascoli Piceno (Le Marche region)
Ascoli Piceno is just 30 minutes away from Campli, and if you visit this beautiful city, you can't miss to try the tasty Olive all'Ascolana, fried stuffed olives traditionally made in Ascoli.
During our tour in the Marche region, we stopped in Ascoli and tasted some of the best olives in town, although the best ones are the one Nonna Amina makes at home.
Trabocco, Restaurant on the Sea
May is time for Trabocchi to re-open their doors and we couldn't wait to take some of our visitors to experience a fantastic dine on this ancient fishing platforms now converted into restaurants.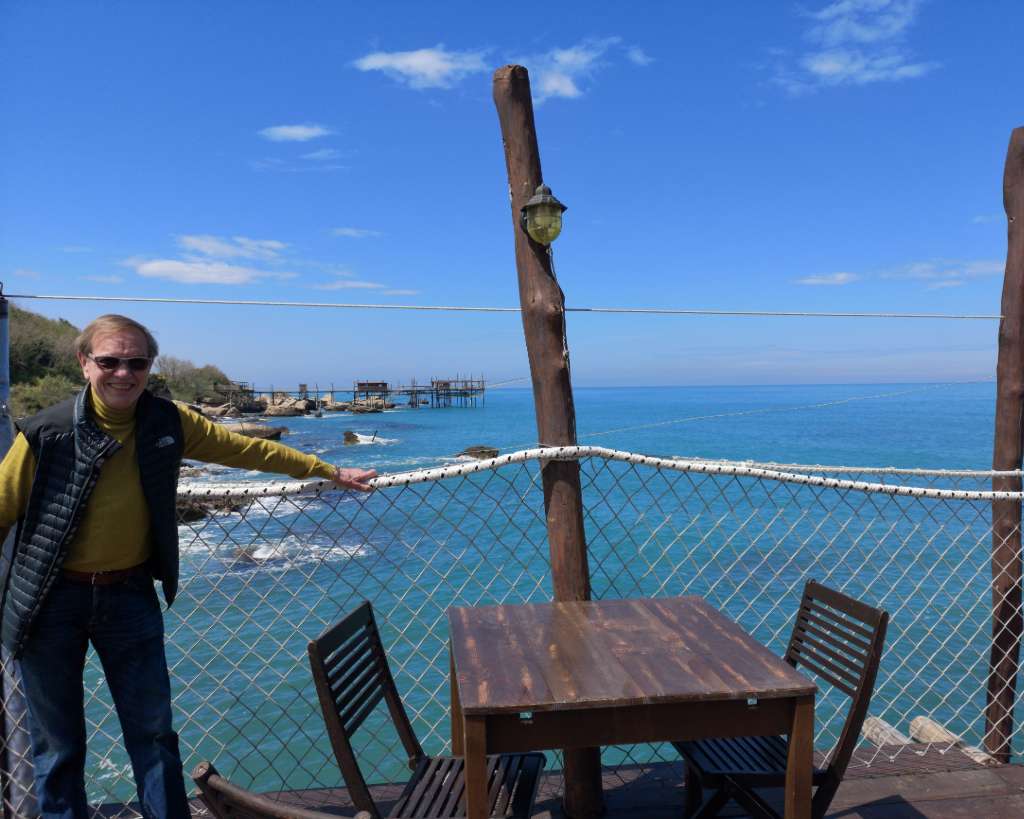 If you happen to be Abruzzo, this is an experience you should definitely consider.
View this post on Instagram
Adopt an Italian Beehive
We've been taking forward our programme 'adopt a beehive' from Abruzzo. This month we personalized Claudio's beehive who received this special present from his family.
Check out how you can adopt a beehive, help the bees and the local beekeepers.
Abruzzo Truffle News May
In the month of May 15th black summer truffles are back in season! Want to experience a real truffle hunt? Visit Abruzzo and come with us on an authentic Abruzzo truffle hunt experience, and then sample our finds!
Or book a virtual experience and learn all about truffles and truffle hunting from home!
May's eating in Abruzzo
Other than our favourite black truffles, May brings a variety of seasonal dishes made with fresh and tasty regionally-grown ingredients. Why not visit Abruzzo's local market vendors and sample the sweetest in-season fruits, and veg!
Have a look at what food we've been enjoying recently: Authentic specialties from our favourite Abruzese food vendors, restaurants and fresh regional dishes made here in our own home kitchen…
Virtù – Traditional 1st May Minestra from Teramo
On May 1st the Teramo region of Abruzzo celebrates with it's own seasonal specialty, Le Virtù! It is a traditional hearty minestra rooted in history and folklore.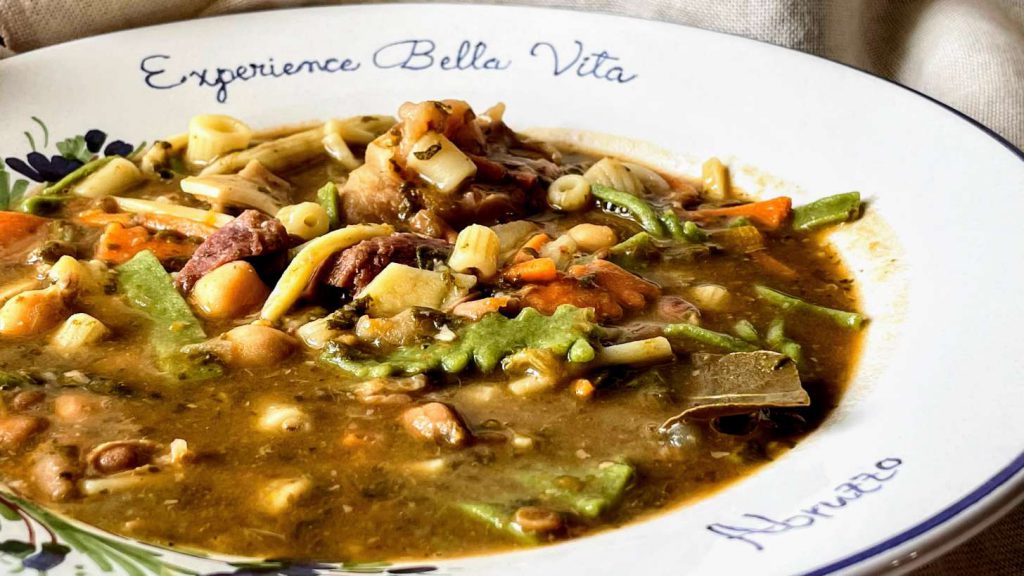 Historically this soup was made to give men strength while working on the newly planted crops, and to new mothers who had given birth in spring.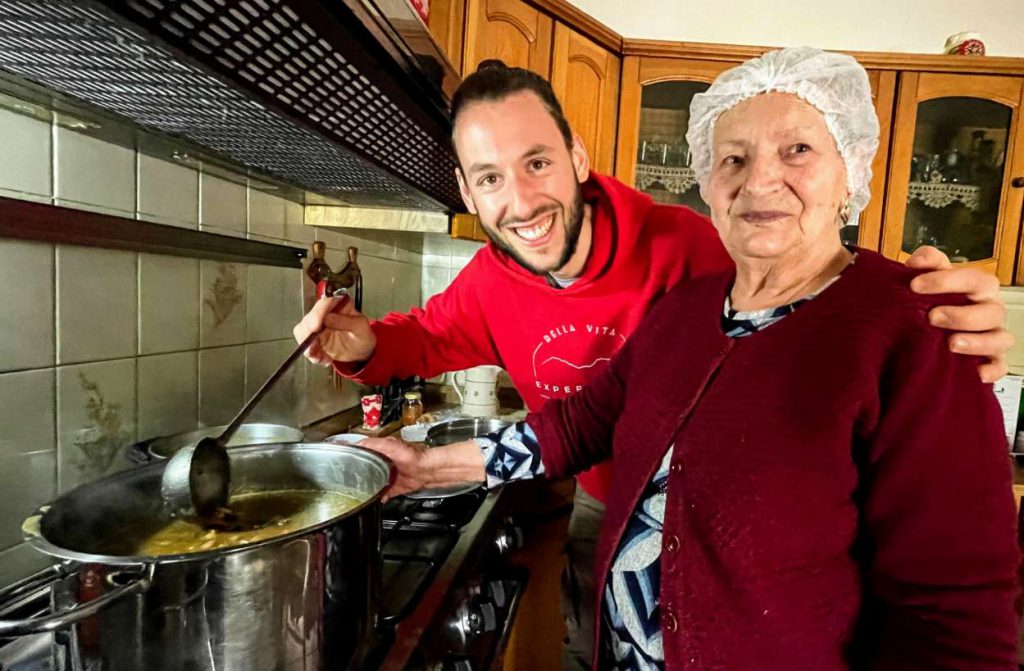 Left-over winter home stocks of legumes and pulses were used, along with cheaper cuts of meat, pigskin, ears, ham bones and pallottini (small meatballs), as well as other healthy ingredients such fava beans, spinach, peas and herbs for added flavour, along with and added pasta, all provide for a symphony of taste in this regional celebrated dish guaranteed to fill and satisfy all bellies alike.
Fried Cheese
Formaggio Fritto, fried cheese with added truffle! Adding truffle to this fried cheese is bound to make you drool!
We took the traditional Abruzzo recipe and added a twist with truffle. Although we did not invent this recipe personally, a group of us prepared it in the annual Truffle Festival in our hometown of Campovalano. A local traditional festival that sees many people and a lot of tasty meals, and all prepared with truffle! From antipasti to dessert! Have a look at the video and find the cheese recipe.
What's Nonna Amina been up to in the kitchen?

As nonna Amina is always busy in the kitchen, sometimes we pop in to see what she's up to! Recently she made 'Ciambellone' and shared her own recipe.
Every Italian family has its own Ciambellone recipe which they usually guard with such secrecy! In our family, of course, Nonna Amina makes the best one, at least for me. I love it as it has very little sugar, it's very soft inside and crunchy on the outside, perfect to enjoy at breakfast time to dunk in milk and it's also perfect as a healthy snack or for brunch even. (Which we call 'Sdijuno' in Abruzzo).
Have a look at Nonna's new recipe book containing her traditional, favourite Abruzzese recipes!
Abruzzo Wine of May
Faraone Winery Giulianova
Visiting the Faraone Winery is like stepping into a friend's home, with warm hospitality and a great selection of wines (Sparkling, Trebbiano, Pecorino, Montepulciano, Riserva & Sweet Wine) along with some vintages dating back to the 90s.
View this post on Instagram
This month we tasted a Metodo Classico from 2017 (aged 36 months) by Faraone
Type: White sparking
Notes of: peach, fresh bread crumbs
What it's great with: Fried cheese with truffles
Vibe: Versatile, for any occasion and great with antipasti and fried foods
Valentini Winery – Montepulciano d'Abruzzo
One of Italy's best known and historic winery. Finding a bottle from this winery isn't an easy task, as the winery isn't open to public and only sells to few undisclosed people. Getting this 2001 Montepulciano d'Abruzzo wasn't easy, but fortunately we had the right connection and made our guest very happy.

Want to organise a private tasting with the best wines from Abruzzo? You can ask Experience BellaVita to design or organise a tour for you.
"Cantine Aperte" Open Wineries
Each end of May the National association MTV, organise this event called "cantine aperte" where some wineries open their doors to the public. For More info, please visit the event section below.
Abruzzo Wildlife Watch
Abruzzo's Apennine Brown Bear is an endangered species and there are only 50 of them left in the world.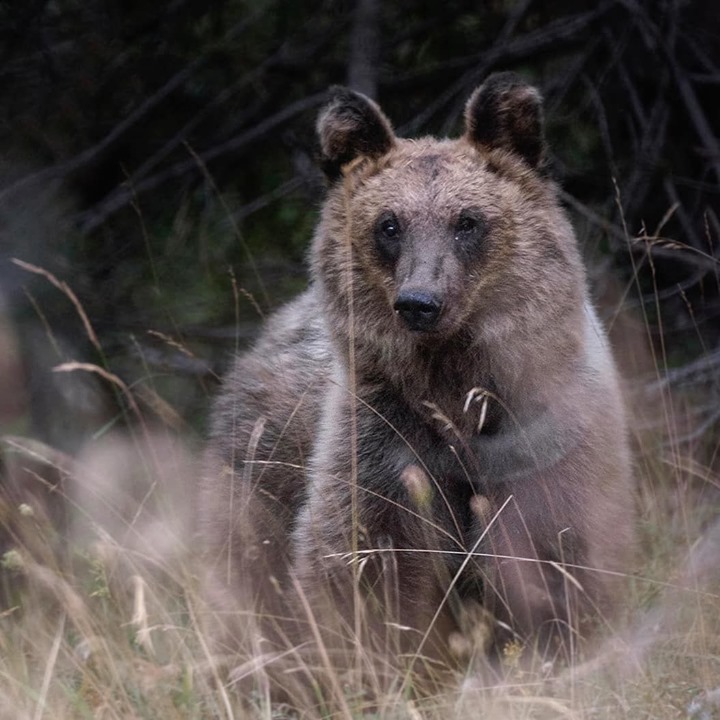 This has urged the WWF to create a campaign to save these bears. Learn how you can help these Abruzzo 'Marsican' bears at WWF Italia.
Excuse me! Where is the post office? A deer around the streets of Civitella Alfedena in Abruzzo.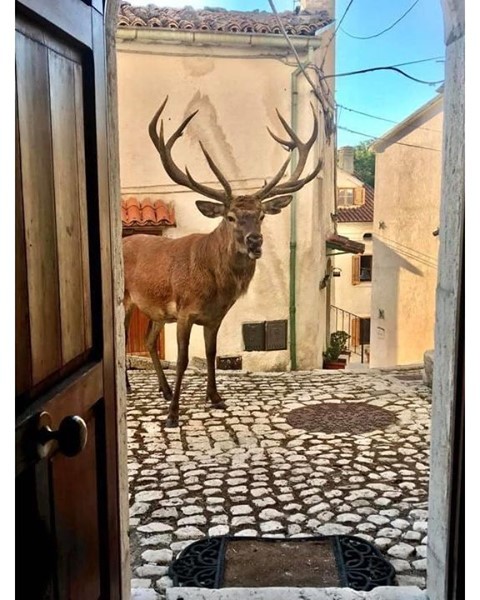 We love seeing your experiences around Abruzzo! Share your moments with us on Instagram or Facebook @experience.bellavita so we can follow along
Abruzzo scheduled activities May
Food & local Festivals in Abruzzo in May & Cultural Events
During the month of May you can discover festivals around Abruzzo Like the Artichoke Festival in Prezza (AQ), The Narcissus Festival in Rocca di Mezzo (AQ), and The Festival of Virtues in Teramo (TE), to name a few.
Here are some great events in Abruzzo in May:
Snake Festival – Cocullo
Cocullo a quite town in the province of L'Aquila, hosts one of the strangest festivals in the world, the Snake Festival.
For more than 350 years every 1st of May, the locals and these days also many tourists have been participating in this religious ceremony in honour of Saint 'Domenico Abate'. The people carry the Saint's relict covered with snakes on a procession descending the town of Cocullo.
Cantine Aperte – Open Wineries
Each year, usually during the last weekend of May, the National Association, MTV (Movimento Turismo Vino) puts together wineries across all Italy. Most of the wineries are normally open during the whole year, but during this 2 days they have a better organisation with food tasting and often with live music. You will need your own car to go around the wineries and  you can see the full list of wineries on the MTV website. Expect crowds of people and make sure to book (compulsory) in advance your spot for the 2021 edition.
More events and festivals are coming! Sign up to our newsletter to stay up to date.
Why should you visit Abruzzo in May, or at all?
Just another day in Abruzzo, meeting neighbours.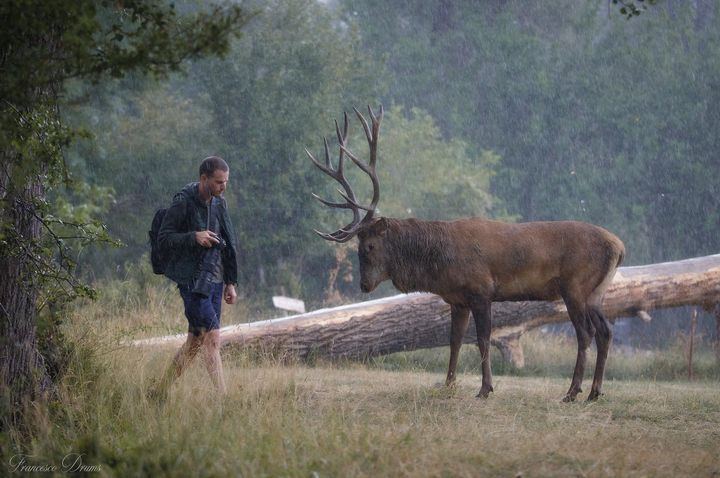 There is much to experience during May from hiking in the National Parks, cycling along Abruzzo's extensive seaside bike trails, discovering regional traditions and attending spring festivals, and there are plenty of fun activities for children!
Contact us today for a Private Authentic Abruzzo Experience.