Abruzzo in April: Travel Tips, Weather, Food & Wine
Abruzzo in April – At a Glance
Abruzzo in April – What to Expect
It being the Easter season, there is plenty of activity in Abruzzo. There will be easter feast and festivities throughout! As we'll see more sunny days, it's will be ideal for exploring local markets, and discovering traditions via village festivals, and as it's still outside peak-season you'll find available, affordable accommodation at hotels, agriturismo and B&Bs.
Weather in Abruzzo Italy in April
Although there may be cloudy skies occasionally, there will be bright sunshine and temperatures will be comfortable and warm however it's a good idea to bring along a sweater or a jacket when temperatures drop in the evening. Expect the temperature to range from 66F (19C) during the day on the coastline and 44F (7C) during night in the hinterland.
What to pack and what to wear in Abruzzo in April?
As always, make sure you have comfortable footwear whether it be for wandering cities, hiking in the National Parks or exploring villages walking over the cobblestone, plus a medium to light clothing for the end of the month.
What to Visit in Abruzzo in April
Campli
Being chosen as one of Italy's finest 'borgo' is a great honour for our town of Campli!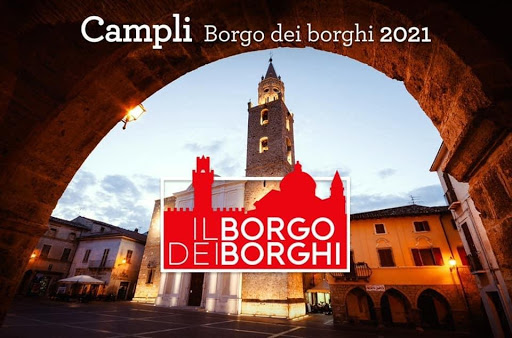 Representing Abruzzo, our town of Campli was featured on the national TV program 'borgo dei borghi 2021' where guide Marino exhibited his excellent guide skills describing this wonderful and fascinating part of the region.

Sbraccio Lake of Valle Castellana
From Campli you can explore the mountainsides which are off-the-beaten tracks not only of Tourists but even locals that during the pandemic are re-discovering these places.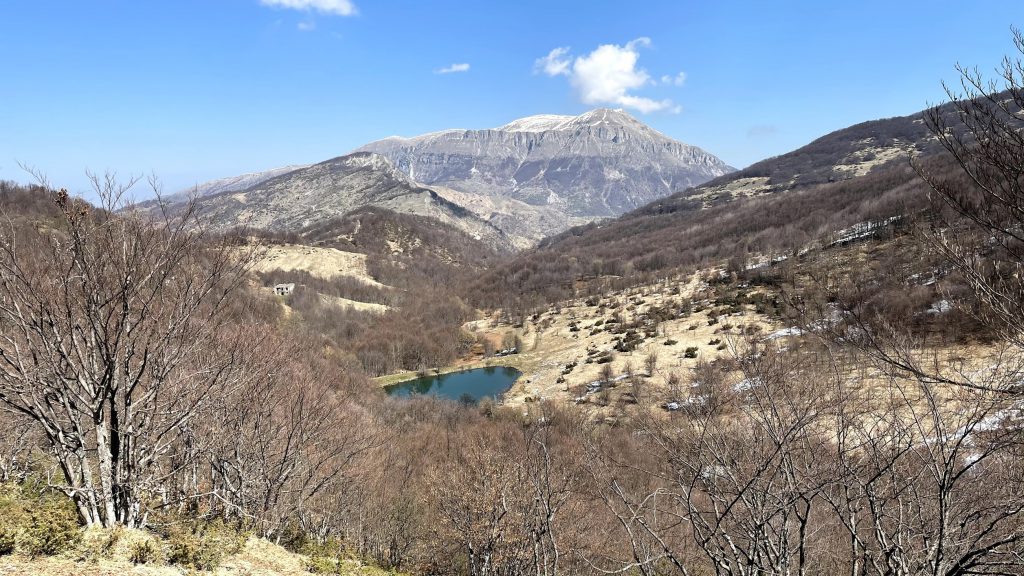 The lake is actually private, but there is no signs prohibiting to enter and all people enter this area.
Scerne di Pineto

Apris is a good time to rent a bike and cycle along the Abruzzo coast. We tooke the bike and cicled from Montesilcano to Scerne, along the bike trail.
Save the Bees
After last April smashingly successful beehive adoptions, we were able to contribute to help local beekeepers and millions of bees.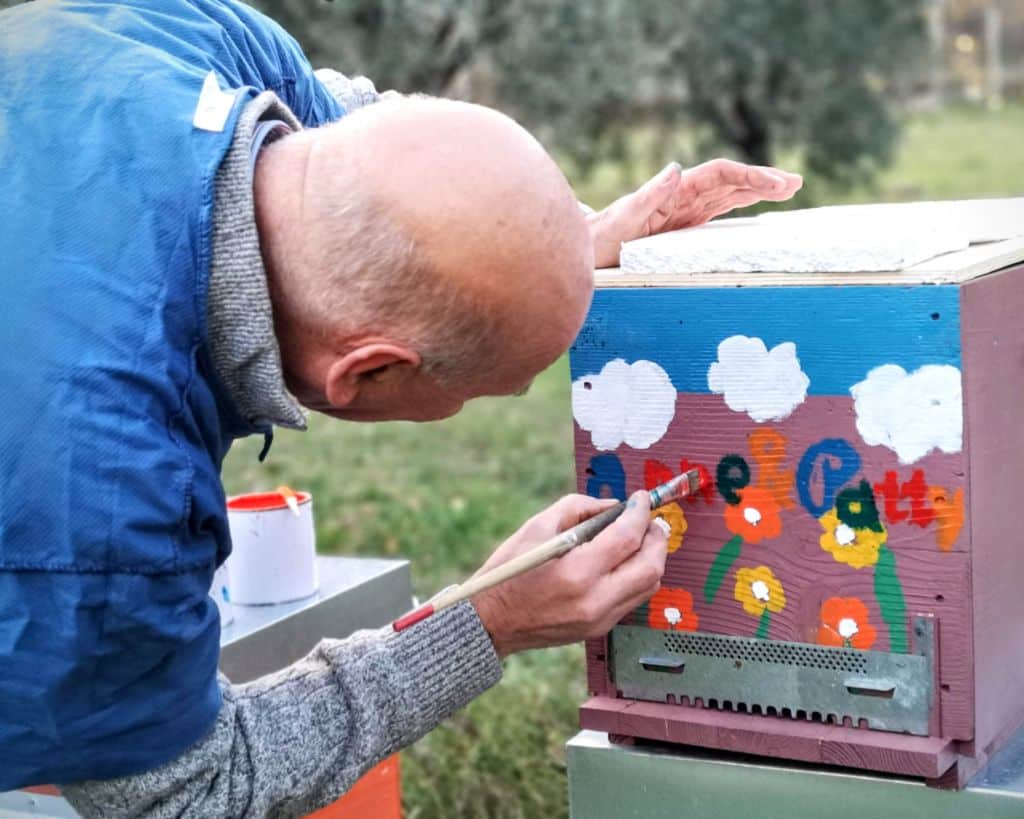 This year, once again we are launching this fantastic initiative. You're sponsored hive will also be personalized and your golden organic honey be shipped directly you! Only a limited quantity of 15 hives are available for the season. Check out how you can adopt a beehive and help the bees.
April's eating in Abruzzo
April brings a variety of traditional Easter dishes. Plus a cornucopia of seasonal produce and the freshest fruit to enjoy! Sample the sweetest in-season citrus fruits, and even some fantastic foraged finds like wild asparagus and chicory, kale, onions and fresh garlic.
Have a look at what we enjoyed this month: Authentic specialties from our favorite Abruzesse food vendors, and fresh regional dishes made here in our own home kitchen.
Porchetta
A day out in Teramo to visit one of our favourite take-out joints for Abruzzo's famous 'porchetta,' roasted pork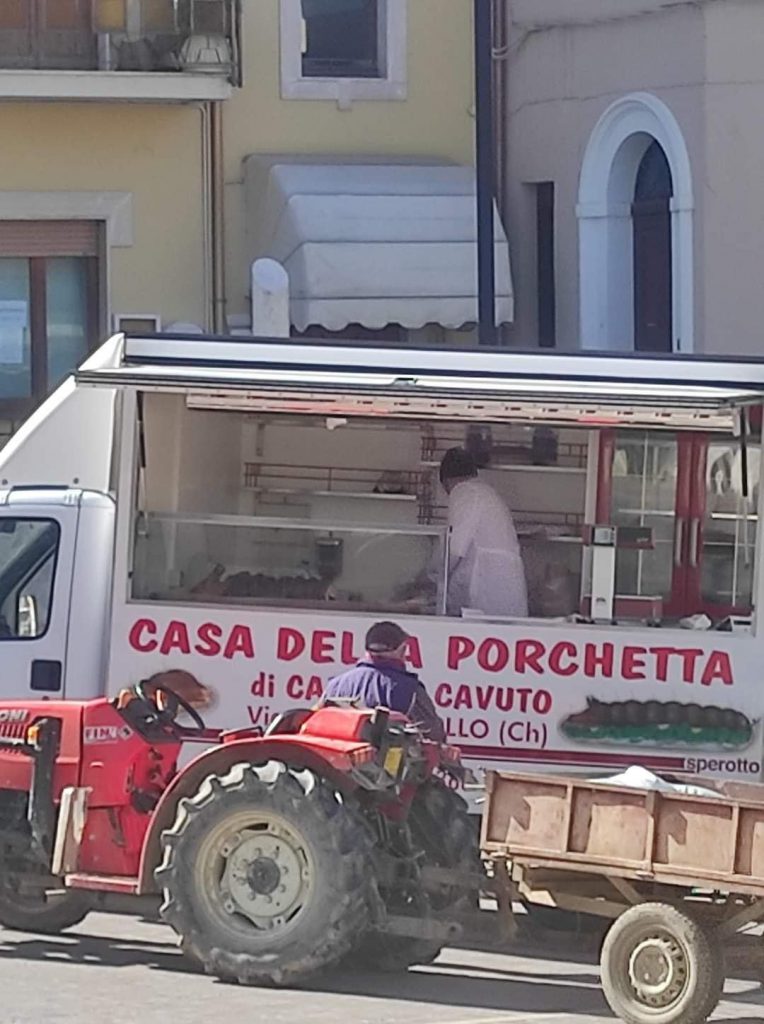 Abruzzo natives enjoy porchetta panini all year round and best if you take it from a tractor. don't you?
Nonna's Polpette
You could eat 20 of these for how tasty they are! We know that Nonnas make the best food in the world. Forget 3 star Michelin restaurants, here are 3 meat balls from Nonna's.
Fancy other traditional recipes like this? Then order Nonna's recipe book containing her traditional, favourite Abruzzese recipes!
It's common in Abruzzo to dine on Agnello (Lamb) during the Easter feast, and preparation can vary throughout the region. You can find it served along with "cace e ove" (percorino cheese and eggs) an ancient version from pastoral tradition, or it can be found simply grilled with potatoes.
Timballo is also a main course and is Abruzzo's answer to lasagna. The recipe also can vary throughout the region. Traditionally it must be made with scrippelle, Abruzzo's traditional thin "crepe" along with polpette (meatballs), fried arthicokes and spinach or it can also be made with layers of pasta-sheets, like a lasagna.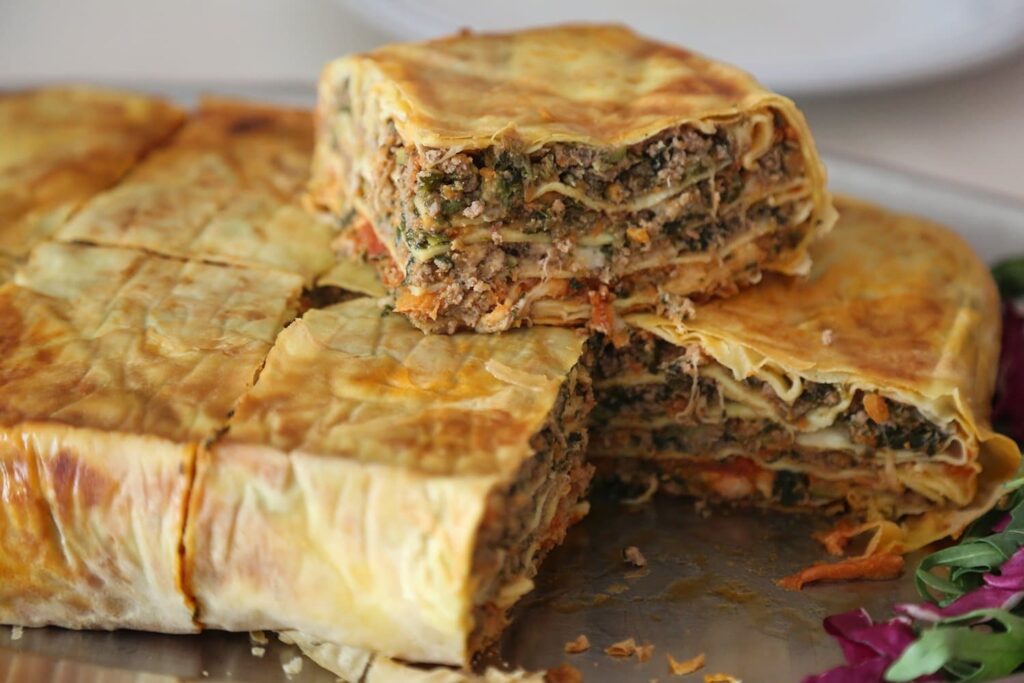 Easter Traditional Customs from Abruzzo
During the Easter holidays in Italy, you will find special, regional desserts wherever you go. All over the world the egg represents stands for rebirth and fertility. and here in Italy you can also find the traditional and popular Italian hollow chocolate eggs with prizes inside that are sold in every supermarket and food shop across the country.
La pupa & il Cavallo – The Doll & the Horse
In Abruzzo all the children love receiving from their Nonna, La Pupa (traditional cookie doll shaped) and il Cavallo (the horse) cookies, a tradition which has been passed down generations. It dates as far back 800, when they'd be prepared for a couple's engagement party where the pupa (woman figure) would be passed the future groom, the horse was given to the bride-to-be's fiancée grandmother prepares with her own hands to the grandchildren who gather for breakfast on Easter morning after the long fast. These shortcrust biscuits are usually covered with jams, have primitive and simple surface decoration, and the pupa (woman figure) has a hard-boiled egg in the center covered with 2 crossed pasta strips, which represent union and rebirth.
On Easter, they are also a symbol of the last supper. Breaking the pupa and the horse on Easter Day symbolizes Christ's breaking of the bread with his disciples.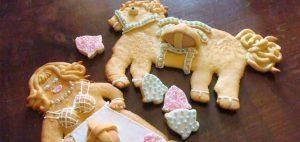 In April, here in Abruzzo we have many holiday traditions, at this time of year, we enjoy colouring our very own Easter eggs.

Every year during Easter families go, (but usually Nonna!) to the mountain's to hunt for wild herbs and flowers that will be used to dye Easter eggs! Only natural ingredients are used. To learn more about this tradition, visit the coloured eggs blog post
Abruzzo Wine of April
Maurizi Winery Controguerra
Today we take you to discover the Maurizi Winery & Farm located on the hills of Controguerra. After 3 generations of farming and viticulture from the Azienda Maurizi who sees the young winemaker Morgan bottling the first family's wine bottle in 2016.
With a long history and tradition on the shoulder, Morgan found the courage to open his new winery and he is now producing excellent wines and products, such as pasta made from ancient grains, chickpeas and more.
It's always a pleasure to Visit the Maurizi Winery, on the last visit we got to try some local cheeses aged in grape skins and a forgotten Spumante (Metodo classico) bottle with 10 years of aging. Very unusual long age for a spumante and the result was astonishing. We also tried the New Metodo classico with 16 months of rest and it is promising very good.
Thanks for the good time and hope to join some of the cool summer events they organize.
Abruzzo scheduled activities April
Food & local Festivals in Abruzzo in April & Cultural Events
There are several Easter festivals around Abruzzo offering regional food and traditions and a little something for everyone
Easter celebrations are everywhere! Every year you can find traditional Easter festivals including processions, prayer and song, from before Palm Sunday throughout Easter week, throughout Abruzzo in Teramo, Scanno, Vasto. Penne and San Valentino in Abruzzo Citeriore, to name a few.
Here are some great events in Abruzzo in April:
Processione del Venerdì Santo (Good Friday procession)
Good Friday brings many evening processions in the towns throughout the region Chieti, hosts one of Italy's most ancient, where a choir sings "Miserere", accompanied by 200 violins.
Lanciano's Processione degli Incappucciati (Procession of the Hooded)
It represents the evening of the Last Supper. The Brothers of San Filippo Neri slowly proceed along the streets in hoods, long black tunics, medals embellished with symbols of death. At the centre "Simon of Cyrene" walks barefoot and hooded carrying on his shoulder the Cross of the Calvary.
Via Crucis e Passione vivente (Via Crucis and Living Passion)
It takes place on Palm Sunday, in Vasto and throughout the entire region, there are processions and sacred depictions of the Via Crucis and the Passion of Christ.
Easter Fair
In San Vito Chietino the Easter Fair is a popular event for families. There is an ice rink, attractions for children, a market of typical products, crafts, creative and vintage collecting.
The Running Virgin Mary – Sulmona
What on earth? The running Virgin Mary? Oh yes, in Sulmona on Easter Sunday, has a festive 'Madonna che scappa' tradition.
More events and festivals are coming! Sign up to our newsletter to stay up to date.
Why should you visit Abruzzo in April, or at all?
There is much to see and do in April from discovering Easter traditions and attending festivals, sampling traditional holiday fare, hiking in the National Parks, cycling along Abruzzo's extensive seaside bike trails, and if you are travelling with children there are plenty of activities to keep them entertained!
Contact us today for a Private Authentic Abruzzo Experience.