Abruzzo in March: Travel Tips, Weather, Food & Wine
Abruzzo in March – At a Glance
Abruzzo in March – What to Expect
It being the Easter season, there is plenty of activity in Abruzzo. The weather is warming up so it's the perfect time to enjoy more time outdoors exploring cities and local villages, and as it's outside peak-season there is plenty of available, affordable accommodation at hotels, agriturismos and B&Bs.
Weather in Abruzzo Italy in March
Although there may be some chilly days and nights we start to see brighter days and feel more warmth of from the sunshine with temperatures from about 15°C during the day.
What to pack and what to wear in Abruzzo in March?
When you're exploring Abruzzo in March make sure you have comfortable footwear, medium to light clothing with a jacket to keep you warm in the colder evenings.
What to Visit in Abruzzo in March
Roseto degli Abruzzi
Relax, sit back, order a coffee from the bar and enjoy the emtpy beach, clear and sunny skies at the beach in Roseto. Take a walk to explore the near Natural Reserve of Borsacchio
Tottea – The Stone Village
Take a trip from Teramo city to Tottea, a small village underrated and known by few for its stone sculptures. Mostly active during the summer months where the local association organizes special musical, folk and artistical event.
'Simposio di Scultura in Pietra Arenaria' is one special event where artists from different parts of Italy join to chisel local blocks of stone and make marvelous pieces of art that you can find scattered around the town.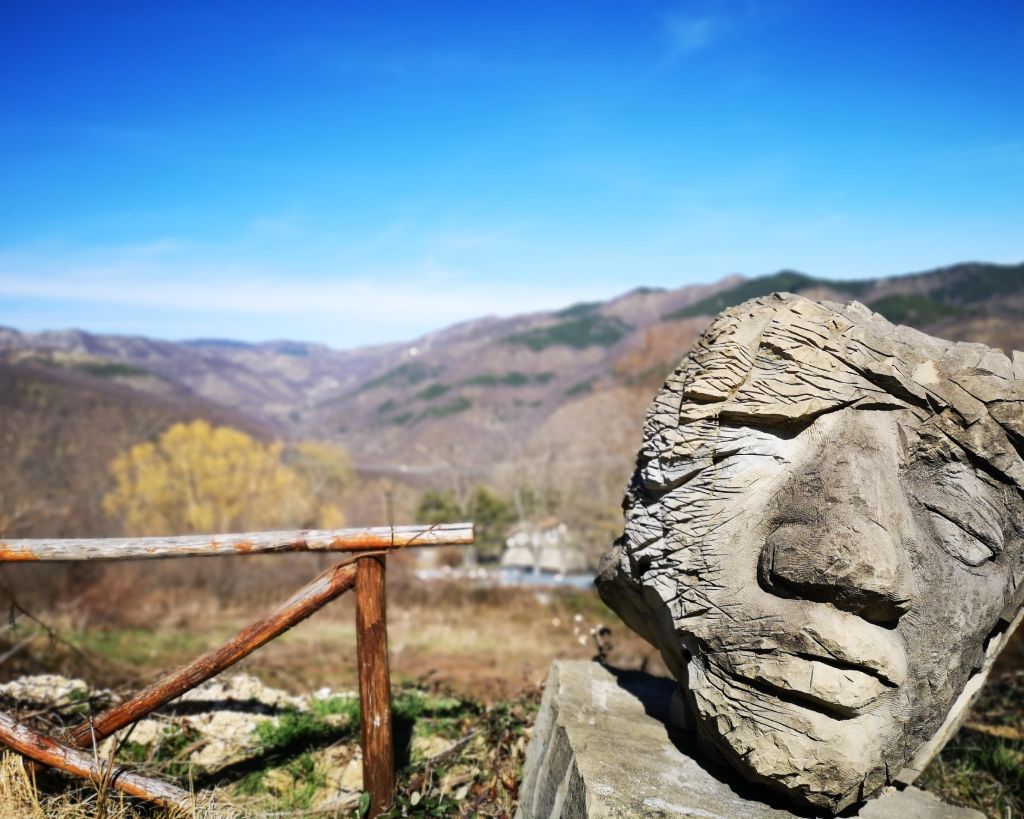 During the visit, I Stopped for a coffee at the bar and met Roberto, a friendly local who took me around the town and even to his family house which I had to join for lunch!! What to say? It was a fantastic encounter and this is what can happen if you wander around small villages in Abruzzo.

Campotosto Lake
From Tottea, head to the nearby Campotosto Lake, one of the largest artificial lakes of Italy at 1313mt of altitude. Sometimes you can even find the lake frozen during March.

Enjoy a slow car or motorbike ride around the lake and on the way to the lake on your right you will find a small shop from the local farmer.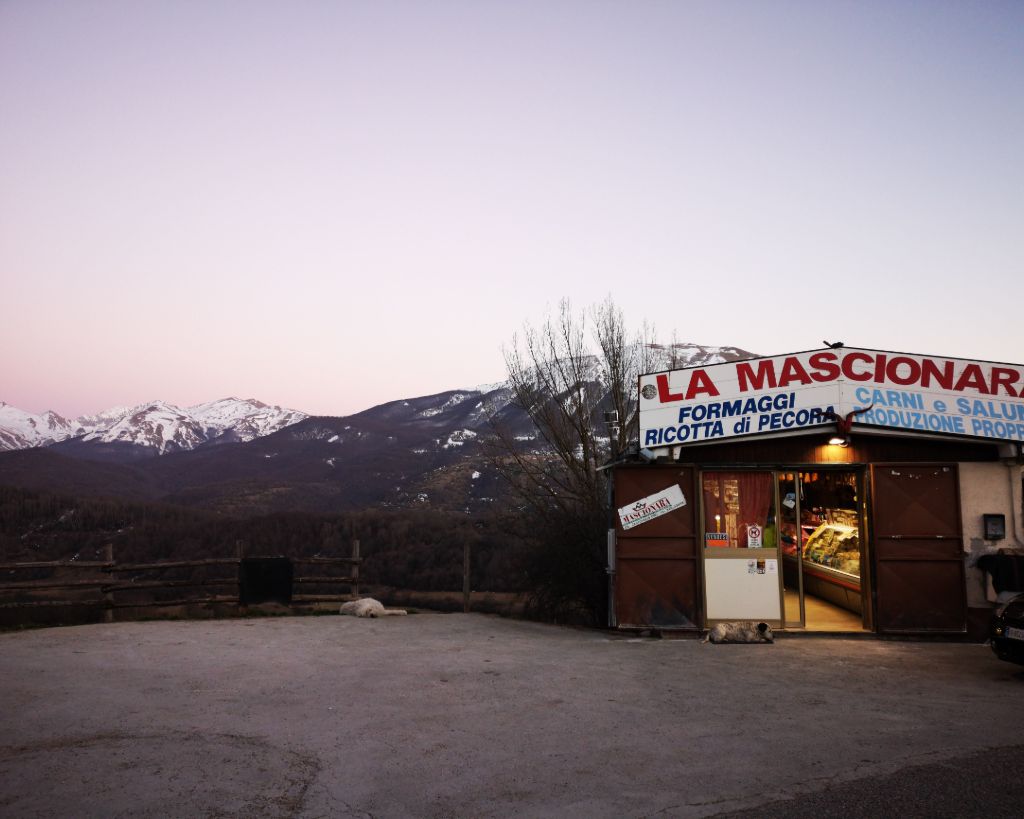 Full of dry, fresh, smoked, aged cheeses as well as dry meats such us prosciutto, lonza and salami. Get a few panini before heading to the lake or stop at few of the local restaurants serving fresh lake fish, look out for the local variety 'coregone'.
At the shop look out for 'mortadella di campotosto' also known as 'coglioni di mulo' mule's balls, ophs!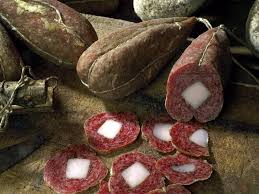 You will see spot them easily,  hanging everywhere. Characterized by limited local production and the squared piece of fat in the middle, slightly smoked with fireplace. No mule's meat, don't worry, only the best parts of the pig!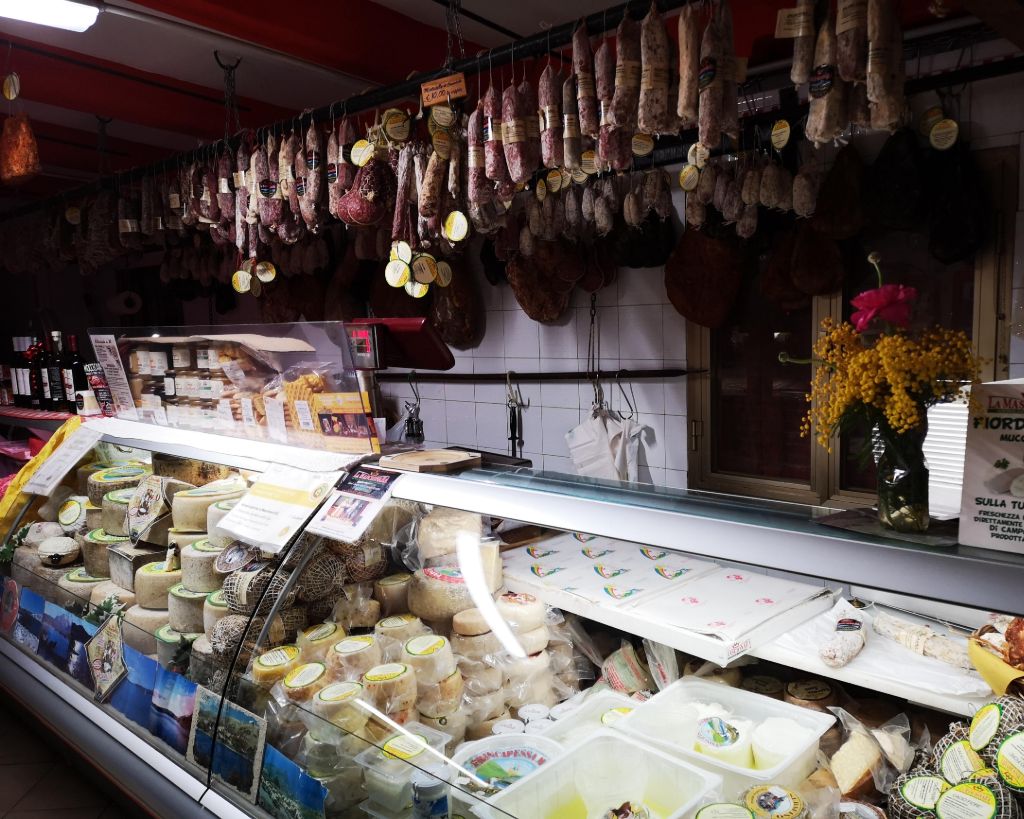 Abbey of San Giovanni in Venere
Located in Fossacesia, in the south part of Abruzzo, the Abbey of San Giovanni in Venere!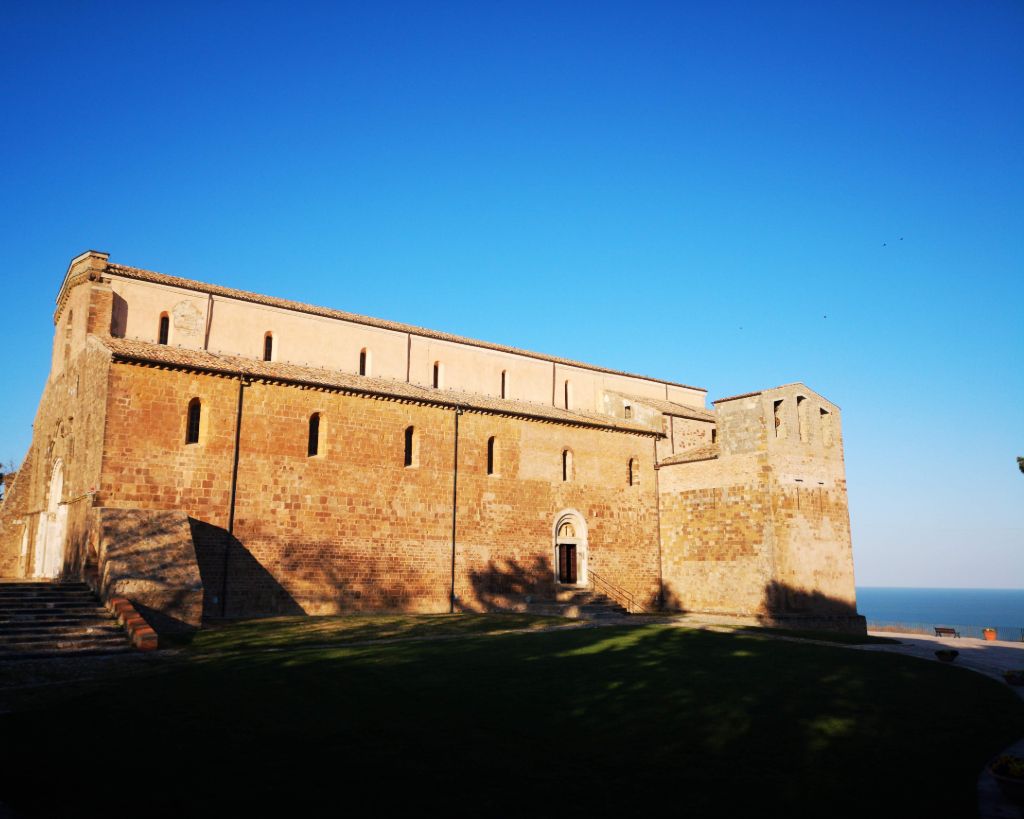 You won't wanna miss the beautiful view from the balcony at the far end of the abbey (keep right on the balcony) and enjoy this amazing view.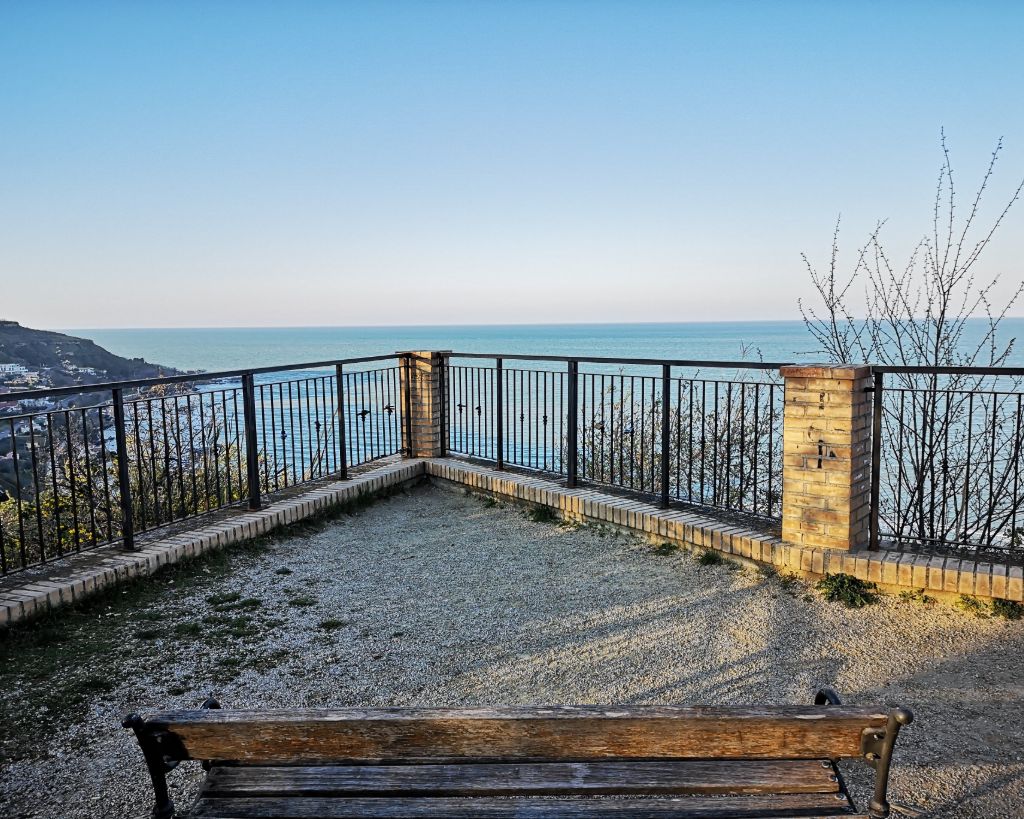 Trabocchi Coast – Punta Aderci Natural Reserve
Don't know you but I enjoy places where are not packed with people. One of the best times for me to enjoy the Trabocchi coast and the natural reserve of Punta Aderci is during great days in March. As you can see from the picture is a bit windy, but nothing like northern Europe.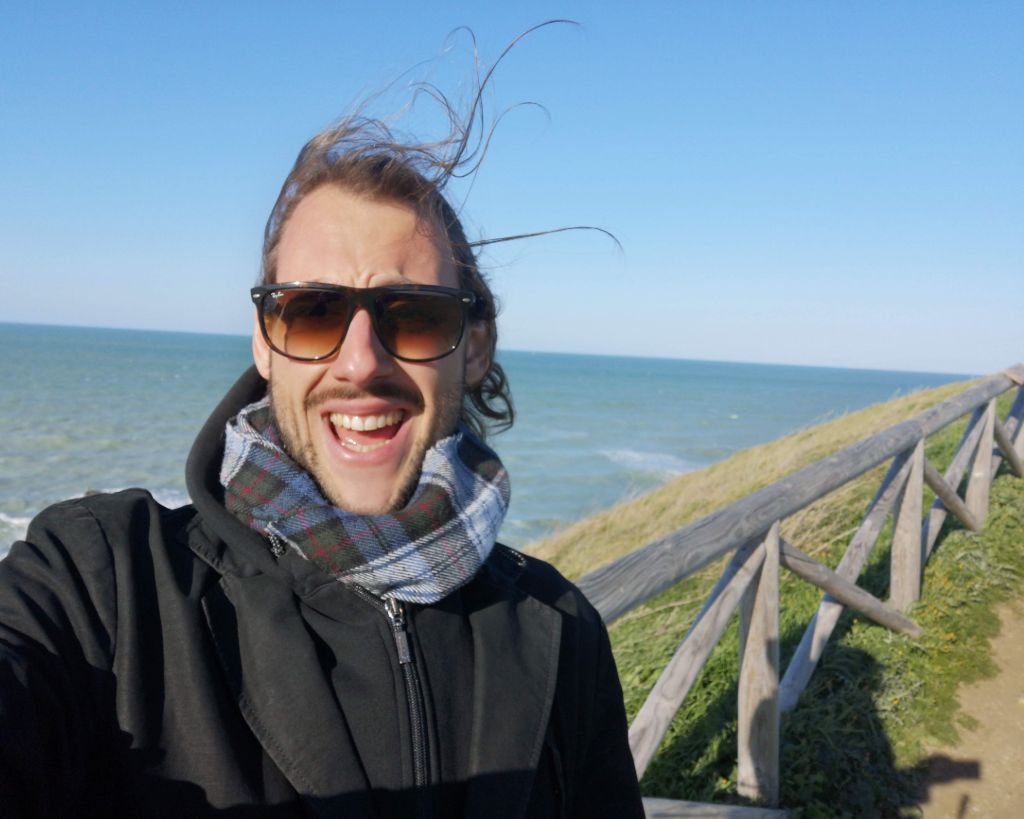 Trabocco is the Italian name for fisherman hut, the one below is one of the few remaining originals. It was renovated some years ago and now is abandoned. There are many Trabocchi that are now converted into restaurants and you can enjoy a unique experience eating on it fresh seafood with a glass of Trebbiano d'Abruzzo. Trabocchi Restaurants re-open mid-May.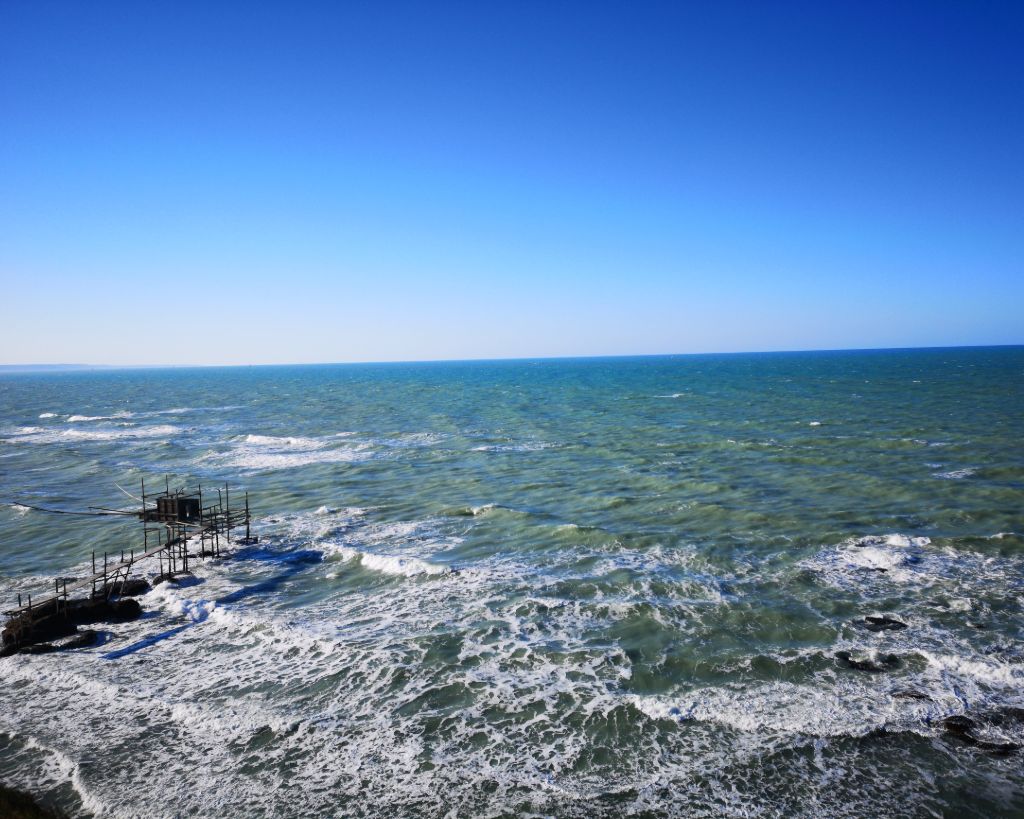 March's eating in Abruzzo
March brings a variety of seasonal produce and the freshest fruit to enjoy. Sample the sweetest in-season citrus fruits, Asparagus, , artichokes, chicory, spring salad fixings like chicory, dandelion, kale spring, onions and fresh garlic.
Have a look at what we enjoyed this month: authentic specialties from our favourite Abruzesse food and drink producers (link food box), fresh regional dishes made here in our own home kitchen.
Arrosticini
Of course we had our arrosticini fix from a local organic meat producer!
Abruzzo natives enjoy regional specialty 'arrosticini' all year round.
Fresh home-made pasta alla chitarra
Nonna Amina was busy in the kitchen making from scratch, pasta 'chitarra!'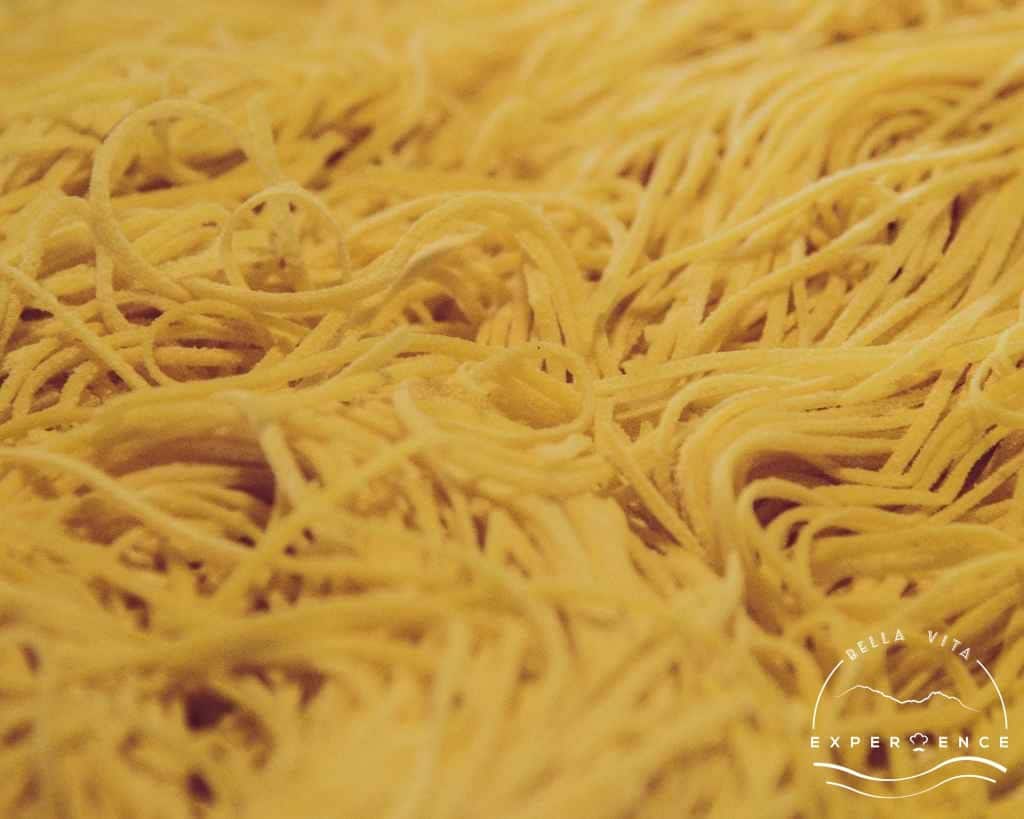 Have a look at her new recipe book containing her traditional, favourite Abruzzese recipes.!
The name of this spaghetti comes from the tool we use to make it, a frame with wires that we use to cut the pasta dough – the 'chitarra' which literally means 'guitar.'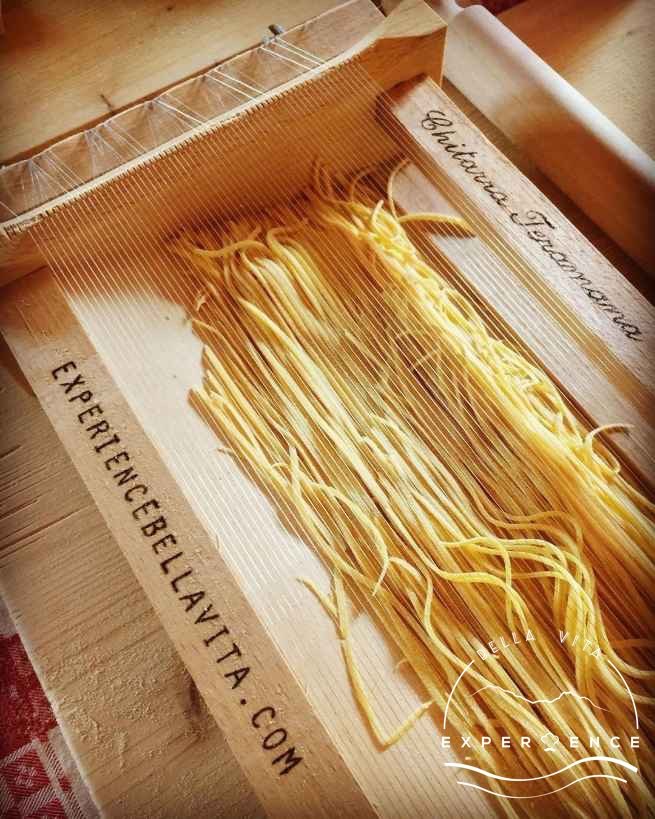 The porous texture and shape of the pasta allows sauces to adhere really well.
Wine Tasting in March – Do you know Cooked Wine 'Vino Cotto'
We also enjoyed one of our favourite wines, Vino Cotto (from a centuries old method) specially made in Abruzzo. This sweet wine, 'Vino Cotto', literally means 'cooked wine.' It originates originates from the Abruzzo region, principally within the Teramo province. However, it is found also in other regions of Italy, such as Marche, Molise, and even Sicily. Each Vino Cotto production varies from each producer/locality as it differs in its methods of preparation.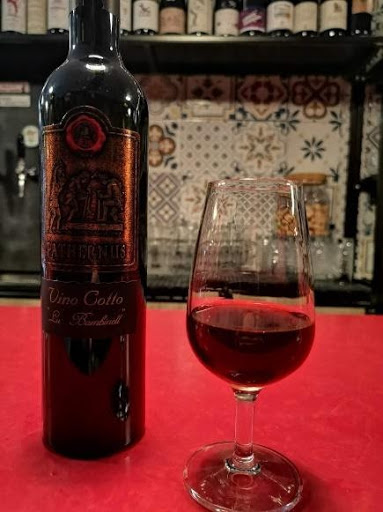 It is the result of reducing the must of specific local grapes. In case you don't know what 'must' is, it comes from the Latin vinum mustum, 'young wine.' It is freshly crushed fruit juice (usually grape juice) that contains the skins, seeds, and stems of the fruit. The solid portion of the must is called pomace and typically makes up 7–23% of the total weight of the must. Making must is the first step in winemaking. Vino Cotto is made by reducing to a third the must from the Montepulciano D'Abruzzo grapes in a copper pot over a wood-fired flame. The must is simmered for around 9 hours, then blended with another raw must in order to allow fermentation. The last step consists of blending the newly produced Vino Cotto with different vintages of 50 (or more) years-old. This is the same process as balsamic vinegar preparation. The older the Vino Cotto is, the creamier, sweeter, and better it will be.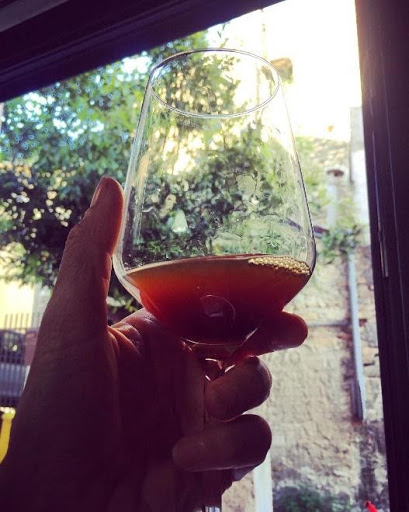 The wine is also referred to as 'Lu Bambinell', or simply the baby. According to the tradition: a barrel of Vino Cotto is produced for the newborn baby, and then stored until he/she would get married. As there were many people who never got married, there is some very old Vino Cotto still around, which are still stored in cellars to this day. As this wine was/is so valued, as a result of the many historical invasions of Italy, farmers walled-up or buried bottles and casks of this precious wine. During the last 30 years many of these hidden treasures of old wines have been found around Abruzzo!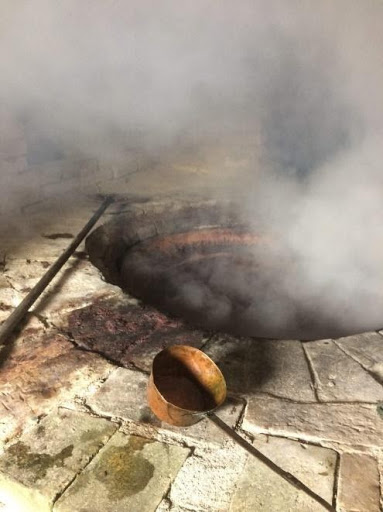 Planning to visit Abruzzo and would like to learn more about Vino Cotto, try it and see how it's made? Discover our wine tasting and Vino Cotto tour. Get a taste below!
March Traditional Dishes and recipes from Abruzzo
Brodo con frittatina
A traditional dish from Teramo, made with a low frittata (fry omellette) with parmesan and parsley which is but into small pieces and wet in chicken broth (link recipe)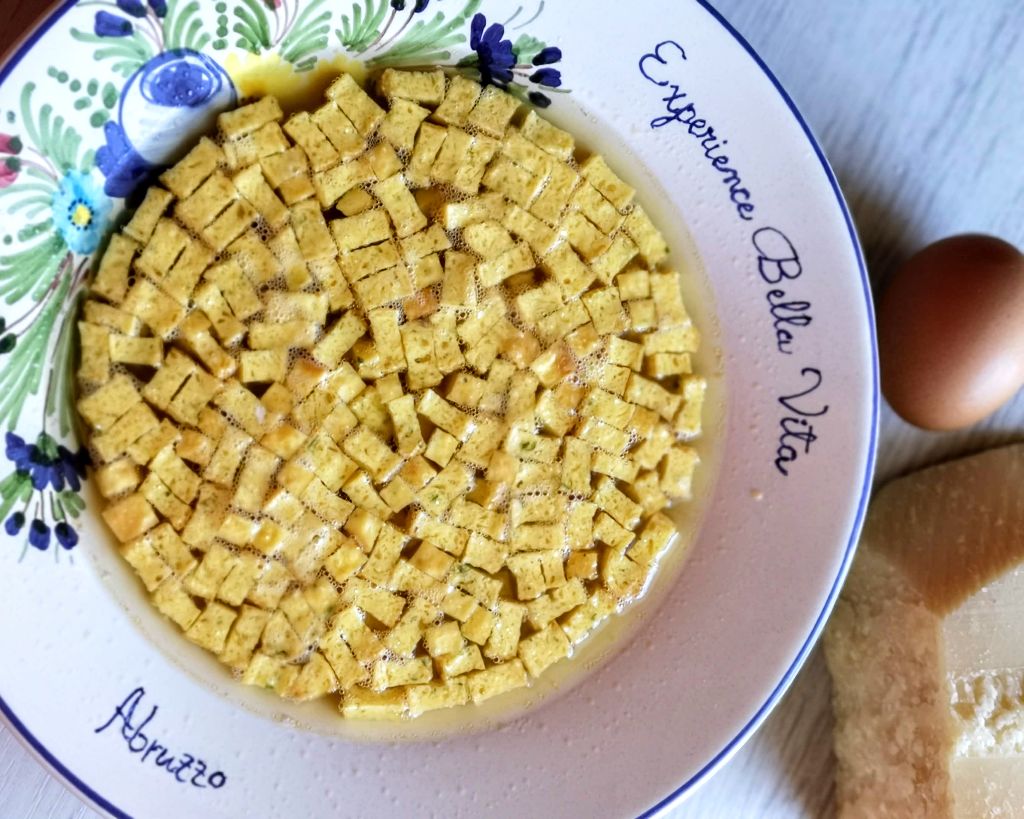 Zeppole
If you want to try Italian best Zeppole, look no further! The expert pastry chef Eugenio makes the tastiest zeppole. If you are around Abruzzo during March we can take you to his workshop to taste them.
Abruzzo scheduled activities March 2021
Food & local Festivals in Abruzzo in March & Cultural Events
Here are some great events in Abruzzo in March:
'I Fuoco di San Giuseppe' (The Fires of Saint Joseph) at Fara San Martino
This local festival typically takes place in Mid March. In ancient times, before their traditional feast on this day in honour of St. Joseph, a bonfire was lit in every neighborhood. The tradition of lighting fires signify re-igniting the historical memory of the 'Farese' community, strengthening the bond between its residents and the land. These spring bonfires of Fara San Martino have been accompanied by competition of fireworks that illuminate the night sky of this picturesque village.
Celebrate along with the locals and enjoy the warm ambiance of the fires along with music and food such as arrosticini and potatoes.
More events and festivals are coming! Sign up to our newsletter to stay up to date.
Why should you visit Abruzzo in March, or at all?

March a great month to discover Abruzzo and there is much to see and do! From discovering local traditions and attending festivals, sampling traditional cuisine, hiking, cycling and winter sports, and if you are traveling with children there are plenty of activities to keep them entertained!
Contact us today for a Private Authentic Abruzzo Experience.