The complete guide to pasta alla chitarra from Abruzzo
In this blog post, we are going discover the origins, recipe and uses of the iconic spaghetti alla chitarra, the squared pasta from Abruzzo in Italy, made with the guitar pasta cutter or Chitarra in Italian.
Why is it called spaghetti alla chitarra?
Chitarra might sound familiar to you, and it's actually what you think, a guitar. But for us Abruzzesi here in Abruzzo, the only chitarra (guitar) we know how to play, is the one to cut hand-made fresh egg-pasta dough, obtaining thin spaghetti with a distinctive square shape, called Spaghetti alla Chitarra, literally guitar spaghetti.
Where is chitarra pasta from?
The Chitarra tool finds its origin in the Abruzzo region, without mentioning the province as we could get into an easy discussion among the locals. The exact date and who invented the tool is still a mystery and today you can find similar pasta guitar in other parts of Italy (later in the post we examine the different locations).
The first written evidence of the Chitarra was found in 1871 where the tool for making pasta was mentioned in a notary's document, where it was part of the bride's dowry, together with gold, handmade blankets, sheets, and other inheritance.
Materials & Evolution
With the years the materials have pretty stayed the same, a wooden frame, usually beech wood, and steel. Nowadays it is replaced by stainless steel that does not rust. If you find chitarra with nylon or plastic strings, please, avoid it as it doesn't give you the same texture and sound.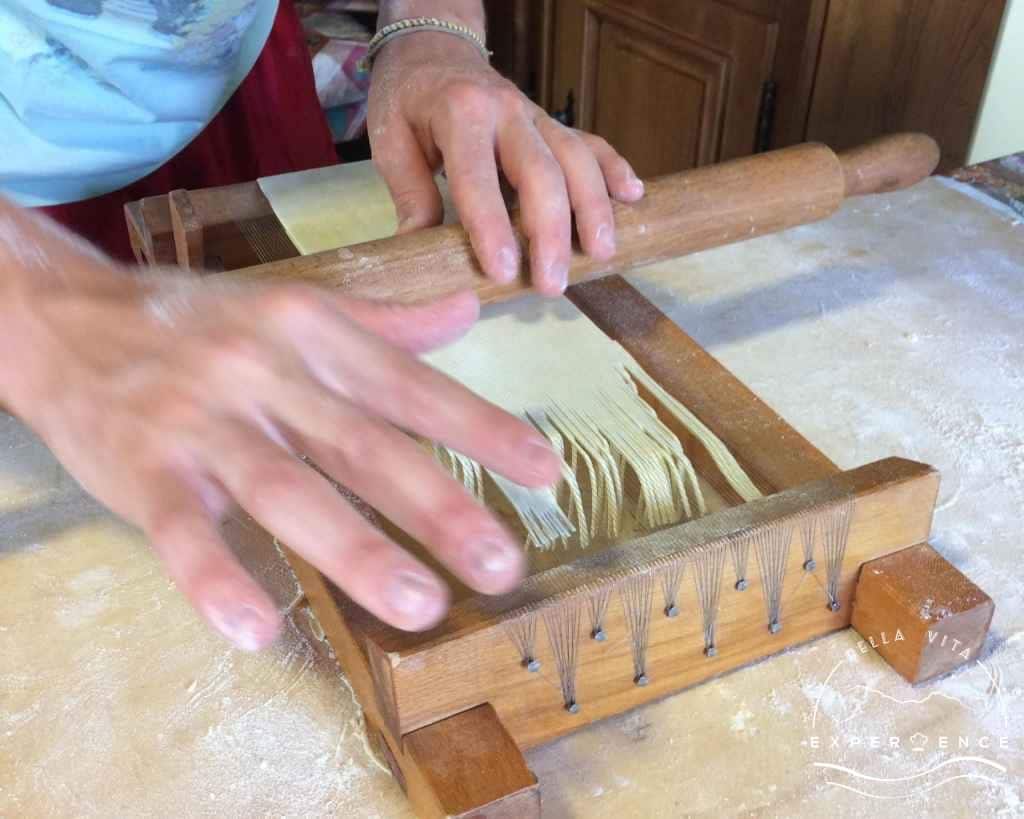 Chitarra Pasta Cutter
In the picture above, you can see the traditional pasta guitar from Teramo where the strings are much closer to each other (about 1 mm) than the other Chitarre you would normally find (2-3 mm). In fact, the Spaghetti alla Chitarra from Teramo are really thin, and most of the Teramani would want it only that way, served with the traditional tomato sauce (cooked with meat) and the iconic Pallottine, translated tiny meatballs.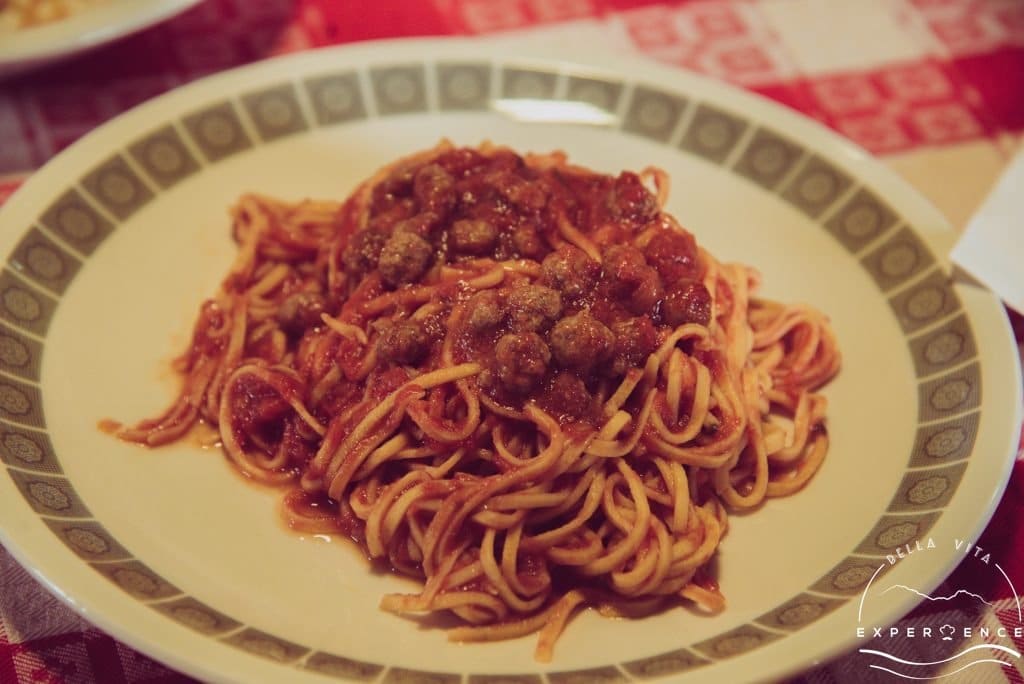 This traditional dish in Teramo, gets different names, such as 'Maccheroni alla Chitarra', 'Spaghetti alla Chitarra', 'Chitarra Teramana', 'Chitarra con le Pallottine' or 'Chitarrina'.
Nowadays, you can find double-sided pasta guitar wherein one side you have the narrow string to make the guitar spaghetti and in the other, larger strings to make fettuccine or tagliatelle.
So far, I've been mentioning strings, however, except in very few cases, the chitarra is only made up of a long string which is manually inserted on the wooden frame and then tightened with two screws or wooden stoppers. In fact, if one line breaks, you have to replace the whole string on both sides. In the section below, I made a video on how to repair the pasta chitarra's string.
Where is the Chitarra Pasta made?
As we said earlier, we can find this dish in other parts of Italy as well, which we are going to analyze in detail and give my opinion on why the tradition has extended in these places.
Before starting, we can say that apart from the diverse names it can get, the dish finds its commonality in the ingredients used, semolina flour (of durum wheat), and eggs.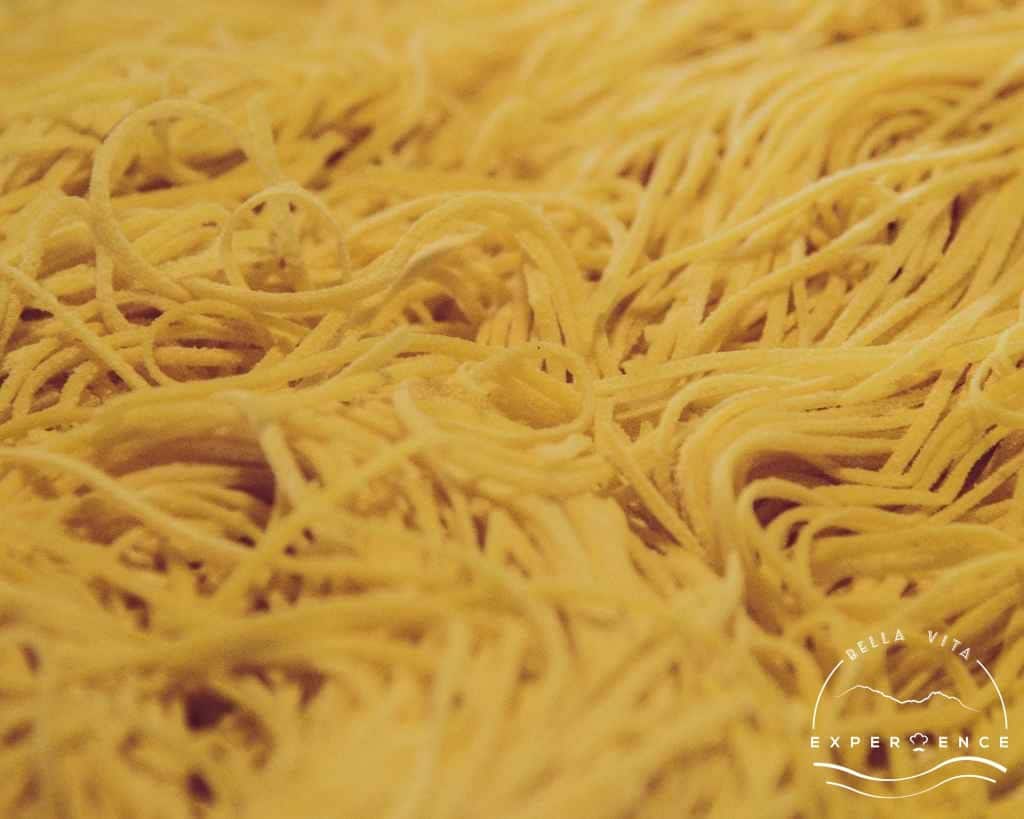 Abruzzo – Chitarra Abruzzese
In the Abruzzo (Abruzzi) region, as we said earlier the name varies depending on the location. In the province of Chieti for example, the chitarra tool is called "Carratore per pasta" (in dialect "lu carrature"), in Teramo's dialect "lu macrnar". In Abruzzo, guitar spaghetti is very much used today as a traditional Sunday meal and can be considered one of the top regional dishes of Abruzzo.
The dish is traditionally served with a meat-based tomato sauce, usually consisting of pork, beef, lamb, and sometimes chicken or duck too. The tasty and tender meat which has been cooking for many hours, it gets served as secondo (second course).
Molise – Crioli Molisani
Crioli Molisani, similar to maccheroni alla chitarra, but hand-cut with a sharp kife and and much thicker.
The name Crioli comes from the traditional shoelaces of the shepherds. They are usually served with a strong lamb tomato sauce or during the Christmas festivities, you can find them served with cod and walnut too.
Lazio – Tonnarelli Laziali
Called Tonnarelli, they are the cousins of the spaghetti alla chitarra of Abruzzo.
Their preparation is the same, using a pasta guitar, the only difference is that tonnarelli pasta is bigger and thicker.
Puglia – Troccoli Pugliesi
Only found in the northern part of Puglia, in the Gargano and around Foggia, here are called Troccoli, Truccoli or Torchioli. The difference is that they traditionally made with a special rolling pin cutter called Troccolaturo.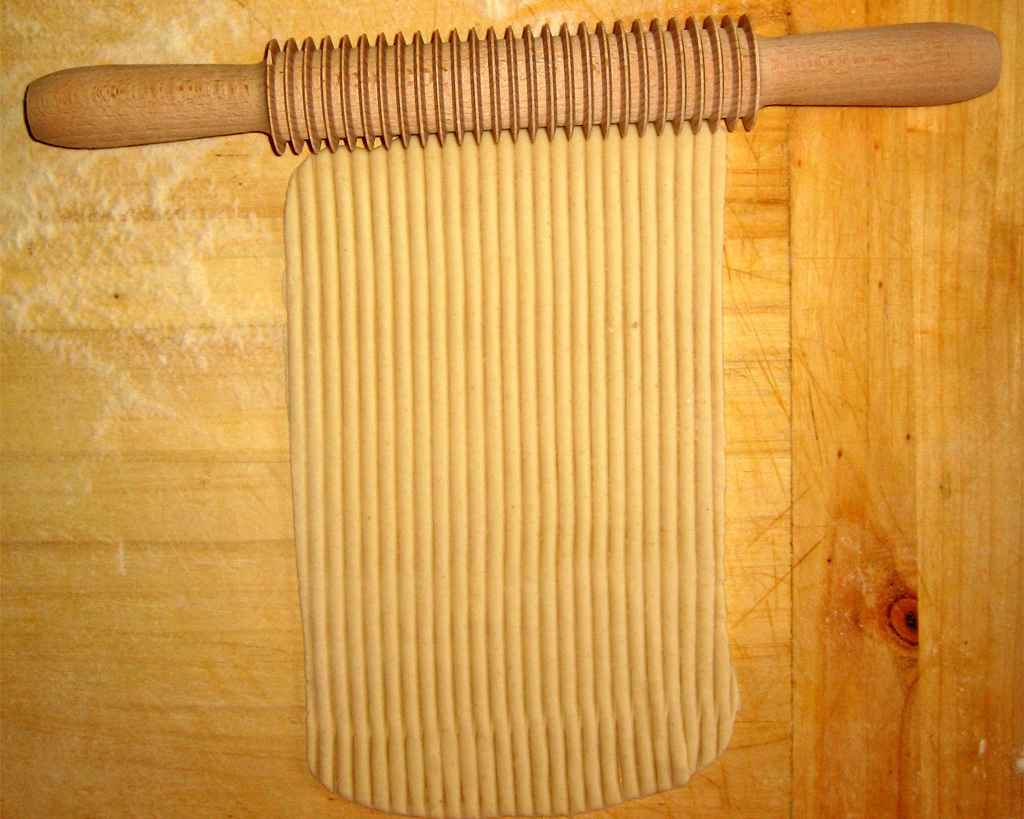 In Puglia we also find the versions with turnip greens (or rapini) our 'cime di rapa', with cuttlefish or octopus.
La Transumanza e i Tratturi – Transhumance and the Sheep Tracks UNESCO
There is something connecting these similar food traditions which are to find in the Transumanza and the Tratturi.
Transumanza, in English transhumance, is the seasonal migration the shepherds would do with their sheep before the winter, from the Apennines of Abruzzo & Molise, down the meadows of North Puglia, also known as Tavoliere delle Puglie and vice-versa before the summer. The importance of Transhumance, was also recognized by the UNESCO, who inserted this important tradition to the list of intangible cultural heritage in December 2019. More info on the UNESCO blog page.
The semi-natural path the shepherds will do was called Tratturi (Sheep Tracks), some of more than 240 km long like the Tratturo L'Aquila-Foggia.
In the mid-15th century, no less than three million sheep and thirty thousand shepherds walked annually the Tratturi, and the impact pastoralism had, was such as to provide (directly or indirectly) subsistence to half of the Abruzzese population (Source, Rete Rurale)
Is impossible to find the roots of this dish, however, there seems to be a thin line connecting Abruzzo & Molise to Puglia. Probably, not only flocks and shepherds have migrated over the centuries, but also our culinary traditions and the chitarra.
Abruzzo & Molise…not everyone knows
So far you have probably noticed I've been mentioning Abruzzo '&' Molise. In fact, not everyone knows that these two regions until before 1963 (just 57 years ago) were part of a unique region, called Abruzzi & Molise.
Traditional Pasta alla Chitarra Recipe from scratch
Have you ever made this spaghetti?
I'm very lucky to still have my 84 years Nonna Amina and in this recipe, I'm going to share with you all her secrets. This is her family's recipe, for making the traditional Spaghetti alla Chitarra from Teramo, from scratch, dough to her tasty tomato sauce.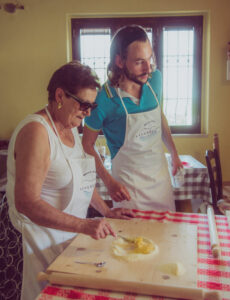 DOWNLOAD NOW NONNA's AMINA FAMILY RECIPE.
After spending several years abroad and returning home, I decided to set up Experience BellaVita, my Tour Operator company in order to transmit the passion, the traditions, and the love I have for our culinary and cultural traditions of our land, the Abruzzi region. Learning this traditional Abruzzesi pasta recipe with a chitarra is already a unique experience, but experiencing it with a real Nonna in person, and joining our family at lunch is completely an exceptional adventure only a few lucky people can be part of. Visit our webpage to see if there are any availabilities. You can also watch the video of Nonna Amina in action while preparing the Pasta alla Chitarra.
Where to buy the traditional Chitarra Tool?
In Italy, even in Abruzzo is difficult to find a good quality chitarra frame that doesn't break after a few uses, especially the cheap ones you find online.
Since I've received many requests, I've asked a local artisan to make the chitarra frame & string especially dedicated for us, respecting the traditional size of Teramo with narrower strings.
The chitarra is completely handmade from scratch using locally sourced beechwood.
To give an extra edge to the chitarra, we'll personalize every single pasta guitar (with a pyrograph) so that you can take home a unique piece of Abruzzo with you.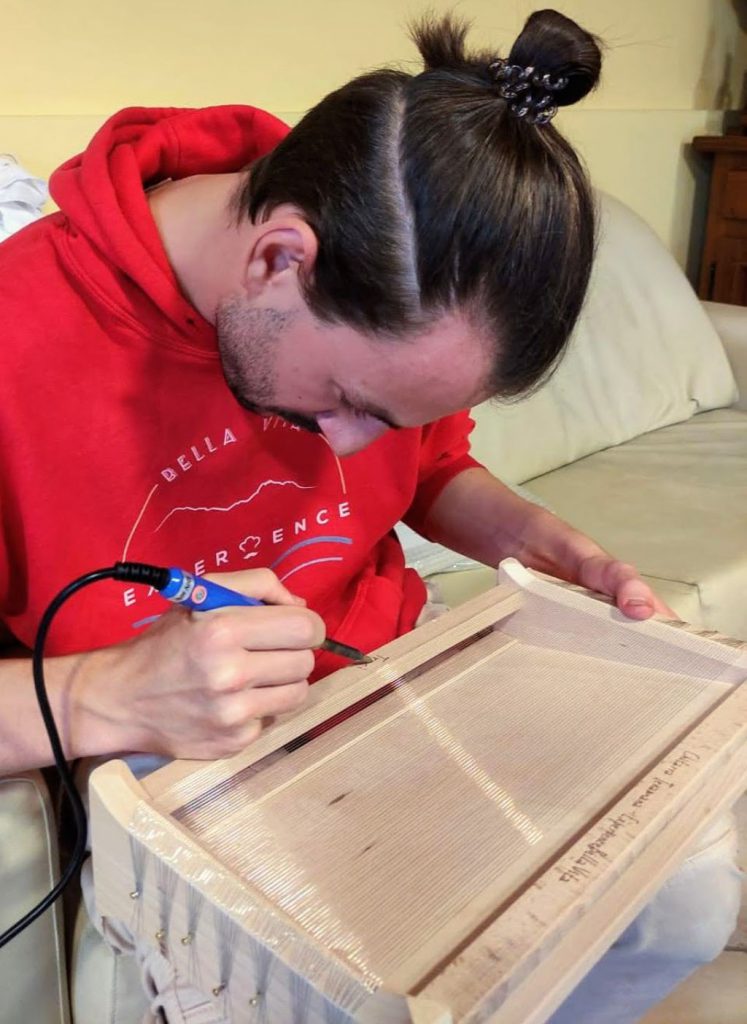 If you want to buy this limited chitarra toll and contribute to the local development, please order one at our gift shop. (worldwide shipping)
How to repair the Chitarra?
Soon I will post the video I've made repairing an old chitarra. The most difficult thing to do is to find the stainless steel string. The rest can be learned watching the video.
Make the Pasta alla Chitarra with a local in Abruzzo
Since I started this Pasta alla Chitarra Making Experience a year ago, I couldn't have imagined so many passioned people from France, Germany, Spain, England, Scotland, Ireland, Wales, Belgium, Poland, Netherlands, Australia, USA, Canada, Mexico, Puerto Rico, Ethiopia, Costa Rica, Colombia, Argentina, Brazil, Vietnam, Cambodia, Indonesia, China, Japan & India would come to my home to learn to make the traditional PASTA ALLA CHITARRA TERAMANA CON PALLOTTINE.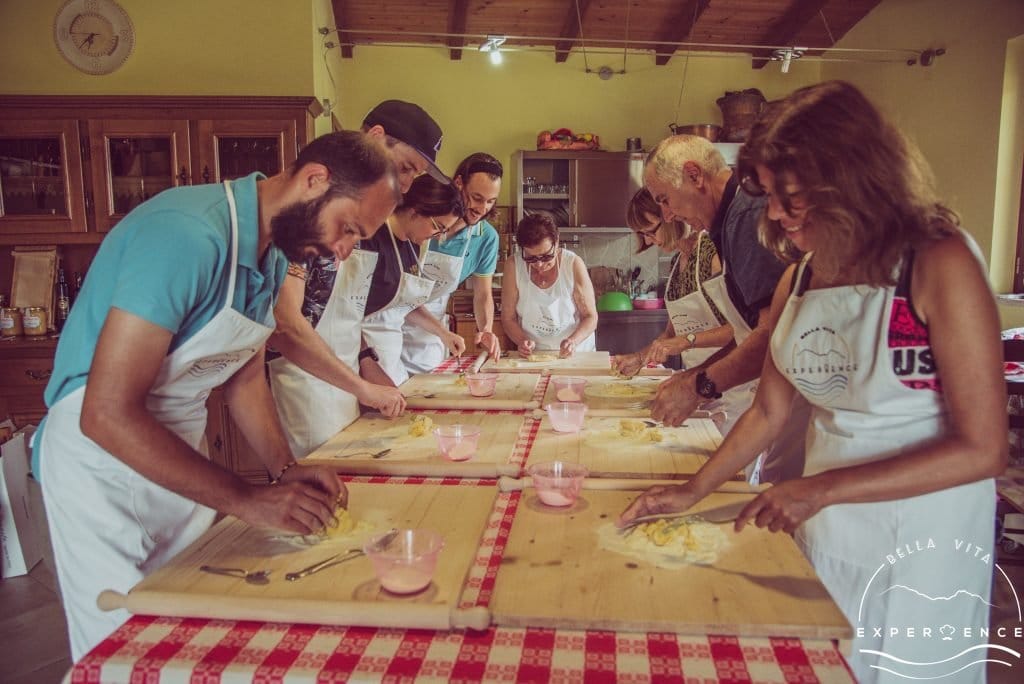 If you would to share a traditional Abruzzo's family day, visit our webpage to see if there are any availabilities.