Abruzzo Recipe: Sweet Ravioli Teramo
If you come to Abruzzo, especially to the city of Teramo during the Carnival season, you cannot miss tasting the Ravioli Dolci (Sweet ravioli). This unique ravioli is filled with ricotta, cinnamon, some lemon zest, marjoram, and served with Nonna's tomatoes sauce or in some versions with cinnamon and sugar. Truly, an exceptional contrast of sweet and salty flavors and despite being born in a very small town in Abruzzo, it is actually known by many international culinary enthusiasts.
Difficulty
Medium
Preparation
90 minutes
Cooking
5 min
Serves
6 people
Ingredients
For the Pasta dough: as any other ravioli
4 eggs
350 gr of flour + more for kneading
For the sweet filling:
2 yolks
500 gr fresh ricotta
1 tsp of cinnamon
some lemon zest
some marjoram
For the tomato sauce:
Follow the instruction on this link.
Tools
Rolling Pin & Wooden board
Preparation
On a wooden surface/board, add all the flour (keep always some on hand) and make a "fontana" (fountain), a hole in the middle. After this, add and beat the eggs, and slowly with the fork incorporate the flour. When it becomes hard to mix with the fork, start with your hands.
Knead the dough with power & love until smooth. Cover the dough with a kitchen bowl/pot or wrap in kitchen film and let it rest for 30 min. This will allow the better extending of the dough later on.
In a bowl: insert the ricotta, sugar, yolks, lemon zest, and marjoram (washed and finely chopped). Mix everything until you have a creamy and smooth mixture.
Roll out the pasta dough into thin sheets and on the top part insert the ricotta mixture in. Cover the filling with the lower sheet of pasta and with a fork or fingers press firmly around the borders to seal. Cut into individual ravioli with a knife or ravioli cutter.
The ravioli are now ready to be boiled in slightly salted water and then seasoned with the previously prepared ragù and topped with Parmigiano.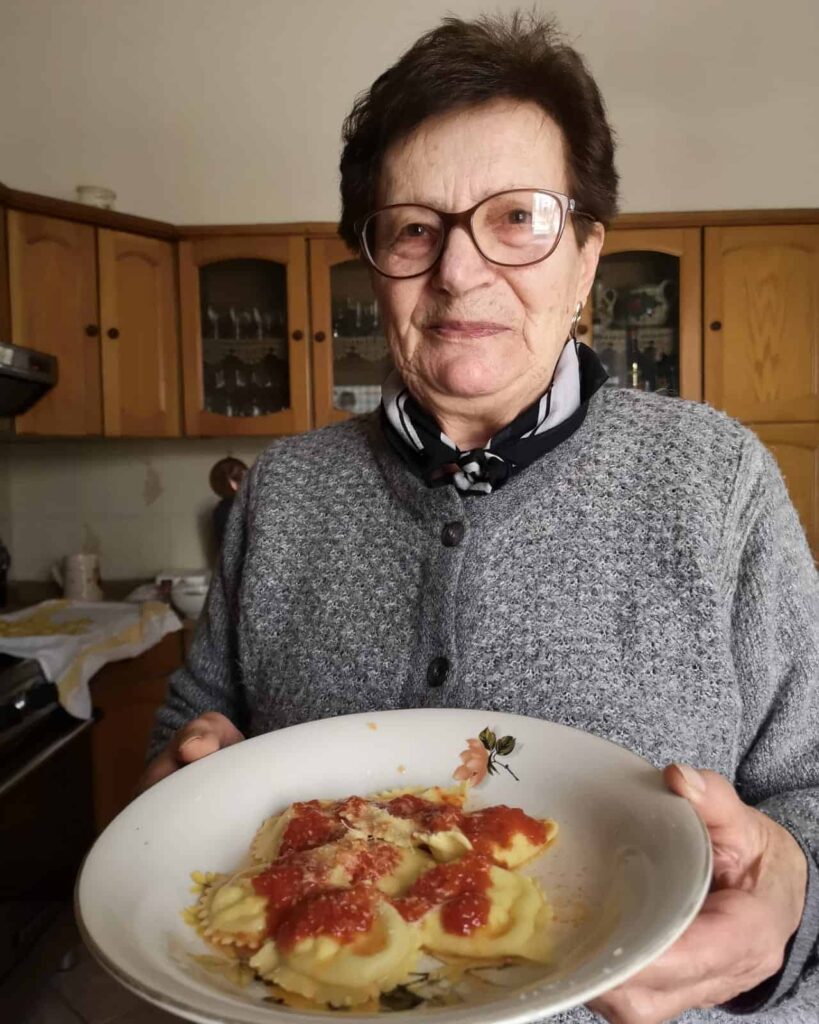 Buon Appetito!
Share Nonna's recipe with your friends and book a cooking experience with our family.