The Complete Truffle Guide in Italy
Italian Truffles – At a Glance
In this blog post and guide to the Italian truffle world, you will find all you need to know about truffles in Italy: the origins, the dogs used, where and when to find them, recipes, festivals, wine pairings and much more. Let's start!
My Truffle Story
Ciao! I'm Marino Cardelli, the CEO and Culinary Expert at ExperienceBellaVita.
Born and raised in
Abruzzo
, the richest truffle area of Italy, I have been savouring and enjoying truffles my entire life. I even trained my first truffle dog at age 7!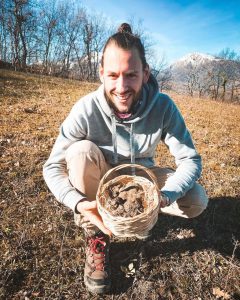 Knowing the art of truffle hunting and cooking so well, I'd love to share my passion, appreciation, and knowledge with you. Come to Abruzzo! You will learn everything you need to know about the mysterious truffle, while I share what I relish most in life: Italian and Abruzesse culture, wines, and food. Let's start with the most basic question!
What are the truffles?
Truffles are hypogeum (underground) mushrooms, that grow and mature below ground or just at the surface. Truffles are not potatoes.
Where do Truffles grow?
Truffles grow next to the roots of certain species of trees and bushes (oaks, hornbeams, beech, hazelnuts, pine etc.), and engage in a biologic interaction called ectomycorrhizae, where both benefit via an exchange of nutrients.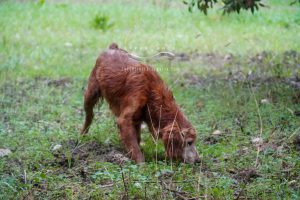 Once the symbiosis is established, the truffles need distinct conditions in order to grow and thrive. This includes the age of the 'infected' plant, soil ph, humidity levels, temperature, and other climatic conditions.
How do you find truffles?
The only way or the best way to find truffles is by using trained dogs. Without a good trained and talented dog, you will simply miss truffles or not find them at all. A dog is Gold!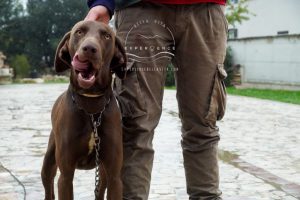 The dogs mostly smell only ripe truffles and when you find one you can almost be sure that the truffle has matured perfectly. Some dogs will not just find truffles and bark, but would also bring back the truffles to you in exchange for a treat.
The Truffle Hunter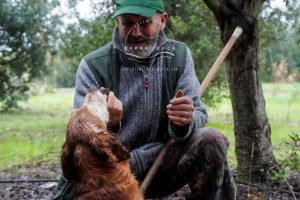 Once we have a good trained dog, is time for the truffle searcher also called 'cavatore' in Italian. There are thousands of truffle hunters, some are professionals (a few) and most of them hunt truffles as a hobby. To be a Truffle Hunter in Italy you will have to undergo a training and final exam, before getting the 'licence'.
Italian Truffle Hunting a UNESCO World Intangible Heritage
According to a UNESCO panel meeting held in Paris on December 16, 2021, Italian truffle hunting has been included to the UNESCO list of the world's intangible cultural heritage. A great news for Italy and this beautiful cultural tradition.
Are pigs still used for hunting truffles?
In Italy, I personally don't know anyone or even heard of someone who still uses pigs. What I always say to my visitors when they ask me this question is 'Think about carrying a pig in your car or jeep!', 'Think about taking out the truffle from the pig's mouth'.
Pigs are difficult to train, they damage the truffles and destroy the ground, uncovering the roots (this is a life threat for truffle production). Dogs are much more precise, they dig directly on the spot and are more clean workers. I'm not saying pigs aren't good, but dogs are much better + plus you do not need to train a new pig each year when the time arrives to make sausages.
What kind of Dog's Breed is good to find Truffles?
There is no simple answer to this question. Although any dog can be trained to search for truffles, each truffle hunter will have his own (strong) opinion on what breed will be the best one for hunting truffles.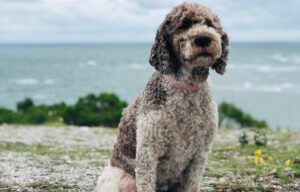 The most known truffle hunting dog of Italy, is the Lagotto Romagnolo. There is a general rule of thumb, usually are more common small sized dogs as with their paws they limit the damage to the truffles when digging.
Imagine a Saint Bernard or a Great Dane? They will probably destroy the truffles with their paws.
Truffle composition
The truffles have an outside edible skin called peridium and the interior or 'the heart' of the truffle, is called the gleba. The outside can be smooth or rough, the inside can vary in colour and vein density. These two elements together, as we will see later, help us to recognize the various species of truffles.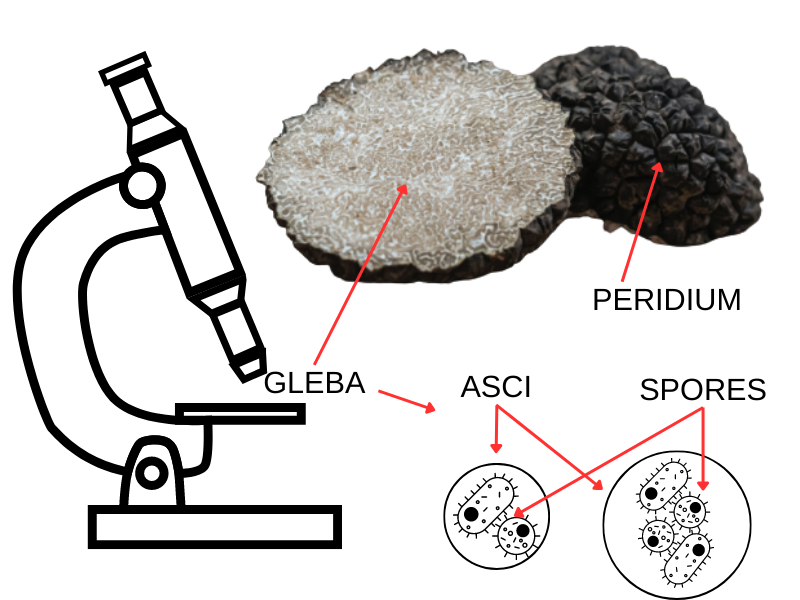 The heart of the truffle also contains spores, which are set like gems inside small sacs called asci.
How do Truffles multiply?
In Nature
Animals, like wild boars, rats, snails, lizards are attracted by the smell of truffles and like any good connoisseurs, eat them. These animals are very important to the truffle propagation as thanks to their digestion (and poo), the spores are released and disseminated around the forest, allowing other trees to grow truffles some years later.
With the Help of Men & Women
What happens in nature is also replicated in the laboratory. Propagation experts place truffle spores in the roots of young plants which are sold to potential investors and/or truffle hunters who will plant them on their land.
Before the plant will begin (if at all) producing truffles, there is a waiting period from 4 to 10 years, depending on the kind of plant.
Why are White Truffles so expensive?
The rarity, goodness, and aroma of white truffles, make them the most expensive among the truffle family, competing with the world's most sought after food items, including saffron.
As mentioned previously, while black truffles can be grown on plantations, white truffles are extremely difficult and almost impossible to propagate as they need specific, optimal conditions to thrive. Unlike their black cousins, they do not adapt well. Although investors have tried, attempts at growing have been so precarious that in some cases waiting periods could run longer than 15 years to see results. 
At the moment, the secret of effectively growing white truffles is still elusive!
The Origins of Truffles
Truffle are delicacies that, for centuries, has been sought after and appreciated by the most powerful nobles in Europe and event today these fungus are one of the most precious on Earth. Let's see where it all started!
The first sightings of truffles originate from Gaius Plinius Secundus of the Roman Empire aka. 'Pliny the Elder' was a Roman author, a naturalist, and a natural philosopher. He wrote the encyclopedic 'Naturalis Historia', which became an editorial model for encyclopedias.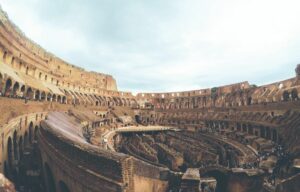 Here he wrote that truffles were already much appreciated by the Romans during important banquets. Some historians believe that Sumerians and Babylonians were also using truffles in their food as early as the 3rd century BC. It was thought by the ancient Greek philosopher Plutarch that truffles were created by the Greek God Zeus – combining of water, heat, and lighting.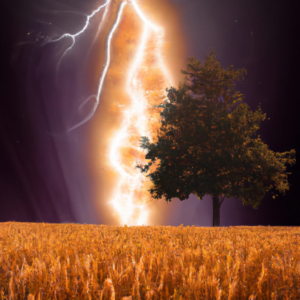 Truffles arousing Sexual Desire
In turn, Zeus (apparently renown for his sexual ability), also inspired the Roman Poet Juvenal who wrote that truffles arouse sexual desire.  It's no surprise that Napoleon Bonaparte loved truffles, but for more than the taste.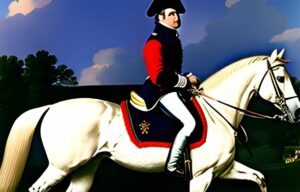 He used them to build up his reputation and status as a prolific lover among the royal ladies of the courts!
Gioacchino Rossini, the famous Italian composer, described truffles as the Mozart of the mushrooms.
Still today, truffles are desired and coveted by foodies worldwide!
Where can I find truffles in Italy?
I'm going to list just the most important centers of production for each region.
Abruzzo or Abruzzi:

Teramo Province: Campli, Teramo, Montorio

L'Aquila: Scoppito, Luco e Gioia dei Marsi, Pescasseroli, Scanno, Avezzano, Pescina, Capestrano, North of Sulmona, Navelli, Castel di Sangro.

Chieti: Rosello, Borrello, Pizzoferrato, Quadri, Torrebruna, Carunchio, Casoli, Guardiagrele, Fara S. Martino e Lama dei Peligni.

Pescara: Popoli, Bussi sul Tirino, Loreto Aprutino e Penne.

Basilicata: province of Potenza
Calabria: around the Pollino massif.

Campania: 

Avellino: 60% of production come from the forests of Irpinia

Salerno: 30% coming from Colliano, Valva, Laviano, Picenti Mountains & Cilento Natural Park.

Caserta: Matese

Benevento: Taburno mountains

Emilia Romagna, in the provinces of Piacenza, Parma, Reggio Emilia, Modena, Bologna, Ferrara
Lazio, in the provinces of Viterbo, Roma, Rieti, Frosinone and Latina
Liguria, in the provinces of Savona, Genova and Imperia
Lombardy, in the provinces of Alessandria, Bergamo, Brescia, Cremona, Mantova
Marche, in the province of Ascoli Piceno, Ancona, Macerata and Pesaro Urbino.

Molise:

Isernia: S. Pietro Avellana, Capracotta, Carovilli

Campobasso: Boiano

Piedmont: the city of Alba give the 'commercial' name  to the most fine truffle, the white truffle or often known internationally as White Truffle of Alba. The most important areas for truffles in Piedmont are: Alba, Aqui Terme, Asti, Bra, Montà, Canale, Castagnito, Monforte d'Alba, Ceva, Mondovì.
Puglia, the area of greatest production is on the Gargano Mountains.
Sardegna, with Campitano between Cagliari and Oristano.
Sicily: the most important areas of the island are on the Mountains of Madonie, Nebrodi, Iblei and on the slopes of Etna. Bianchetto truffle can also be found among pine forests in Catania.
Tuscany, in the provinces of Arezzo, Firenze, Siena, Grosseto, Pisa, Lucca, Pistoia and Livorno.
Trentino Alto Adige in the Vallagarina Valley, Lake Valley and some areas od Valsugana
Umbria: the city of Norcia gives the 'commercial' name to the finest black truffle, the black truffle, or often known internationally as Black Truffle of Norcia.

Perugia: Assisi, Città di Castello, Pietralunga, Valfabbrica, Gubbio, Valtopina, Giano dell'Umbria e Gualdo Tadino.

Terni: Allerona, Orvieto e Fabro

Veneto, in the provinces of Vicenza, Verona, Padova, Belluno, Treviso and Rovigo.
Watch the Truffle Dogs in Action During a Hunt
The World's First Online Truffle Hunt Experience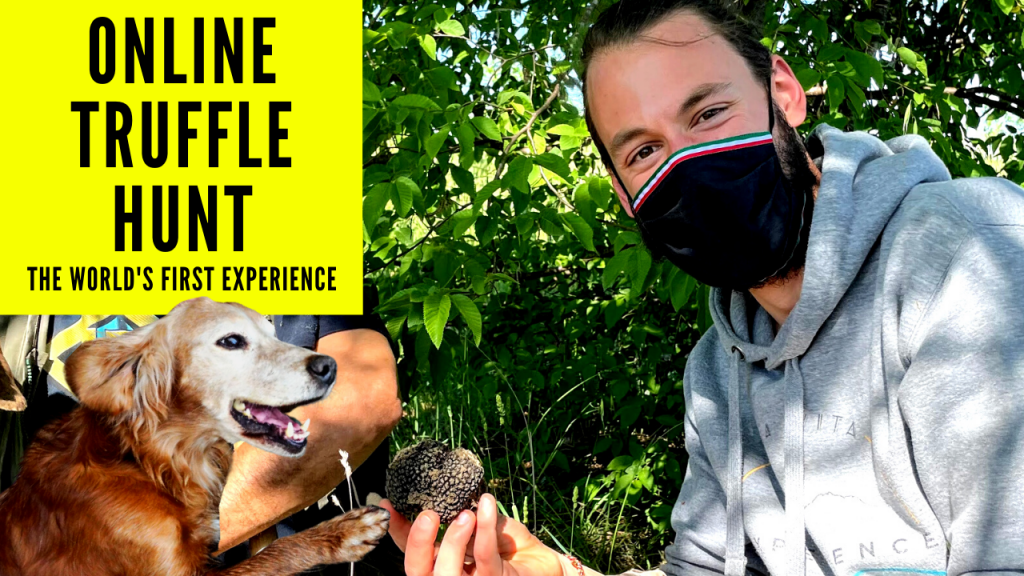 Imagine if you could join this incredible experience from the comfort of your sofa? An online truffle hunt, where you will discover the secrets of the Italian truffle hunting with an Italian Truffle Hunter!
Truffles in Abruzzo
I want to dedicate this part of the blog post to the Abruzzo Region, to my home. For me, it's important that buyers, connoisseurs, and aficionados of the Italian truffles scene realize – a little known truth, that
the Abruzzi region produces 40% of the Italian black truffle production!
Sources: Turismo.it, ProdottiTipici.it, Il Martino, Abruzzo Government
The Black Truth
For decades and even presently, truffle vendors from the North of Italy have been sourcing truffles from truffle hunters of Abruzzo at low prices, then selling them as truffles from the 'north' (for example The Black Truffle of Norcia or The White of Alba) at double of the already high commercial price.
For this reason, I've decided to start Truffle Hunting Tours in Abruzzo, educating the visitors and promoting the independent truffle hunters of the area.
Different Truffle Varieties of Italy
In Italy, there are many different types/species of Truffle, some edible and some not. Each of them has a specific time of the year when they grow. Speaking about the Abruzzo Region where I live, thanks to the diverse climate areas and vicinity to the sea, we can find all the truffle varieties through the months. Below we are going to analyze in detail the truffles you can find in Abruzzo and Italy, their characteristics, conservation, cleaning, and price.
Tartufo Nero Pregiato – Black Truffle
"Tuber Melanosporum Vitt"
The black winter truffle is sweet and versatile. Its pulp is black with white, crammed stripes. The skin can be smooth or spiky depending on where it grows. Often known as 'Nero di Norcia' or Périgord.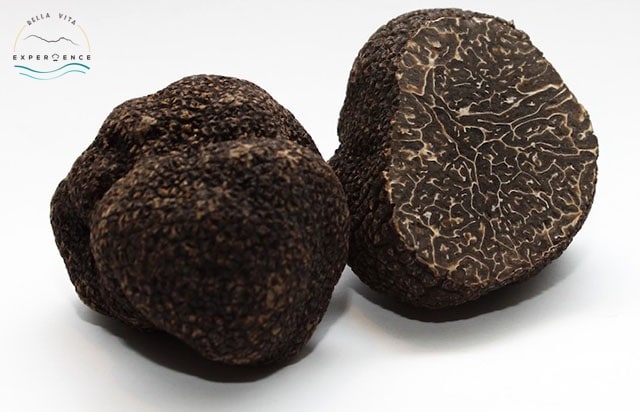 Collection Months:
From mid-November to mid-March.
Growing next to:
Durmast, holm oak, and black hornbeam.
Conservation Method:
The black winter truffles have to be stored in the less corded part of the fridge. Each truffle has to be wrapped around kitchen paper towels and then enclosed in a jar.
The paper must always be dry as it has the function of absorbing the humidity to avoid mold. It's necessary to change it daily, or every 2 days. Preserving them this way, you can keep them for at most, 15 days.
If you are not planning to use the truffles straight away, they should not be cleaned of their original soil, as it naturally helps in their preservation.
Cleaning Method:
When you're ready to use them, you can use a nailbrush or a (new) toothbrush to gently remove all the soil under a little flow of cold water. 
Price per 1 kg (2.2 pounds)
In Italy, usually ranging from 700€ to 1000€
Tartufo Nero Estivo o Scorzone – Summer Truffle
"Tuber Aestivum Vitt"
To those used to the winter truffles, the black summer truffle has a gentle aroma and is less strong than the winter cousins.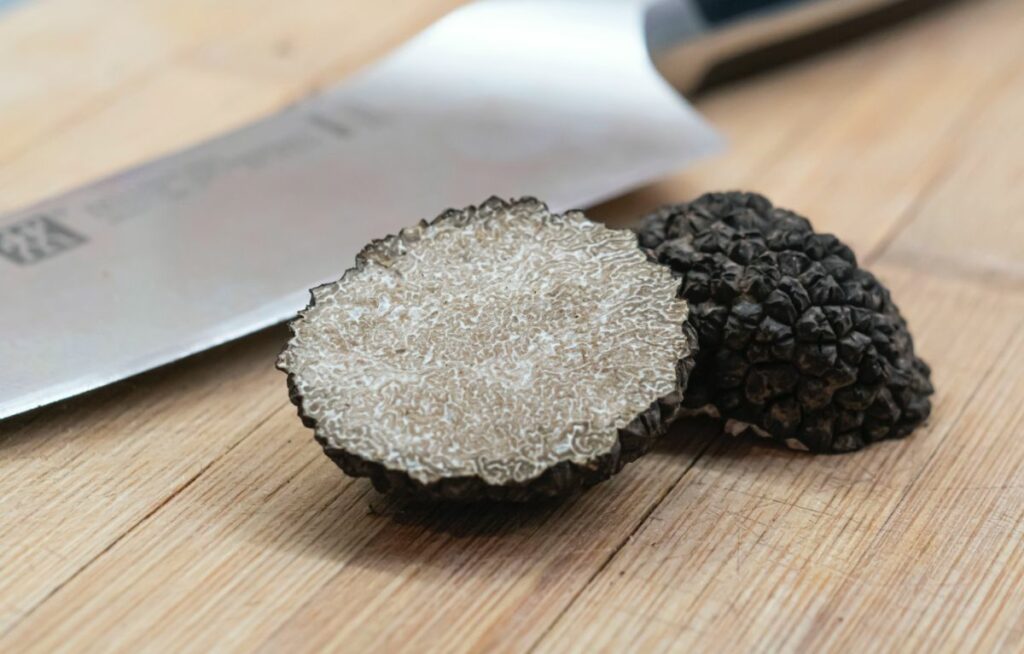 Collection Months:
From mid-May to the end of August.
Growing next to:
Holm oak, oak, hornbeam, hazelnut, and pine.
Conservation & Cleaning Method:
Same as the others, for a maximum of 15 days.
Price per 1 kg (2.2 pounds)
In Italy, usually ranging from 100€ to 190€.
Tartufo Uncinato or Burgundy
"Tuber Uncinatum Vitt"
From outside it looks to be identical to the summer truffle. The only difference is that it has a stronger smell and the inside is darker with a more pronounced and higher number of white veins than the winter version.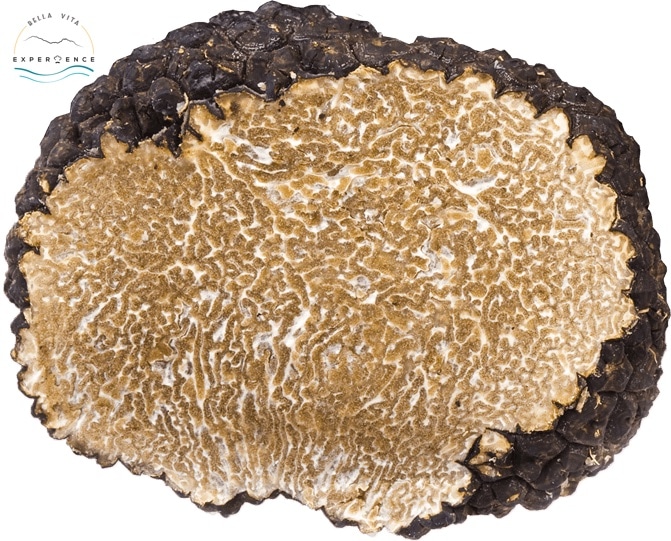 Collection Months:
From the beginning of October to the end of December.
Growing next to:
Oak, beech, pine, and hornbeam trees.
Conservation & Cleaning Method:
Same as the others, for a maximum of 10 days.
Price per 1 kg (2.2 pounds)
In Italy, usually ranging from 170€ to 400€.
Tartufo Moscato
–
Moscato Truffle
"Tuber brumale Vitt. var.moschatum De Ferry"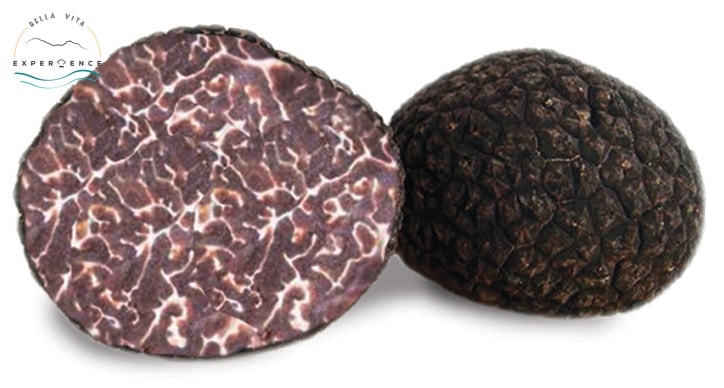 It is a small truffle. Usually, it doesn't get bigger than a walnut, has a different aroma from all the other black truffles, and has a strong note of mos.
Collection Months:
From the beginning of January to the mid of March.
Growing next to:
Durmast, holm oak, and black hornbeam.
Conservation Method:
Same as the others, for a maximum of 15 days.
Price per 1 kg (2.2 pounds)
In Italy, usually ranging from 100€ to 250€.
Tartufo Bianchetto o Marzuolo
–
Bianchetto o Marzuolo Truffle
"Tuber albidum Pico"
Often referred to as 'the white truffle of the poor'. If you are not an expert, you can easily mistake this truffle with the Magnatum Pico. It has a less intense aroma and is usually smaller with a reddish gleba and more dense veins than the white truffle.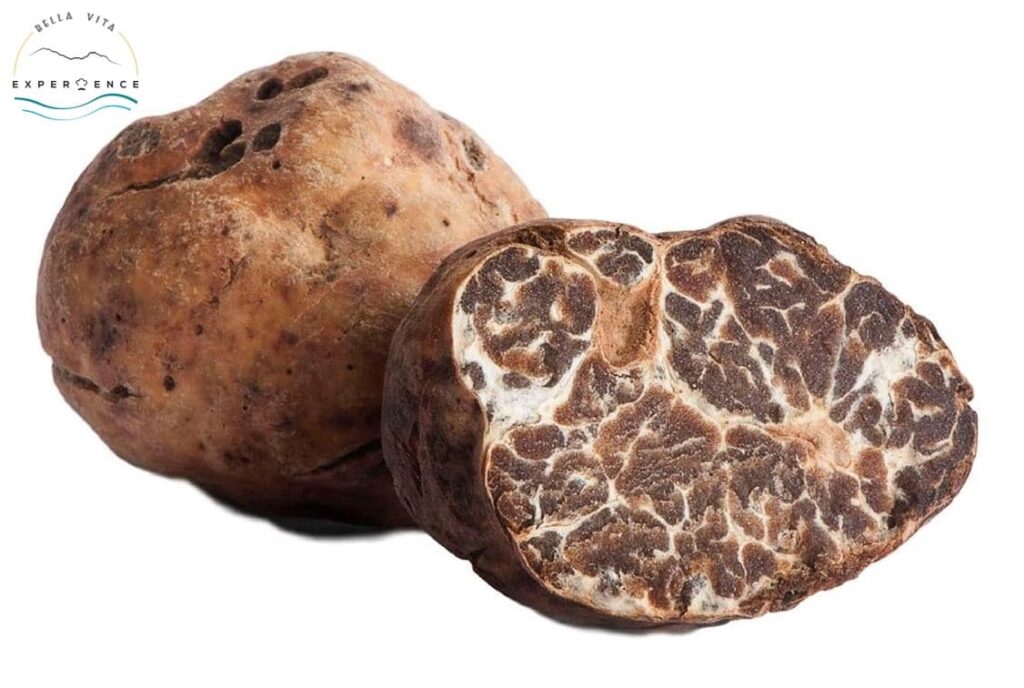 Collection Months
From mid-January to the end of April.
Growing next to:
Different kinds of pines, cedar, poplar, and sallow trees.
Conservation Method
Same as the others, for a maximum of 7 days.
Cleaning Method
Same as for the white truffle.
Price per 1 kg (2.2 pounds)
In Italy, usually ranging from 200€ to 400€.
Tartufo Bianco
–
White Truffles of Alba
"Tuber Magnatum Pico"
From the latin magnus, precious tuber, often referred as white truffles of Alba (it grows in different parts of Italy). The white truffle is the finest of all the truffles. Its outer layer is smooth, and it's interior is straw-colored/yellowish shifting to greyish tones. It has a distinctive, intense and pungent smell that is slightly reminiscent of garlic.
Collection Months:
From the beginning of October to the end of December.
Growing next to:
Oak, poplar, sallow, hazelnut, and hornbeam.
Conservation Method:
Same as the others, for a maximum of 5 days.
Cleaning Method:
White truffles are very delicate. Choose a soft toothbrush and without water try to remove as much soil as possible, then wipe gently with a damp cloth. If there is still some soil, repeat by dampening the toothbrush slightly. You can also use a paintbrush to help after the initial brushing, but it not necessary. Follow up by drying.
Price per 1 kg (2.2 pounds)
The price of  White truffles depends mainly on the weight and the shape. The more sferic and perfect, and the higher the price will be.
In Italy, usually ranging from 1.000€ to 1.800€.
Small truffles from 20gr to 100gr you could pay between 1.800€ to 2500€.
White truffles over 100gr could cost between 2500€ to 4000€.
When over 250/300 gr the white truffles might be sold on auctions and the prices get insane.
Most expensive white truffle in the world
In 2021, a white truffle of 830 gr (less than 1 kg) found in Italy, was sold at 103,000€ to a Chinese investor from Hong Kong.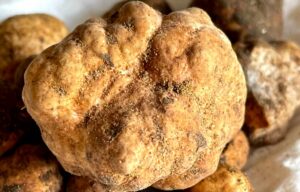 The good thing to know is that the proceeds of the auction were given to support an NGO.
Truffle Season Italy & Average Price Summary
A summary table where prices refer to the Abruzzo Region when you buy at a normal truffle shop.
Truffle
Collection
Price per KG

Bianchetto Truffle – Marzuolo

January

to the end of

April

200€ to 400€

Moscato Truffle

Beginning of

January

to the mid of

March

150€ to 250€

Summer Truffle – Estivo

Mid

May

to the end of

August

100€ to 190€

Uncinato (Burgundy)

Beginning of

October

to the end of

December

170€ to 400€

White Truffle

Beginning of

October

to the end of

December

1.000€ to 4.000€

Up to 90.000€ (on auction)

Black Truffle – Nero Pregiato

Mid

November

to mid

March

700€ to 1.000€
How to Recognise a White Truffle from a Bianchetto o Marzuolo?
Below you can see a picture so that you can easily spot the differences.
From the outside, you should be able to notice a visible difference, as the marzuolo is darker.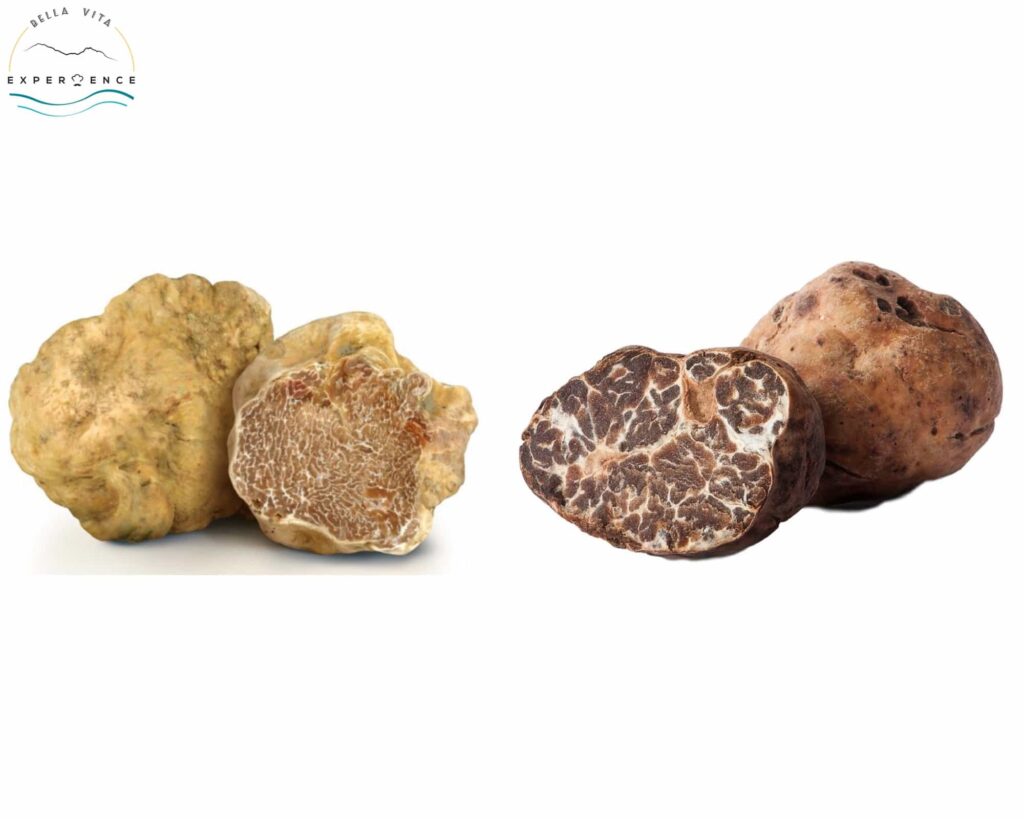 However, the easiest way to check the identity of the truffle is to ask the truffle shop/seller to make a small incision on the outside part of the truffle so you could inspect the gleba (inside) as described before. Or you could attend one of our truffle hunts in winter and learn from us how to recognize them!
How to recognize black truffles?
Below are the most common truffles and the ones you should be most aware of. The darker truffle at the bottom, The Tartufo Nero Pregiato – Black Truffle is the most expensive and the finest among the black truffle.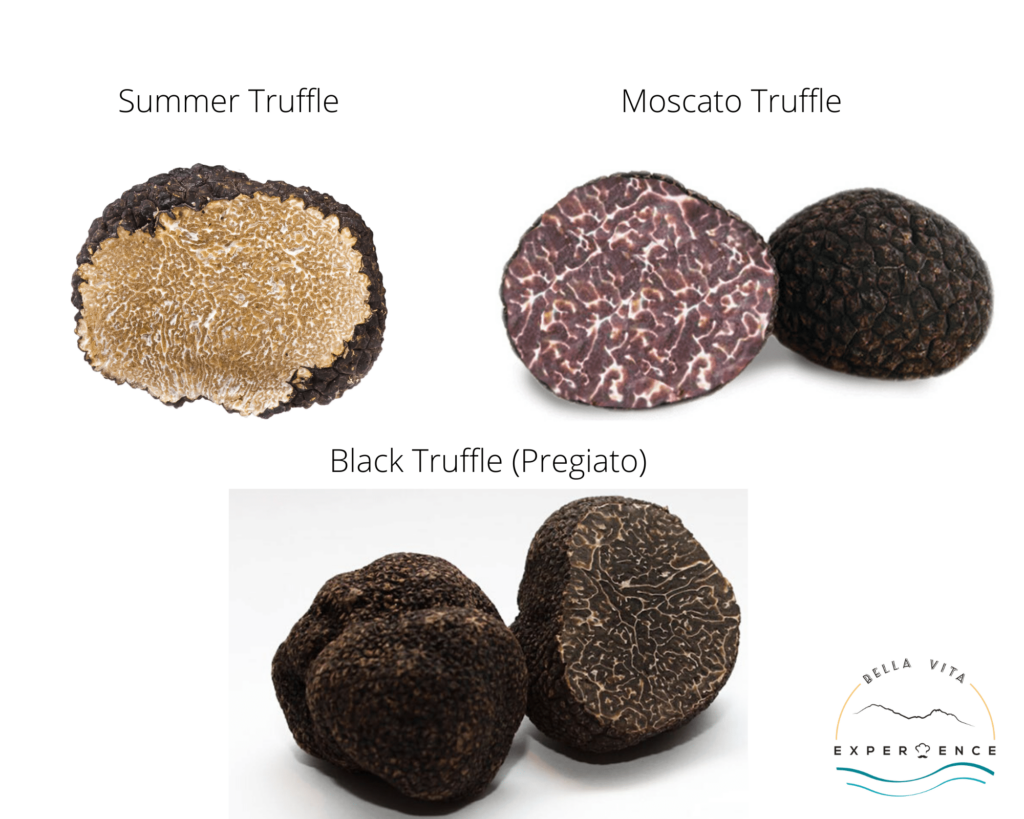 The easiest way to recognize it is by the colour and vein density. From the picture, it is straightforward as the heart should be black tones with small veins. One more tip is to know the seasonality and as I explained before, the black truffle (pregiato) only grows between November to March, so if someone is trying to sell you this fresh truffle in July, you know that is not possible!
Chinese Truffles
Threats of Chinese Truffles
Chinese truffles, in addition to being tasteless and without aroma, they carry numerous health risks, for our species and the economy. The food safety standards in China aren't any near to the European and Italian ones and therefore numerous forbidden chemicals are added to truffles. To clone the smell of Italian truffles, Chinese truffles get added Bis(methylthio)methane, a chemical derived from petroleum. Some truffles dealers mix Chinese truffles with the Italian truffles and sell them for the same price. It is therefore extremely important to recognize the differences and try not to be fooled by the appearance and smell of them.
How to recognize the Chinese truffles
As we said Chinese truffles are odourless and tasteless but they can be added of chemicals. The best way to recognise them is to be comfortable with the good ones, and as we say in Italy, 'have a nose'. The real black truffle (Nero Pregiato) has a slightly sweet aromatic scent, as well as its flavour. Once you smell the real truffles it is easier to know if you're getting scammed.
Best Pairing and Recipes With Truffle
Let's talk a little bit about the uses in the kitchen of two most important truffles, the black (nero pregiato) and the white (of Alba).
It can be both cooked or used raw: sliced, grated, heated in oil or butter. Great with main dishes (fresh pasta), lasagna, risotto, meat stew, tartare, or simply on bruschetta or frittata.
Cooking with Black Truffle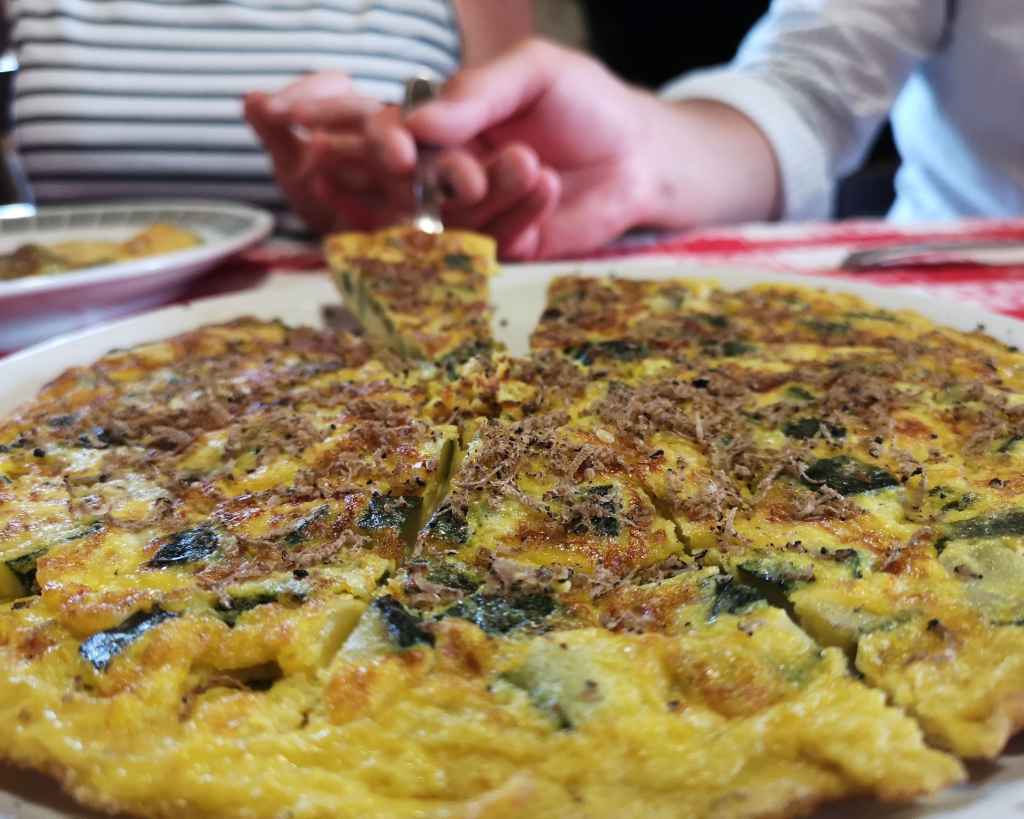 Great with main dishes (fresh pasta), lasagna, risotto, meat stew, tartare, or simply on bruschetta or frittata. It can be both cooked or used raw: sliced, grated, heated in oil or butter. One of my favourites is sliced on top of a great beef tartare.
Pairing Black Truffle with Wine
The black truffle will increase the complexity of the dish to which is added, giving an intense aroma and flavour. When pairing with the wine we have to keep in mind the complexity of the dish and the wine too. Best with soft, fresh, mature and fragrant white wines, even if matured in oak barrels. For the reds instead, we will search for a soft wine, with tannins not aggressive, rich in fragrance, and developed.
Cooking with White Truffle
For its distinctive sensory characteristic is mostly used raw or slightly heated in butter.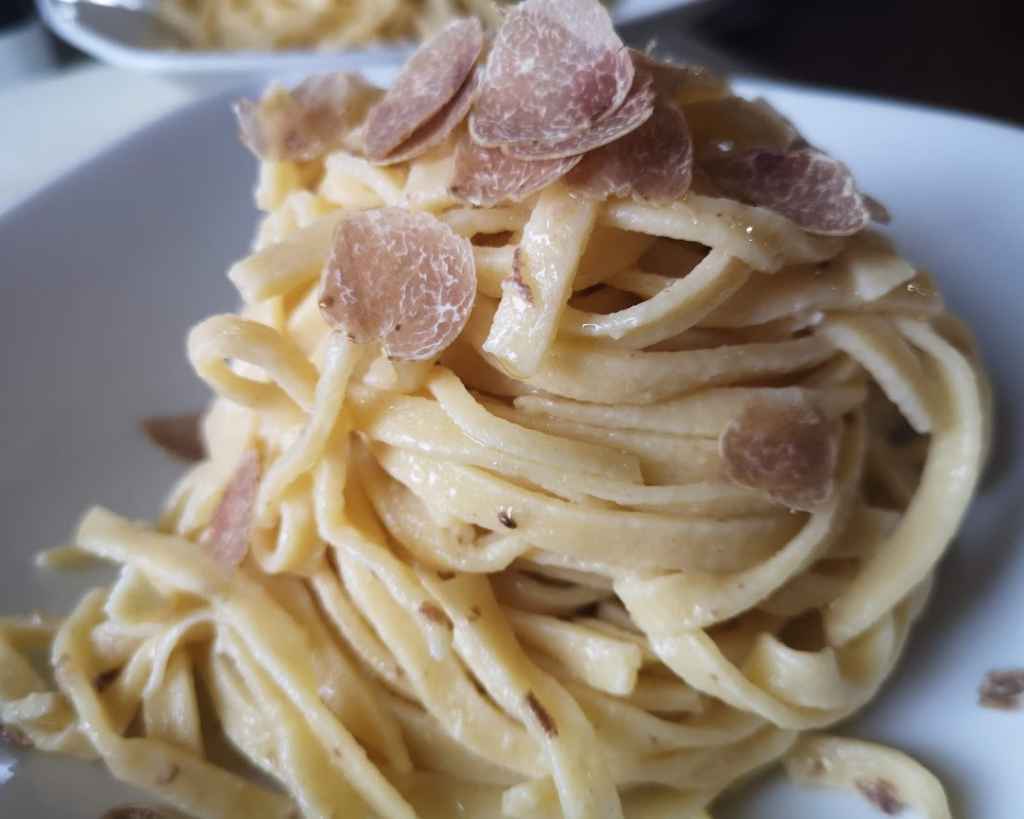 Great with eggs, risotto, main dishes (pasta), fonduta, carpaccio and other meats. My best and favourite dish is a slow-cooked egg at 65 degrees celsius for 1h and added of fresh sliced/grated white truffle.
Pairing White Truffle with Wine
When using white truffles, the complexity is largely given by the truffle and in small part by the other ingredients. We can use both white and red wines as long as they have a rich and complex aroma and taste able to keep up with the white truffle but not overtake its aroma.
How much Black Truffle per Person?
One question I'm often asked, is 'how much truffle per person should I use?'. Of course, the answer depends on the kind of truffle. For the black truffle (nero pregiato) we will use about 10 to 15 grams (0.35 to 0.52 oz) per portion, instead 20 to 30 grams (0.70 to 1 oz) per serving for the black summer truffle.
How Much White Truffle per Person?
With white truffles, we just need to use about 7 to 15 grams (0.24 to 0.52 oz) per portion.
Desserts, chocolate & Gelato with Truffle!?
You might think that this pairing isn't going well, but you should absolutely try it!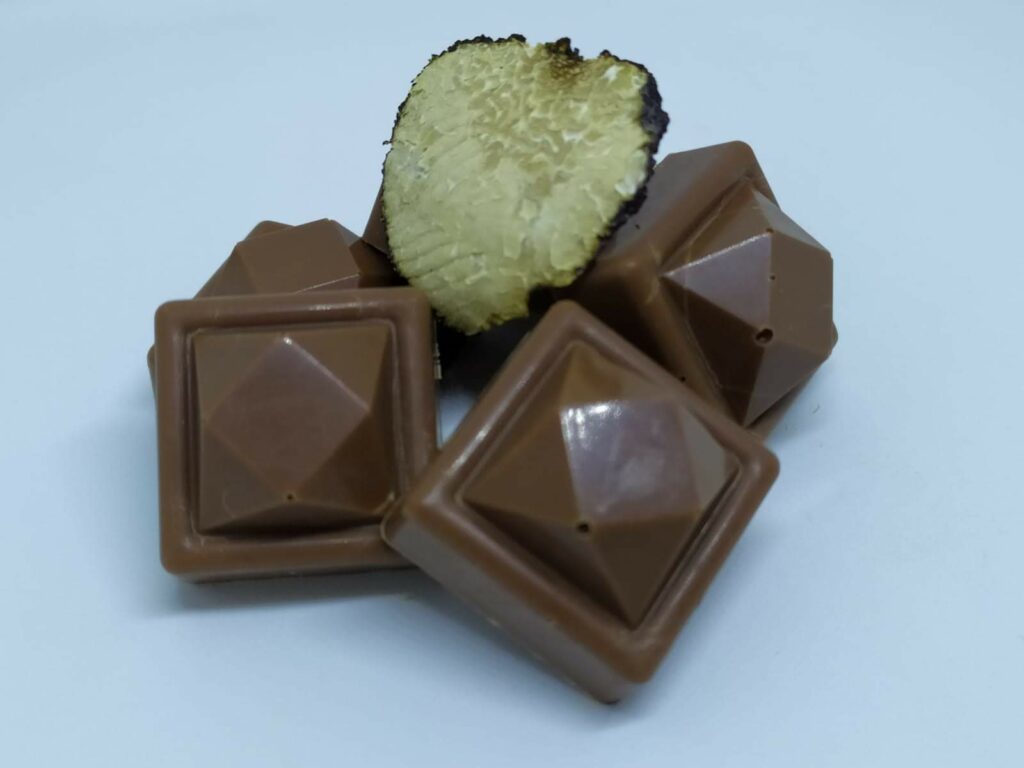 As I said at the beginning of the post, I live in one of the richest truffle areas of Italy and as Italians, we love to experiment with food. I'm also very lucky to know some crazy (in a good sense) people, in specific Eugenio Merlini. He is a genius gelato, pastry, and chocolate expert.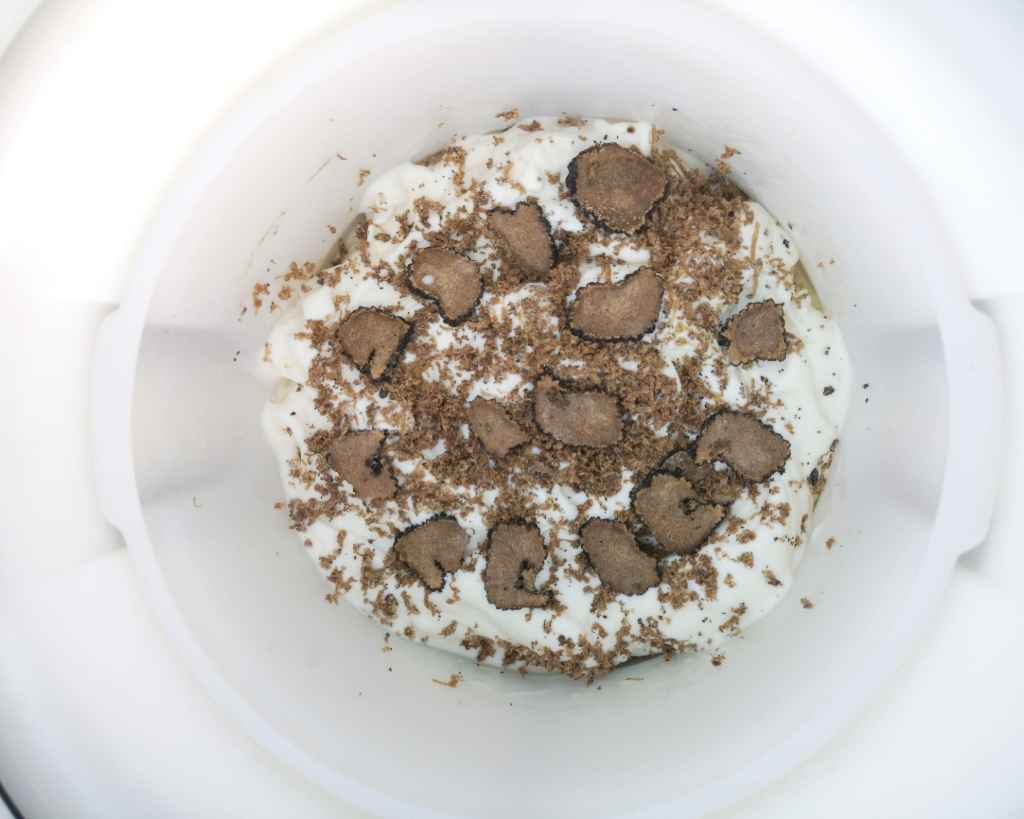 He almost tried every mix with truffles and the best result was with gelato with fresh truffle, panettone with fresh truffle (white & black), and some fantastic pralines with truffle inside. You have to try to believe me, they are to die for!!
Truffle Oil
Truffle oil is one of the most popular among foreigners coming to Italy. However, we Italians don't love it so much. Why? Most of the truffle oil that you find on the market, don't even contain truffle, but they contain truffle aroma. There are aromas and aromas available to these companies that produce truffle-based products, they can be artificial or natural. The price of these aromas can range from 50€ for the artificial (made with Bis-methylthio-methane) to 500€ for the natural ones (distilled from truffles), and this is the main ingredient is going to impact the quality of the oil and its price.
Pay attention to what I'm going to write! For the artificial aroma (often obtained from petroleum) you will find the indication in the label as 'aroma' or 'aroma tartufo'. Instead, for the natural aroma, you will find written 'aroma naturale di tartufo'. Next time, make sure to read the ingredients list and if you find 'aroma' and not 'natural aroma' you now now that the product contains an artificial product.
Watch this Truffle Food Video to die for
Truffle Festival of Italy
Italy, the country of Food and Folklore festivals better known as 'Sagre' or 'Feste'. Every village, every month (especially during summer), no matter how small, has its own, unique traditional celebrations. A wide range from traditional food, wine, craft beers, religious, artistic to natural celebrations. Attending one of these events means immersing into the real Italian culture and making your trip to Italy even more authentic. It will also mean that probably you will be the only foreigner speaking a strange language and people might stare at you. It's completely normal, we know everyone in our villages and when there is a new face, we want to know who that person is.
Truffle Festival, Abruzzo Italy
If you want to experience an authentic Truffle Festival in Italy, you should go to this truffle festival in the Abruzzo region in the small town of Campovalano. The Truffle Festival in Campovalano is a must go. During the whole second week of July every year, locals from all over the region come to this festival to taste exclusive truffle based meals. Big portion, amazing quality, lots of truffles, fast service despite the queue and ridiculous prices. 6-7€ for a huge portion.
When: 2nd week of July – Probably this year because of COVID, it will not be possible.
There is also the WINTER version, the WHITE TRUFFLE FESTIVAL, usually the mid of December.
Where: Campovalano (Province of Teramo)
Avg. price: 6€
Other truffle festivals are in:
Truffle Hunting Dog Competition
Yes, there is even a competition, a race for the best truffle dog who finds the most amount of truffles in 1 minute.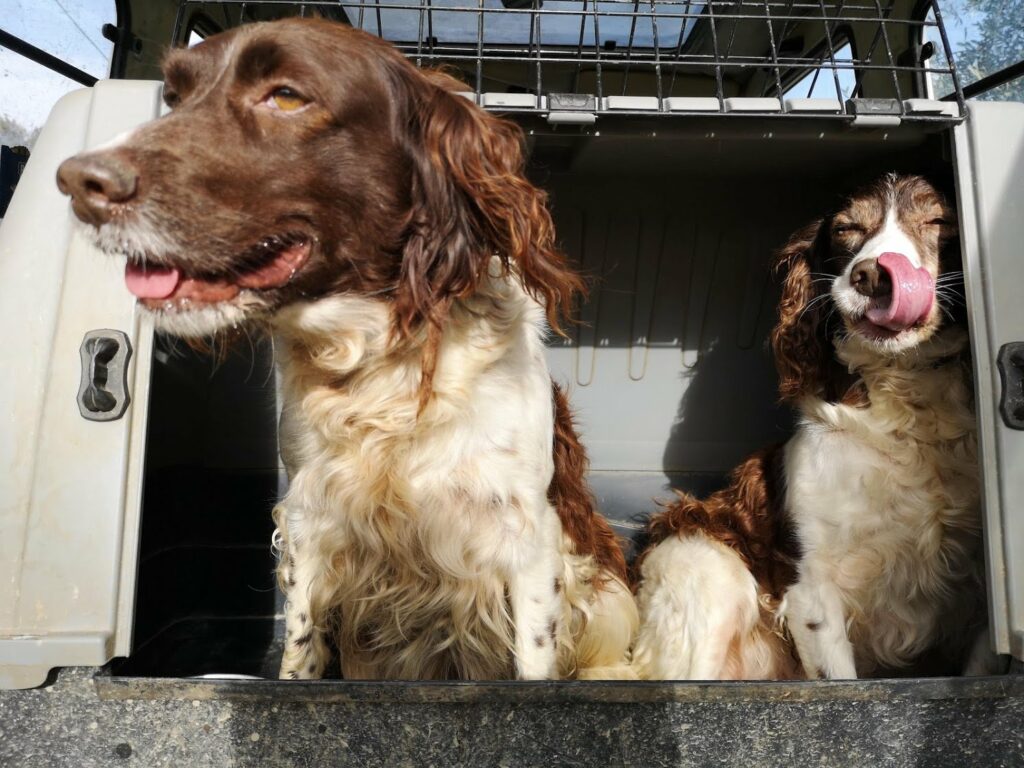 Every year, on the last day of the Truffle Festival in Campovalano, the Truffle Hunters from the region with their dogs gather together for this competition. Dogs are divided into categories, i.e. puppies, adults and the winner will be the dog who can find the most amount of truffles in 1 minute. It's amazing to watch the ability of the dogs and the different techniques
Marino's Tip
Our special little secret tip is to put the white truffles in a jar with some eggs for 2 days in the fridge. The eggshell is porous and it breathes, so this is actually a fantastic way to give your eggs a truffle note and a great way to impress your friends with some exotic flavour! You can do the same, putting truffles in a jar with rice and make a risotto after that.
Thank you for reading! I hope you enjoyed this truffle guide. If you wish to experience a truffle hunt or buy fresh truffles and truffle products, visit our page or contact-us and I will be happy to re-direct to the best truffle hunter of the area.