Abruzzo in September: What To Do, Weather & Food
Abruzzo in September – At a Glance
Abruzzo in September – What to Expect?
September is a quiet season in Abruzzo. It signals the end of the summer when most Italians return to work from their holidays, hotel occupancy drops on the coast and its overall a more peaceful travelling experience without the bustle of August tourism. To us, September is the best moment to travel to the Abruzzo region and you will discover why…
Is Abruzzo crowded in September?
September as we just said is a quiet month especially on the seaside where you can still enjoy nice temperatures (more info below) and take the last swims of the year, especially if you're used to milder temperatures. In Abruzzo in September it is easy to find great accommodations at affordable prices, usually 30/50% cheaper than August and July. The hinterland is very quiet and if you are lucky will have the small villages just for yourself.
Weather in Abruzzo Italy in September
Expect the temperature to range from 78F (26C) during the day on the coastline and 57F (14C) during night in the hinterland. 
Given its contrasting geography, Abruzzo has two distinct climates, one being in the mountains villages, and the other along the coastline. September is a perfect month to enjoy outdoor activities in the region and if weather permits, have a swim in the morning then finish the day in the mountains. There could be a small chance of rain during September, but only 9 days on average. Good odds!
What to pack for Abruzzo in September?
Always carry a swimsuit with you especially for the first part of September, but as the weather is unpredictable also be prepared to carry heavier clothing. Bring a variety of outfits such as swimsuits, sneakers, hiking shoes, trekking gear and a rain/wind jacket as the region offers many activities and areas to explore.
What to Wear in Abruzzo in September?
For the beach and coastline 
I suggest you bring durable water-shoes for the rocky beaches, a hat, and some light clothing to cover up as well as some sunscreen protection. Many beaches have facilities and cabanas which will close around the end of September however, if you travel by car you might want to bring your own beach towel for the wild and secluded public beaches along the coast.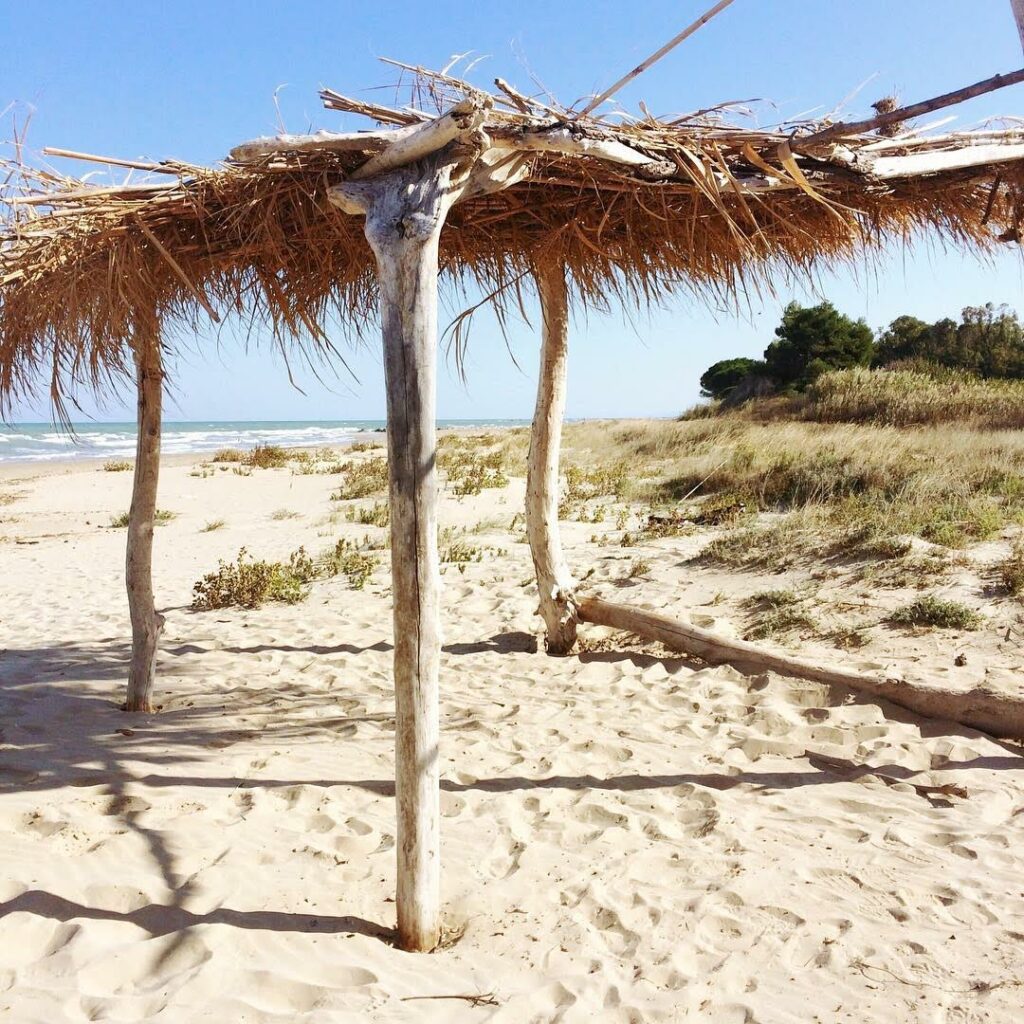 The picture above was take in the Natural Reserve of Borsacchio in Roseto, Teramo on the 18th of September 2019, as you can see even at the end of the month we can get good weather and have a swim.
For the countryside & hills
I would suggest light clothing for the day and some sneakers for a comfortable walk in the vineyards during the wine-grape harvest. For the cooler nights when the temperature drops, pack a sweater, long sleeve shirts and a jacket.
For the mountain 
Be sure to bring along good trekking shoes, a backpack, a sweater, wind/rain-proof jacket and long pants for the evenings. A flashlight is also useful for night excursions or camping. If you decide to hike, bring along light mountain-sport clothing, along with your standard essentials like sunblock, hat, small binoculars (if you have any) to spot eagles, falcons and other animals such as bears, wolves and other various wildlife you might encounter in the 3 National Parks of Abruzzo.
Prices in Abruzzo in September
September in Italy is generally the low season and Abruzzo will not disappoint! Generally speaking, if you dine out or stay in hotels, you won't end up paying a fortune as if you were in other parts of Italy. Rest assured in Abruzzo you will still get an authentic Italian experience through wine, food, culture, art, and nature. Just expect normal prices during September.
Foods in Season in Abruzzo in September
Fruit & Vegetables
In September it is a good opportunity to buy and sample fresh, in-season Abruzzo-grown organic fruits and vegetables such as grapes, pears, figs, plums, melons, cabbages, chicory, aubergine, pumpkins, peppers, and potatoes (famous from the Fucino area). At the end of September, if you're lucky you may come across some fresh porcini mushrooms too!
Grape Harvesting in Abruzzo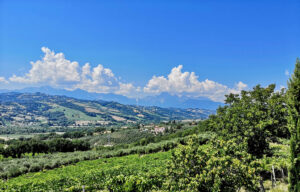 September is the month for the grape harvesting in Abruzzo. Although it is a very delicate moment for many wineries, some of them allow visitors to join the harvest, usually by organising events where you can also stomp the grapes with your feet. Have a look in the events section below for the latest update on wineries that allow people to participate during the harvest.
Foraging Wild Mushroom in Abruzzo 
September, depending on the season, is a great month for picking and eating wild mushrooms. Although we suggest not to pick wild mushrooms by yourself but rather rely on a local expert.
You also need a license and in some cases a special permit. Picking wild mushrooms requires a lot of walk up and down steep mountain terrain this is why we organise only this kind of experience upon request for small groups.
Abruzzo Mushroom Heaven – The Best Mushroom Restaurant in Abruzzo
If you would like to eat fresh mushroom, then our top recommendation for the best restaurant in Abruzzo, is Ristorante Da Enrico in Rocche di Civitella, a small town in the province of Teramo. Here Chef Enrico exercises his passion and specializes only in mushrooms! You will have ample dishes to choose from, including bounteous preparations like pickled, fried, raw, grilled, roasted, stuffed, and soups, all guaranteed to satisfy!
Truffles in Abruzzo in September
In September 'open truffle season' comes to a brief halt until the beginning of October when we will be able to find the 'uncinato' and white truffles.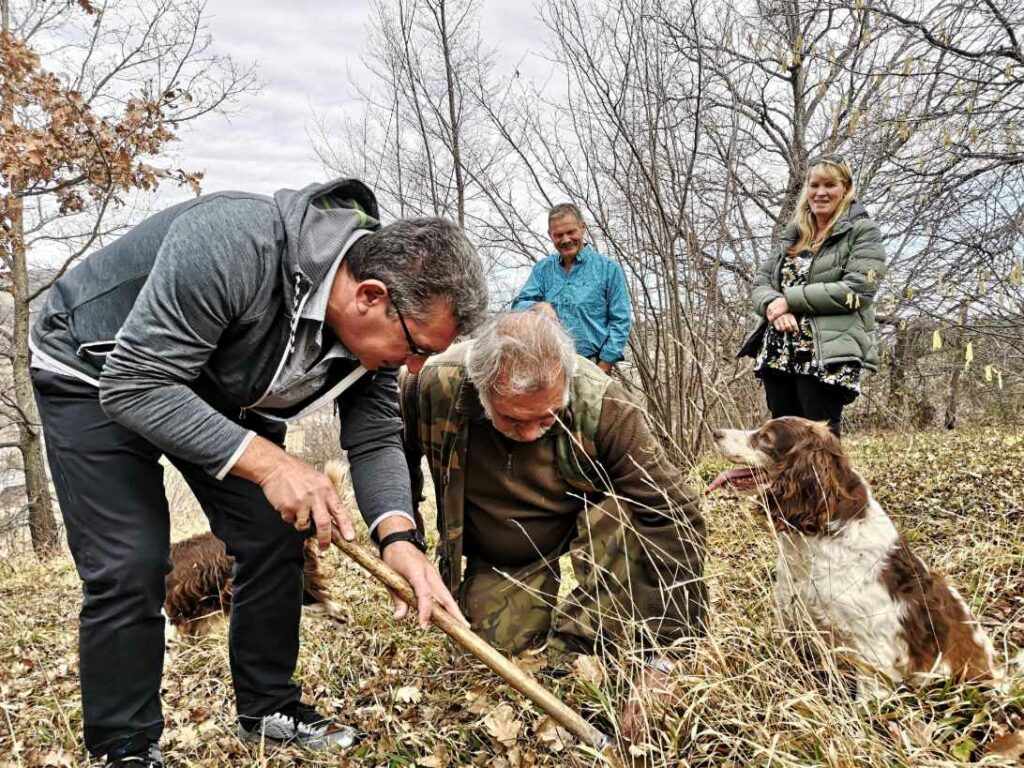 THowever, within our truffle hunter's private and extensive grounds, truffle hunts during September are still possible and we will be carrying them out. You can book your spot at the Real Truffle Tour.
Seafood in Abruzzo in September
September is a great month to sample warmer seafood dishes, like: cooked clams, 'seppia ripiena' which is stuffed cuttlefish, 'brodetto di pesce'(picture above), a portion of seasonal fried calamari or an 'orata al cartoccio', a delicately baked sea bream with roasted seasonal potatoes.
Traditional Dishes from Abruzzo to try in September
There are so many different products and delicious meals to try in Abruzzo in September. Some of them are: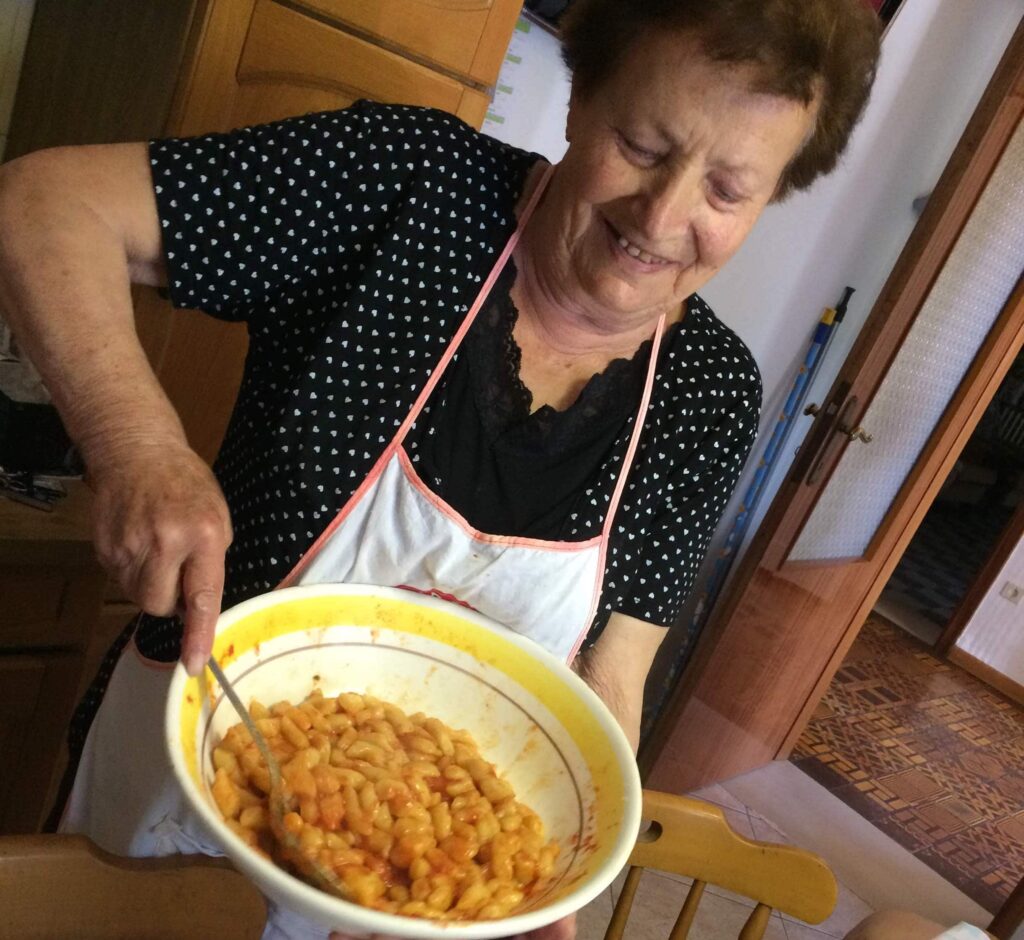 'Surgitt' Teramo's gnocchi – Using the newly harvested potatoes together with nonna's tomatoes' sauce for an awesome seasonal recipe

Timballo Teramano, to explain in simple words, Abruzzo's own lasagne which is much better than the former! You really have to try it, to believe it!

'Pallotte Cacio e Ove', cheese and egg balls, have a look at the

recipe

'Pecora alla callara', traditional shepherd's recipe of mutton, slowly cooked for many hours in a broth with vegetables, herbs, and spices.
The Best Traditional Dishes from Abruzzo
There are some further 'must-trys' which can be enjoyed all year round:
'Porchetta' (picture above), the famous slow-roasted suckling pig available in every town in Abruzzo, especially during the farmers' markets. You can enjoy it inside a crunchy panino (always ask for the 'crosta' crust). best paired with Gassosa (sparkling lemon soda) from Campli.

'Arrosticini', our tender, grilled mutton and/or lamb skewers

'Chitarra con pallottine' – Abruzzo's national dish, handmade thin squared spaghetti. Believe it or not, made with a guitar-like instrument! Watch our Nonna Amina in Action. It's served with the traditional 'ragu' and tiny meatballs on top.

'Formaggio fritto', fried cheese, our daily bread!

Make it home
Things to do in Abruzzo in September
You could also gift yourself an overall unique experience…Visit our large traditional home-kitchen to make the Spaghetti 'alla Chitarra', organise a tour to visit our bee-farm, make cheese at a local farm, taste the best wines from Abruzzo, or even meet the locals at the weekly farmers market.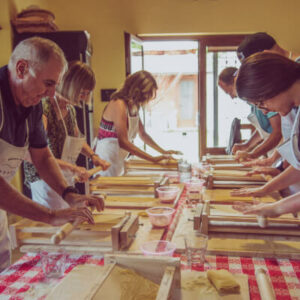 If you're looking for a custom-designed personal experience in the Abruzzo region, we can help – don't hesitate to drop us a line
For more on the best food festivals in Abruzzo in September keep reading below!
What's happening in Abruzzo in September?
September is also a great month for events! Due to the current Covid-19 restrictions, many events have been postponed or rescheduled, so I highly recommend enquiring with your hotel guest-services staff or the local tourism information point upon arrival
Abruzzo scheduled activities September
Food & local Festivals in Abruzzo in September & Current Events
From the beach to the mountain villages, normally September is a month jam-packed with festivals and cultural events in several locations throughout the region. Here are some of the festivals that will be organized this year (unless otherwise stated):
6 September, Pacentro – '

Corsa degli Zingari

' literally gypsys' race,  'zingari' in the local dialect stands for people with barefoot, that race down the hill. This weird religious festival is a must!

8-10 September, Notaresco (

Online event

) – Abruzzo Irish Festival

25th September, L'Aquila –

Street Science

, if you're passionate about science, the University of L'Aquila organises this festival, ideal for all ages.

26-27 September,  Tornareccio –  One of the greatest

Honey Fairs

of italy, hosted in this beautiful village in Abruzzo, famous for its honey production (10% of the Italian honey production). Here you can taste and buy the many different kinds of honeys, tour the town's murales with a guide and discover many other products made with honey.
Grape Harvesting Abruzzo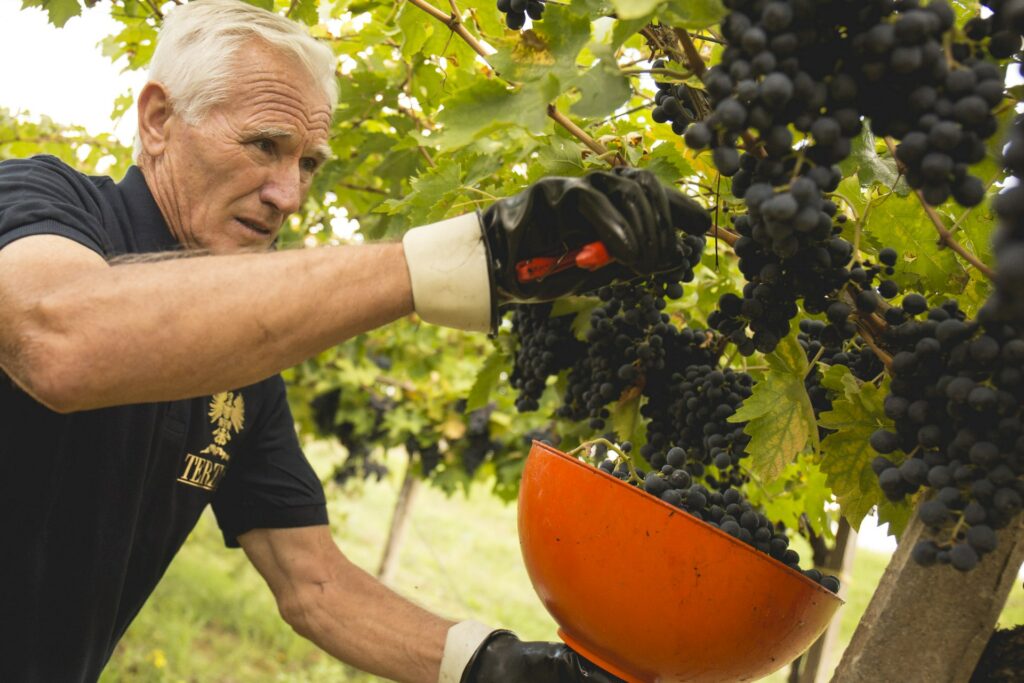 At the moment none of the Abruzzo's wineries which gave availability last year, have posted anything about the grape harvesting for this  season. Last year, the wineries who created events were: Cerulli Spinozzi in the province of Teramo, Cantina Contesa in the province of `Pescara, Dora Sarchese & Tenuta Ferrante in the province of Chieti. You might want to contact them directly if you're planning or would like to plan a fun day making wine.
More events and festivals to come, sign up to our newsletter to stay up to date.
Why should you visit Abruzzo in September, or at all?
September in Abruzzo means having the chance to explore the region with few tourists, nice temperatures, and as always great food. As the weather remains quite nice, it will be still possible to have a swim in the sea, practice mountain activities, visit the mountain villages, explore the local nature, visit some wineries, and of course discover amazing seasonal food.
Coming to Abruzzo assures you a once-in-a-lifetime 'off the beaten track' experience at a surprisingly affordable cost which allows for an even richer experience on a budget. It's really a smart way for a traveler to learn and experience a country's unique culture.
Contact us today for a Private Authentic Abruzzo Experience.