Abruzzo in October: Travel Tips, Weather, Food & Wine
Abruzzo in October – At a Glance
Abruzzo in October – What to Expect?
October is a calm season in Abruzzo. It signals the start of the autumn and offers vibrant colors, panoramic views, and villages where you can experience local life and the seasons' grape and olive harvest. It's a peaceful and relaxing time to discover the authenticity of the region and avoid any bustle of high-season tourism. To us, October as well as September, are the best months to travel to the Abruzzo region and you will discover why…
Is Abruzzo crowded in October?
As mentioned, October is a quiet month, especially at the seaside where you can still enjoy pleasant temperatures (more info below). Although we avoid swimming at this time of the year, there can still be some occasion to sunbathe and take a little color. In Abruzzo, in October it is easy to find great accommodations at affordable prices. Although you may find some seaside establishments closed, you can still find superb accommodation and usually 30 – 50% cheaper than August and July. In addition, the hinterland is very quiet and you can feel as though you have the small villages all to yourself to explore.
Weather in Abruzzo Italy in October
Expect the temperature to range from 69F (21C) during the day on the coastline and 51F (11C) during the night in the hinterland. 
Given its contrasting geography, Abruzzo has two distinct climates, one being in the mountains villages between 500-700 meters (1640-2296), and the other along the coastline. October is a perfect month to visit wineries, olive mills, embark on some great cooking classes, discover the medieval villages and marvel over Autumn's rich colors.
What to pack for Abruzzo in October?
Be prepared to carry heavier clothing as the weather can be unpredictable. Always carry a rain/wind jacket, hiking shoes, and suitable trekking gear, as the region offers many activities and areas to explore.
What to Wear in Abruzzo in October?
For the beach and coastline 
Although October can still be sunny, it is not a month for the full-blown beach activities. You can walk along the beach, maybe take a little sun on warmer days, but often expect wind and waves – great if you like surfing or kitesurfing!
For the countryside & hills
I would suggest wearing a sweater, a light jacket and some sneakers/trekking shoes for a comfortable walk in the vineyards during the wine-grape harvest.
For the mountain 
Be sure to bring along good trekking shoes, a backpack, a sweater, a wind/rain-proof jacket and layers to keep you dry and warm. If you decide to hike, bring along mountain-sport clothing, along with your standard essentials like hat, small binoculars (if you have any) to spot falcons, eagles and other animals such as bears, wolves and other various wildlife you might encounter in the three National Parks of Abruzzo.
Prices in Abruzzo in October
October in Italy is the low season and Abruzzo will not disappoint! Generally speaking, if you dine out or stay in hotels, you won't end up paying a fortune compared to staying in other parts of Italy. Rest assured in Abruzzo you will still get an authentic Italian experience through wine, food, culture, art, and nature. So expect normal prices during October!
Foods in Season in Abruzzo in October
Fruit, Vegetables & Nuts
In October it is a good opportunity to buy and sample fresh, in-season Abruzzo-grown organic fruits and vegetables such as grapes, pears, apples, chestnuts, walnuts, hazelnuts, 'peperoncini' chilies, broccoli, cauliflowers, aubergines, spinach, pumpkins, carrots and leeks.
Chestnuts
There are varied chestnut forests in Abruzzo, especially on the mountainside. For those lucky enough to know the free public spots, you can grab the first fruits. You'll know them by their covered spiky shell, which at the beginning of October, will begins to change color then fall from the tree. 
Best to taste them hot roasted over a flame on a cool autumn evening.
Olives – Olive Harvest
The olive picking season in Italy is limited to a few weeks between the end of September and beginning of October, each year. It is a bit uncertain when the harvest will start, so it's hard to make plans. In Abruzzo, we are lucky as with both mountains and seaside, our olive harvest lasts longer and the olives in the mountains tend to ripen later than on the coast.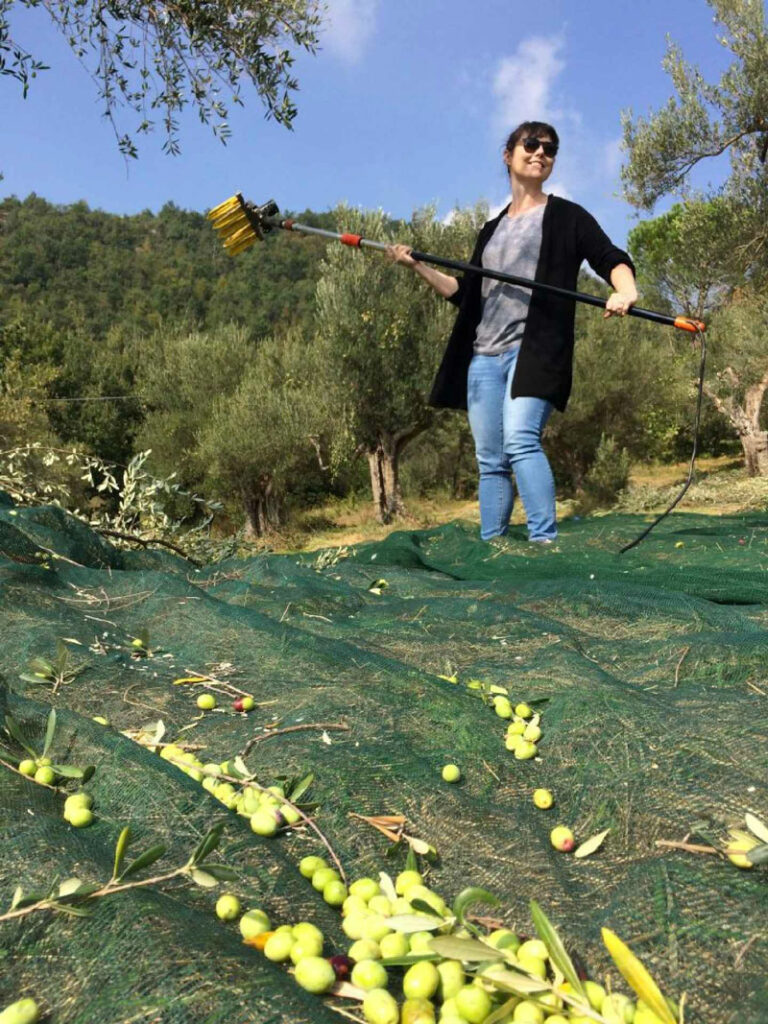 Why don't you join the locals in an olive harvest experience? If you're curious to know more about Extra Virgin Olive oil, you should read this helpful guide 25 important things you need to know about olive oil.
Saffron
Did you know that Abruzzo produces one of the best varieties of saffron in the world? It's true! Even the world's best chefs source Abruzzo saffron. Abruzzesi's saffron dishes range from the classic risotto to specialty cuisine with mutton, desserts, and liquors too.
The DOP (Protected designation of Origin) certified saffron from Navelli, is considered the best saffron in the world. You can join us to harvest 'the world's most expensive spice', but only between October and November. If you are in Abruzzo and would like to join us, drop us a line. 
Vendemmia in Abruzzo
September is the official month when the Vendemmia starts, however, in some places high up on the hills and mountains you are still able to find wineries harvesting the grapes up to the first two weeks in October. Have a look in the events section below for the latest update on wineries that encourage participation during the harvest.
Wild Game
Thanks to its vast parks and nature, Abruzzo sprouts a variety of wild animals. October is the season to find wild game on menus, especially the 'cinghiale' wild boar, as well as (but less commonly) venison, hare and pheasant.
Porcini & Wild Mushroom
October, depending on the season, is THE month for picking and eating wild mushrooms. Although we recommend not picking wild mushrooms by yourself, but rather rely on a local expert.
You would also need a license and in some cases a special permit to partake. Picking wild mushrooms requires a lot of walking up and down steep mountain terrain, which can be challenging, so we organize this kind of experience upon request for small groups. If you would like to eat fresh mushroom, then our top recommendation for the best restaurant in Abruzzo is Ristorante Da Enrico in Rocche di Civitella, a small town in the province of Teramo. Here Chef Enrico exercises his passion and specializes only in mushrooms! You will have ample dishes to choose from, including bounteous preparations like pickled, fried, raw, grilled, roasted, stuffed, and soups, all guaranteed to satisfy!
Truffles in Abruzzo in October
On the 15th of October the truffle season opens again with the 'uncinato' and white truffles.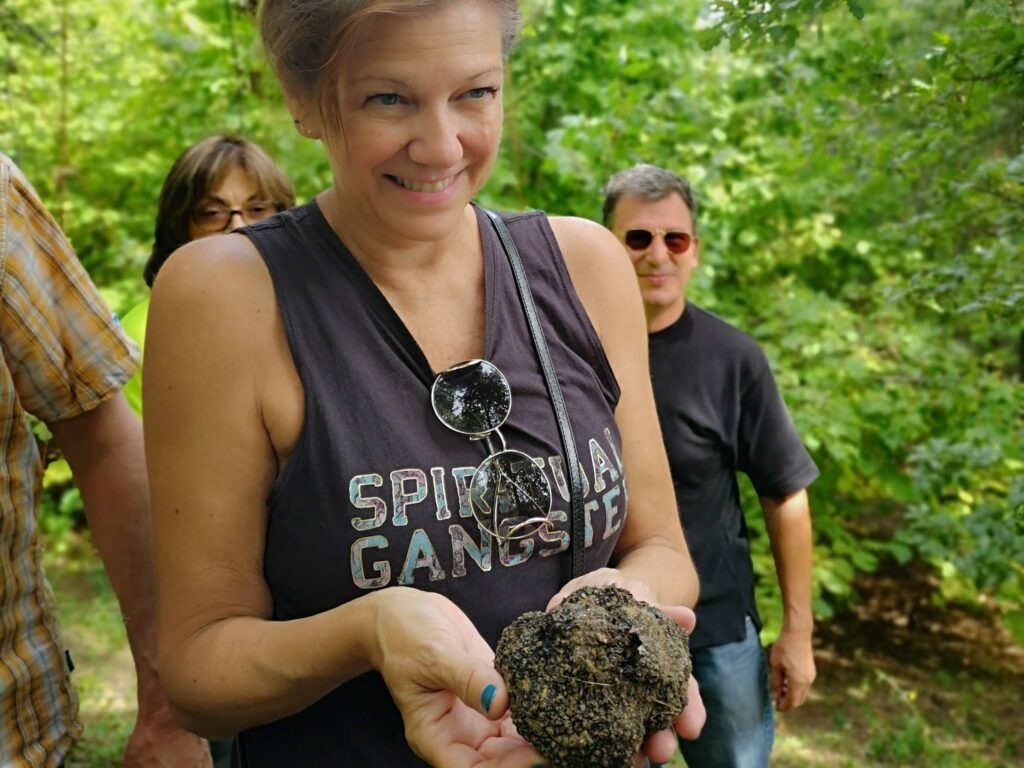 If you wish to experience the mysterious hunt, join a truffle expert on the ultimate truffle hunting experience in Abruzzo. If you're curious about truffle, you can read the ultimate guide for truffles in Italy.
Traditional Dishes from Abruzzo to try in October
There are so many different products and delicious meals to try in Abruzzo in October. Some of them are:
'Scrippelle', 'crepes' or 'crespelle mbusse' – Crepes filled with parmesan and wet in hot chicken broth. This is one of the

signature dishes

of our Nonna Amina.

Pasta e Ceci – a traditional Italian dish with chickpeas and very popular in Abruzzo especially when made with 'tagliolini' or 'sagne' pasta. Discover

Nonna's Chickpeas recipe

!

'Formaggio Fritto' – this tasty fried cheese, is the most common antipasto in Abruzzo. You too can try this

recipe

at home. Trust us, it isn't fatty as it sounds! It's actually very light compared to other fried dishes in Europe.
The Best Traditional Dishes from Abruzzo
There are some further 'must-trys' which can be enjoyed all year round:
'Arrosticini' (pictured above), Abruzzo's tender, char-grilled mutton and/or lamb skewers

'Porchetta' (pictured above), the region's famous slow-roasted suckling pig is available in every town in Abruzzo, especially during the farmers' market days. You can enjoy it inside a crunchy panino (always ask for the 'crosta' crust) and it's best paired with Gassosa (sparkling lemon soda) from

Campli

.

'Chitarra con pallottine' – Abruzzo's national dish, handmade thin squared spaghetti. Believe it or not, made with a guitar-like instrument!

Join Nonna & Marino

in their kitchen to make this traditional pasta from Abruzzo.
Things to do in Abruzzo in October
You could also gift yourself an overall unique experience…Visit our large traditional home-kitchen to make the Spaghetti 'alla Chitarra', organize a tour to visit our bee-farm, make cheese at a local farm, taste the best wines from Abruzzo, or even meet the locals at the weekly farmers market.
If you're looking for a custom-designed personal experience in the Abruzzo region, we can help – don't hesitate to drop us a line
For more on the best food festivals in Abruzzo in October keep reading below!
What's happening in Abruzzo in October?
Due to the current Covid-19 restrictions, many events in October have been postponed or rescheduled, so I highly recommend enquiring with your hotel guest-services staff or the local tourism information point or guide upon arrival.
Abruzzo scheduled activities October
Food & local Festivals in Abruzzo in October & Current Events
Normally October is a month with fewer festivals compared to the other months. Here are some of the festivals that will be organized this year:
11th October – Wine Harvest (See the section below)

Updating more events along the month
Grape Harvesting Abruzzo October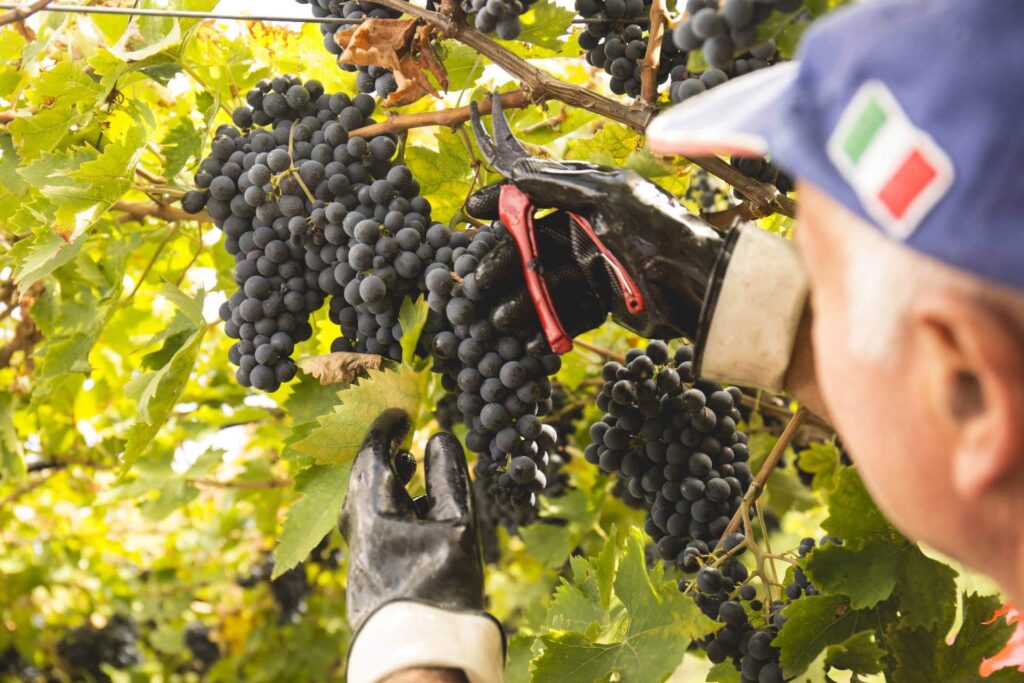 Here is a list of wineries in Abruzzo which are organizing the wine harvest and welcoming tourists to participate. 
Sunday 4th October

Dora Sarchese – Ortona

Tenuta del Priore – Collecorvino

Contesa – Collecorvino

Villa Medoro – Atri

Sunday 11th October
More events and festivals to come, sign up to our newsletter to stay up to date.
Why should you visit Abruzzo in October, or at all?
During October in Abruzzo you will be totally immersed in the harvest season with the 'dolce' aroma of roasted chestnuts, the scent of fresh grapes. Although the weather can be slightly unpredictable, it remains quite warm and sunny for most of the month. The slower pace of October makes it perfect to explore the rich artistic side of Abruzzo. From the historic churches, museums and the beauty of its hilltop villages, you can witness the authentic Abruzzo landscape dressed in warm autumn shades. Visiting during October also means tasting new wine & olive oil, hunting truffles and an additional chance to immerse yourself in the local culture.
From finely prepared saffron & truffle delicacies to gorgeous autumnal scenes, here's why October is one of the best months to Visit Abruzzo…
Contact us today for a Private Authentic Abruzzo Experience.