Abruzzo in November: Travel Tips, Weather, Food & Wine
Abruzzo in November – At a Glance
Abruzzo in November – What to Expect?
Is Abruzzo crowded in November?
November in Abruzzo is a quiet month overall, especially at the seaside where you can still enjoy pleasant temperatures (more info below). Therefore in November it is easy to find comfortable accommodation at very affordable prices with great discounts. You won't find high-season crowds so exploring villages, taking a hike, walking or cycling along the seaside is especially pleasant in good weather. 
Weather in Abruzzo in November
Given its contrasting geography, Abruzzo has two distinct climates, one being in the mountains villages between 500-700 meters (1640-2296), and the other along the coastline. 
Expect an average temperature of 61F (16C) during the day and at night 42.8F (6C) near the coastline and in the interior closer to the mountains in the hinterland, 54.F (12C) during the day and 36F (2C) at night.
What to pack for Abruzzo in November?
You will need heavier clothing or layers depending on the weather. It's advisable to bring along a warm impermeable jacket/windbreaker, hiking shoes, and suitable trekking gear if you are planning to explore the outdoors.
What to Wear in Abruzzo in November?
For the beach and coastline 
Although November can still be sunny, you can find the temperatures quite crisp. You can walk along the beach comfortably in long sleeves, but often expect wind and colder, rougher seas – great if you like surfing or kitesurfing, but definitely wear a wetsuit!
For the countryside & hills
It's best to wear long sleeves. A sweater and jacket, or dressing in layers, and definitely some well-soled sneakers or trekking shoes for more comfortable walks.
For the mountain 
Good trekking shoes are always a must and bring along, a backpack, and enough layers to keep you dry and warm. For hiking, suitable mountain-sport clothing for the season is advised and don't forget standard essentials like hat, small binoculars (if you have any) to enjoy some birdwatching.Within the three Abruzzo National Parks you're bound to come across eagles, falcons, and maybe even bears, wolves and other resident wildlife.
Prices in Abruzzo in November
As summer tourism has come and gone, accommodation prices are very reasonable at this time. 
Foods in Season in Abruzzo in November
Fruit, Vegetables & Nuts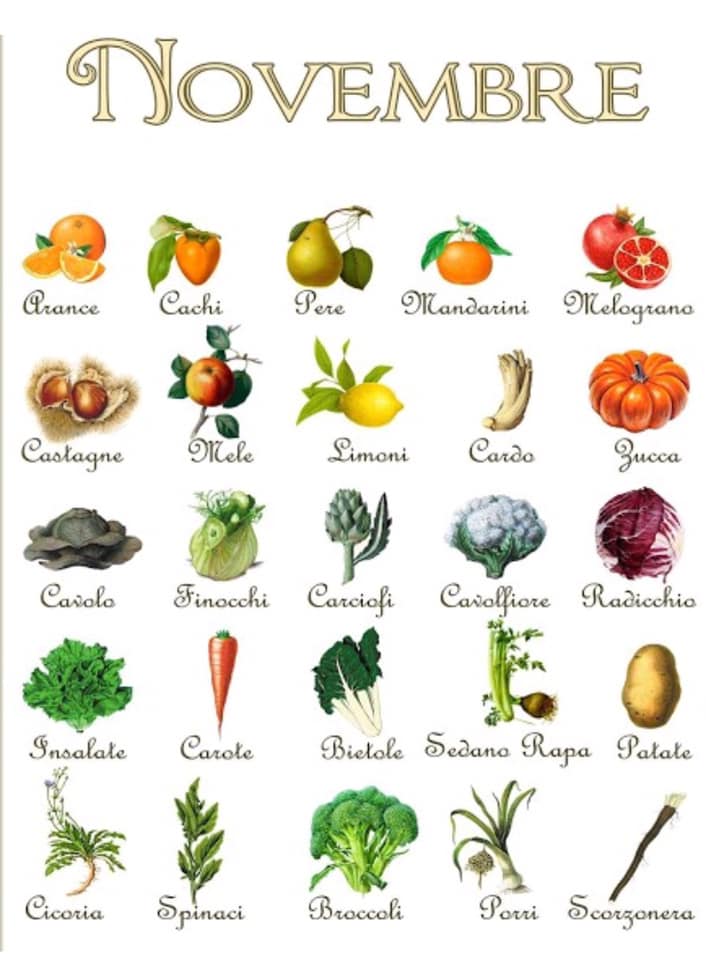 Chestnuts, Chard, Artichokes, Thistle, Carrot, Cabbage, Onion, Tarragon, Fennel, Mushrooms, Lettuce, Olives, Potatoes, Peppers, Leek, Parsley and Pumpkin.
Olives – Olive Harvest
The olive harvest wraps up at the beginning of November, each year. In Abruzzo, the crops closer to the mountains tend to ripen later than in the coastal areas.
There's still time at the starting November so why not join the locals in an olive harvest experience? If you're curious to know more about Extra Virgin Olive oil, read this helpful guide 25 important things you need to know about olive oil.
Saffron
According to some of the world's best chefs, Abruzzo produces one of the world's finest varieties of saffron. A versatile element in cooking, Abruzzesi saffron dishes include specialties of mutton, various desserts, classic risotto, and liquors too.
Considered the world's best saffron is the DOP (Protected designation of Origin) certified saffron from Navelli in Abruzzo. Between October and November, join us in the harvest of the world's most expensive spice! 
Wild Game
Abruzzo sprouts a variety of wild animals within its vast parks. November is the perfect season to find wild game offered in restaurants, especially the 'cinghiale' wild boar.  
Porcini & Wild Mushroom
Depending on the growth season, November is a good time for picking wild mushrooms. However, licenses are required and in some cases special permits. 
As identifying some safe, edible species of the region can be difficult for the untrained eye, we recommend not picking wild mushrooms alone, but rather relying on a local expert.
In Rocche di Civitella, a small town in the province of Teramo local eatery Ristorante Da Enrico. The owner/chef exercises his passion and specializes in mushrooms! Some of his bounteous preparations include pickled, fried, raw, grilled, roasted, stuffed, and soups, all guaranteed to satisfy!
Truffles in Abruzzo in November
November is the season for white truffles (Magnatum Pico), the 'Uncinato' and also the beginning for the 'Nero Pregiato'. White truffles are the most expensive and rare truffles, prices can even go up to 85.000€ for 1 kg. If you're curious about truffle, you can read the ultimate guide for truffles in Italy.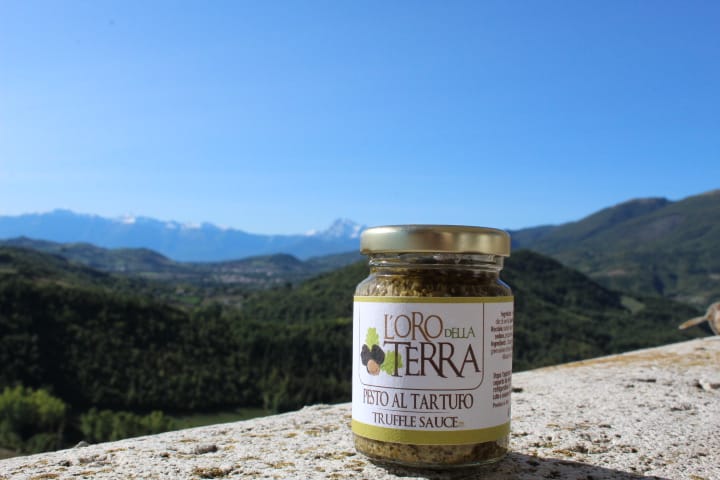 If you already know truffles, you can indulge yourself some truffle delicacies from the earth of Italy.
Traditional Dishes from Abruzzo to enjoy in November
There are so many different products and delicious, traditional meals to fill your belly and satisfy your hunger during November. 
What better than one of Abruzzo's famous meat dishes?  
'Porchetta' Abruzzo's famous slow-roasted suckling pig that dates back to the 15

th

century! It's tender goodness is served inside a crunchy panino (ask for the 'crosta' crust). Follow it up with a sparkling lemon soda known as 'gassosa'. Our favourite is the one made locally in our home-town of

Campli

. Campli also hosts its renowned '

Sagra della Porchetta Italica

.

festival – definitely something to look forward to in August! 

 'Arrosticini', are the region's tender, char-grilled mutton/lamb cubes on skewers, which are cooked on a specially made grill called a '

fornacella'. They're so good that you'll certainly want to grab some fresh bread slices and indulge like the locals do. Did you know that if you're in the USA, you can enjoy fresh Arrosticini delivered to your door by these amazing guys from Abruzzo.
What else?
'Scrippelle Mbusse'

A tasty and warming dish originating from Teramo province, the scripelle are crepes simply made from flour, eggs and water, placed in a warm bath of meat and vegetable broth. It's guaranteed to warm you up after a long day exploring the outdoors!

'Chitarra con pallottine' – looks like thin squared spaghetti and is Abruzzo's quintessential pasta. It's handmade with a

guitar-like instrument

and believe it or not, also made at home by us in our home kitchen by our 85y old Nonna.

If you'd like to learn how to make it in our fresh

pasta-making online workshop

,

let us know! If you would like to gift a personalized chitarra with your name, you can order yours at our shop.
Things to do in Abruzzo in November
Gift yourself an overall unique experience…organise a private cooking party at your home learning traditional recipes from Abruzzo. Tour to visit our bee-farm, make cheese at a local farm or even taste the best wines from Abruzzo.
If you're looking for a custom-designed personal or virtual experience in the Abruzzo region, we can help – don't hesitate to drop us a line
For more on the best food festivals in Abruzzo in November keep reading below!
What's happening in Abruzzo in November?
Due to the current Covid-19 restrictions, many events in November have been postponed or rescheduled, so I highly recommend enquiring with your hotel guest-services staff or the local tourism information point or guide upon arrival.
Abruzzo scheduled activities November 
Food & local Festivals in Abruzzo in November & Current Events
November is general a month with fewer festivals compared to the other months. Although they're not taking place this year, here are a few of the festivals that do, in normal circumstances, happen during the month of November…
1 November
Lettomanoppello (PE): 'Feast of all Saints' lasting four days, with a procession in honour of San Rocco (a much loved figure in the Abruzzese countryside) on the final day
Montereale (AQ): Sagra della castagna
2 November
Valle Castellana (TE): Sagre of Chestnuts and Potatoes

3 November
Palombaro (CH): Feast of Madonna della Libera
4 November
Roccamontepiano (CH): Feast of San Carlo
7 November

9 November
Poggio Picenze (AQ): Festival of cattle
10 November
Scanno (AQ): "Le Glorie", high piles of wood are set on fire to celebrate San Martino
'Le Glorie', an ancient fire festival where high piles of wood are set on fire to celebrate San Martino which takes place simultaneously along with 'Deguscanno' a Culinary Event with food tasting throughout the village.
11 November
San Martino festival, marking the beginning of the farmer's year, is celebrated in many places with dances, comical interludes, and first tasting of the new wine.
Bolognano (PE): Feast of San Martino, with tasting of "vino novello" (newly made wine)

Fara San Martino (CH): Feast of St. Martino, with Sagra della Caldarrosta (roasted chestnut festival)
Nereto (TE): San Martino's Market-fair, San Valentino in Abruzzo Citeriore (PE)
Dates not announced:
Sant'Egidio alla Vibrata (TE): Festival of Children's Songs "Fiore d'Oro"

Trasacco (AQ): Festival of Potatoes and Sausages
More events and festivals to come, sign up to our newsletter to stay up to date.
Why should you visit Abruzzo in November, or at all?
November is a great month to enjoy brisk walks along the seaside, hiking and exploring nature, along with evenings of sampling regional wines and enjoying traditional, hearty Abruzzese cuisine in the warm ambiance of local trattorias, or taking in a local food festival 'festa' or 'sagra'. 
Contact us today for a Private Authentic Abruzzo Experience.