Abruzzo in July: Travel Tips, Weather & Food
Abruzzo in July – At a Glance
Abruzzo in July – What to Expect?
July is high season in Abruzzo, although generally not a sold-out season unless you want to stay on the coast. Many Italians come to spend seaside vacations in cities/towns like Giulianova, Roseto degli Abruzzi, Pineto, Martinsicuro, Pescara & The Trabocchi Coast.

Ortona beach, Italy

Along the coast expect hot weather but cooler temperatures in the mountain 'borghi' villages. It's a perfect month for discovering the hinterland, hiking, uncovering the gastronomy with a variety of 'Sagre' food festivals that take place all around the region. 
Is it crowded in Abruzzo in July?
You might find weekends busy and crowded with mainly Italian tourists and foreigners. however, it is highly recommended to plan ahead and book in advance for this lovely month.
Weather in Abruzzo in July
Trabocco abruzzo, the italian restaurant on the sea

Given its contrasting geography, Abruzzo has distinct climates: one in the mountains, the other on the shore. July is a perfect month to enjoy outdoor activities in the region: on the coastline expect humidity and generally sunny days (temperatures can range between 70/96F – 21/36C), however between 2700 and 3200 feet (820/975mt) the weather has a nice dry breeze followed by a drop in terms of temperature at night, roughly 60F (16C).
What to Pack for Abruzzo in July?
A small dictionary or Italian phrasal book will certainly help you to break the ice with locals and of course, bring a water bottle to stay hydrated while active in all types of weather you encounter.
Your luggage for Abruzzo will reflect the diversity that the region offers you. In Abruzzo, you can move from the beach to the mountains in about an hour's drive. 
What to Wear in Abruzzo in July
For the beach and coastline 
I suggest you bring durable water-shoes for the rocky beaches, sunscreen, light clothing, a swimsuit, a beach towel, and a hat to protect you from the strong Abruzzo sun rays. Many beaches have facilities and cabanas, however, if you travel by car you might want to bring your own beach umbrella for the wild and secluded public beaches along the coast.
For the countryside & hills
I would still suggest light clothes, mosquito repellent, sneakers for a nice walk in the vineyards, and a very light sweater or long sleeve shirt for the nights when the temperature drops.
For the mountain 
Bring along good trekking shoes, a backpack, a sweater and long pants for the night. A flashlight is also useful for night excursions or camping. If you decide to hike, bring along light mountain-sport clothing, along with your standard essentials like sunblock, hat, small binoculars (if you have any) to spot eagles, falcons and other animals such as bears, wolves and other various wildlife you might encounter in the different national parks of Abruzzo.
Seasonal food in Abruzzo in July
In July, it is a good chance to buy and try fresh Abruzzo-grown organic fruits and vegetables such as peaches, figs, apricots, plums, watermelons, zucchinis, salads, tomatoes, and all kinds of peppers. My favorite is fried zucchini flowers filled with ricotta or any other cheese, at this time many restaurants have it available.

On the seaside don't miss your chance to try the various seafood delicacies like 'Brodetto di Pesce', 'Linguine allo Scoglio', 'Frittura mista' followed by a yummy authentic 'gelato artigianale' artisanal ice-cream which is a perfect ending, especially during this hot month. 

scoglio pasta abruzzo

Another must-eat local product is 'Arrosticini' or 'Rustell' (lamb skewers) they are made from castrated sheep meat cut in chunks and pierced by a skewer. Cooked on a special charcoal BBQ which we call 'Canaletta', we also like to add some drops of spicy pepperoncino oil paired with a red Montepulciano d'Abruzzo wine.

You can also experience delicious cheese tasting from the countless farms around the region (such as 'pecorino', 'marcetto', 'caciovallo').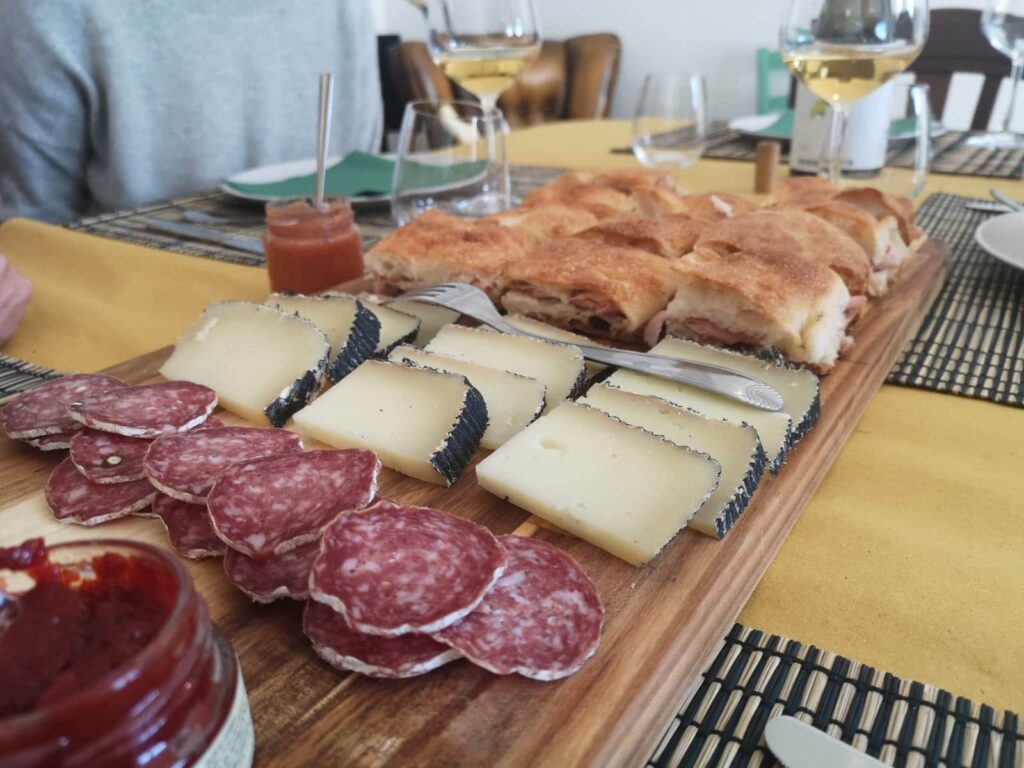 And what about wine? If you enjoy the fine Montepulciano d'Abruzzo, Pecorino, Cerasuolo, Trebbiano varieties of wines… Well, you are in the right region! You can arrange tours of vineyards and feel free to sample the great varieties of these nectars of the Gods! 

Get yourself refreshed with a glass of Cerasuolo d'Abruzzo, our fantastic rosè wine of the region. It pairs well with many regional dishes, must be served cool. Salute!

July is the season for Black Summer truffles and if you are in Abruzzo, you cannot go home without having tried them! We produce more than 40% of the Italian black truffle production. In my Complete Truffle Guide in Abruzzo and Italy, I explain in more detail everything you need to know about this precious mushroom. You could always opt for one of our amazing Truffle Tour and get involved with your hands in digging truffles with the help of the dogs. On our Truffle Tour, we also visit the truffle shop and end the day with a surprising truffle based lunch with wine.

Homemade liqueurs are also traditional in Abruzzo. You can indulge in a small glass after a generous meal or after the usual espresso ordered at the bar counter: 'Genziana' and 'Ratafia' are Abruzzo's most famous and popular among locals. If you join one of our tours, we will bring you along to visit a local artisanal liquor factory and taste the best liquors from Abruzzo.

Regarding other sweet, guilty pleasures, we have a unique specialty with exclusive links to the municipality of Guardiagrele, located in the Maiella National Park. The 'Sise delle Monache' (Nun's tits) cakes are made from sponge cake filled with a delicate custard with three 'peaks' dusted with powdered sugar. You can follow my video guide below to discover the town of Guardiagrele and its traditional food. 

If you are keen to bring some sweets home, look for 'Parrozzo', 'Pan dell'orso', 'Neole or Ferratelle', the world-famous 'Confetti', sugar-coated almonds from Sulmona loved even by the British Royal family.

Confetti almond coated sugar from Sulmona

You could also gift yourself an overall unique experience… A tour to a bee-farm, cheesemaking at a local farm, taste the best wines of Abruzzo, or even meet the locals at the weekly farmers market.

If you're looking for a custom-designed personal experience in the Abruzzo region, we can help – don't hesitate to drop us a line!

For more on food festivals keep reading below!
What's happening in Abruzzo in July
Throughout Abruzzo you can find several 'sagre', meaning food festival in July, where you can truly experience the local culture and taste super yummy food such as 'Pallotte Cacio e Ova' (Cheese and egg balls), 'Pizza Fritta' (fried pizza), 'Formaggio fritto' (fried cheese), truffles, porchetta, wine, and the list goes on… 
Due to the current Covid-19 lockdown, many events will be postponed or rescheduled to the next year, so I highly recommend you to always enquiring with your hotel guest services staff or the local Tourist Information Center upon arrival.
Scheduled activities July 2020 in Abruzzo
Food & local Festivals in Abruzzo in July
Normally July is a month packed with festivals, happening in every single remote location of the region: from the beach to the mountain villages. Here are some of the festivals that will be held almost certainly this year:
'Cantine Aperte' open wineries, have a look at the

map of wineries

that are usually letting guest for tastings
Current Events July 2020
Here are some of the events that will be almost certain this years:
More events and festivals to come, sign up to our newsletter to stay up to date
Wildlife and Mountain Terrain- A Spectacle All-year-round
A tour in one of the 3 Abruzzo's National Parks provides a stunning landscape and backdrop for best Instagram pics, animal encounters, and magical views to take-in.

famous movies made in Abruzzo.
Touring Abruzzo and Arrival Points 
Arriving from Rome to Teramo
If you're arriving from the Eternal city to the province of Teramo and looking for a relaxing and peaceful atmosphere I suggest starting at Civitella del Tronto, one of the most beautiful towns of Italy. Please, decide to spend here at least 7 days exploring the stunning places and experiences. From Civitella del Tronto you can discover beautiful hikes, mountain bike trails, winery tours, ancient villages, such as Campli & Teramo with some of the best gastronomy of the region.
Fancy a day outdoor with the family? Why don't you venture to the Gorges of Salinello and its river?
From Teramo, you can drive to L'Aquila in only an hour following the 'autostrada' highway or the panoramic road (I suggest this) passing along untouched landscapes, dams, Campotosto Lake and the nearby Amatrice (once part of Abruzzo until 1927 ) for a perfect Amatriciana.
If you're coming from Teramo, just before turning right for the lake, on the way you will find 'la Mascionara' a small delicatessen shop where you can buy all sorts of home-produced cheeses and meats and get yourself a 'panino' for a picnic on the lake.
If you enjoy hiking, you can make a 5-hour hike on top of the Monte Camicia one of the peaks of the Gran Sasso Mountain.
Arriving from Rome to L'Aquila
Santo Stefano di Sessanio is one of our favorite places not to be missed and well worth a stay. We put together a great guide to explore this charming and quaint 'borgo' and its' surroundings, more than 10 days of travel tips worth more than 300€. Get your guide now!
A breathtaking experience is guaranteed when you visit the ruins of Rocca Calascio Castle –  the iconic symbol of Abruzzo and a notable location for Hollywood filmmakers).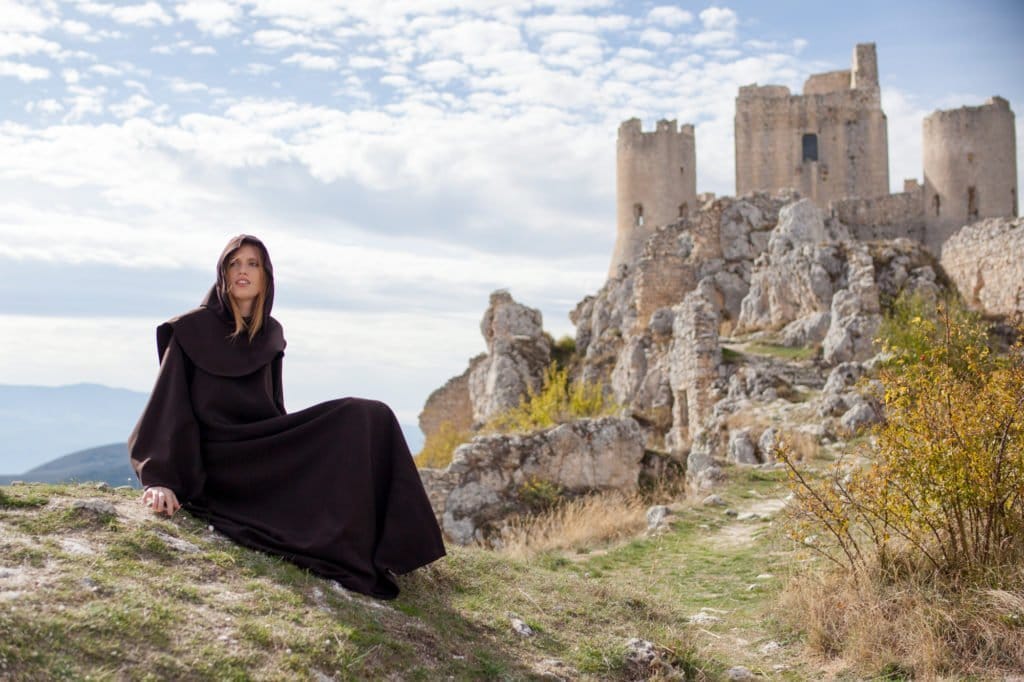 A tour in this inner area can finish with a grand finale at the famous plateau of Campo Imperatore, labeled as the Tibet of Italy where you can spot bikers roasting meat bought at the nearby butcher called Ristoro Mucciante.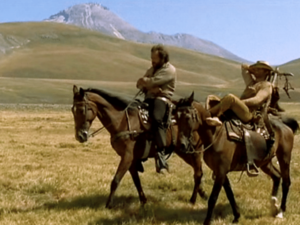 Within this imposing, wild, and natural terrain you can feel as though you're in a cowboy film, or simply in a blissful rugged part of nature far away from the stress and frantic pace of busy city life.
The Pescara area
Here it's time to relax, snorkel, sip fresh cocktails, and sunbathe at the beach. Enjoy Pescara, like a 'Pescarese' (Pescara native), and take the morning to explore the most vibrant city of Abruzzo.

Make sure to also visit Ortona, its Castle 'Castello Aragonese', the San Tommaso relics, and enjoy a walk with a spectacular view along the town's own terrace. 

Ortona's Castle

From Ortona drive towards the south reaching the famous 'Costa dei Trabocchi', where you will encounter pebble beaches with lovely spots to take in the sun, and have a dip in the most pristine seawater.

This area is particularly generous with its cuisine: the fresh fish dishes, fine local wines, and delicious gelato.  For more hedonistic sea-worship, you can shed your inhibitions and sarongs at 'Punta le Morge' a naturism beach, near Fossacesia. Also don't miss the Abbey of San Giovanni in Venere.

Abbey of San Giovanni in Venere, Abruzzo

For a truly unique culinary experience, discover luxury dining on top of the sea! Book yourself dinner on a converted 'Trabocco', an ancient fisherman hut. Watch the video of our lunch on the Trabocco.

All of the Trabocchi restaurants make awesome food, pick one and make sure to book in advance by calling them early as possible.
The Marsica
The Marsica is another interesting area of the region where you can experience great roman city ruins for free, along with its great amphitheater, home of many operas and movie nights under the stars. Exploration of this fascinating locale can't end without taking a walk or even sleep in Tagliacozzo, a small village where elegant and tasteful architecture explodes in all its glory.

Alba Fucens and the Roman site

This wild part of Abruzzo gives you the right opportunity to experience a day on a farm and try to make your own cheese or mozzarella in small villages like Forme, Ovindoli (famous ski area), or in the Fucino area (former lake). Before leaving Marsica, don't miss Celano town and its majestic castle overlooking the massive plateau, nationally famous for the potato production (check it out the story of Fucino lake to understand its unique destiny).
Why should you visit Abruzzo in July, or at all?
Abruzzo Strong & Gentle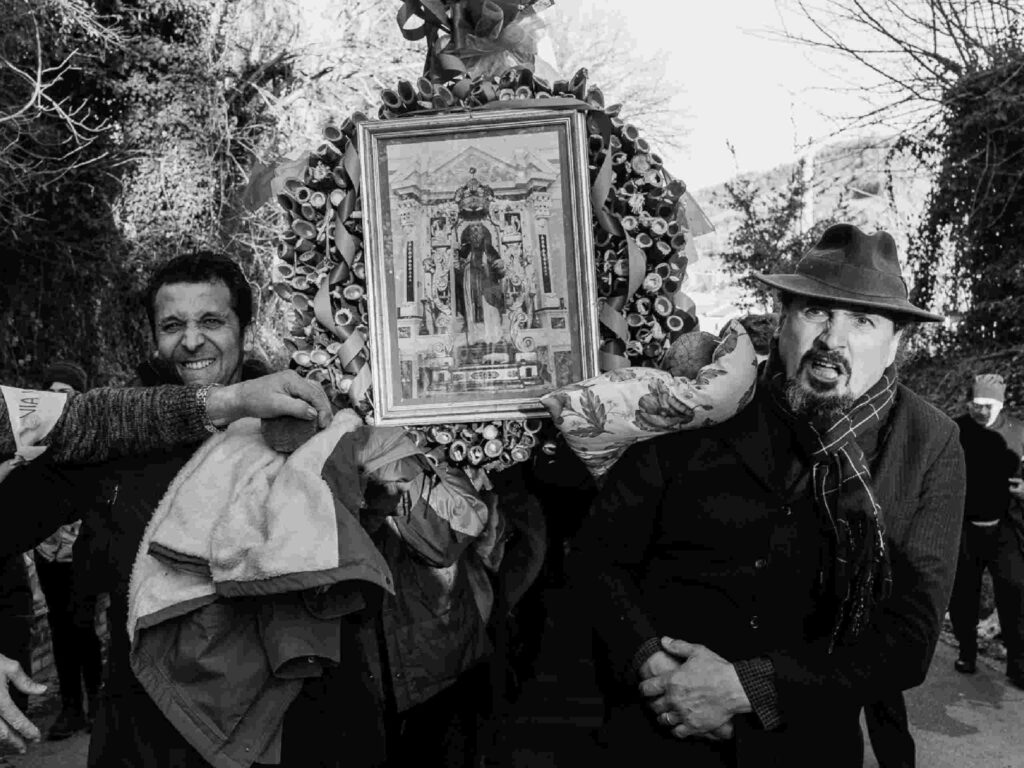 Well, Abruzzo has it all. With its friendly locals and hospitality, visitors tend to feel at home and part of the community right away. The region offers real, the authentic charm that Italy is famous for and the diversity of its tourism offerings makes a traveler's holiday exciting and stress-free.
Logistically, it's well-connected between Rome and Pescara (which has its own airport that links the region with domestic and international flights). There are also frequent connections between the north and south in the way of buses or trains from Turin, Milan, Bologna, and Venice which pass through Teramo, Pescara, L'Aquila, and Chieti.
Organic, Simple yet Tasty Meals
Visitors can enjoy fresh and organic meals, feel welcome and interact with locals and choose among swimming in the pristine water of the Adriatic Sea in the mornings, hiking in the National Parks in the afternoons and wine tasting in the countryside vineyards during the summer evenings. In addition, one can experience cultural immersion visiting the mystic hermitages nestled in the forests, the medieval castles, and fortresses and/or follow the steps of the famous Abruzzo writers like D'Annunzio, Flaiano and Silone…Watch Marino's adventure climbing to one of Italy's remotest hermitage in the Majella National Park.
Tuscany, Rome, Venice, Amalfi coast, are some of Italy's most beautiful locations, but how many tourists pack the streets on hot summer days or all-year-round for that matter, having booked monument or museum visits several months in advance, and all lining up for busy 'guide-book suggested' restaurants and local tours? 
Be curious! Abruzzo has just as much to offer with the luxury of varying locales and great food, room-to-move, art, recreation, and history!
Abbruzzo offers a unique and diverse experience at good prices with great affordable luxury.
Coming to Abruzzo assures you a once-in-a-lifetime 'off the beaten track' experience at a surprisingly affordable cost which allows for an even richer experience on a budget. It's really a smart way for a traveler to learn and experience a country's unique culture. Contact us today for a tailored Authentic Abruzzo Experience.
Blog post written in collaboration with Marino Cardelli, Massimo Donatelli & Dianne Drew.
Explore Abruzzo by Month