Abruzzo in August: Travel Tips, Weather & Food
Abruzzo in August – At a Glance
Abruzzo in August – What to Expect?
August is a high season in Abruzzo, but generally not a sold-out season unless you want to stay on the coast or in the National Park. Many Italians come to spend seaside vacations in cities/towns like Giulianova, Roseto degli Abruzzi, Pineto, Martinsicuro, Pescara, Montesilvano & The Trabocchi Coast.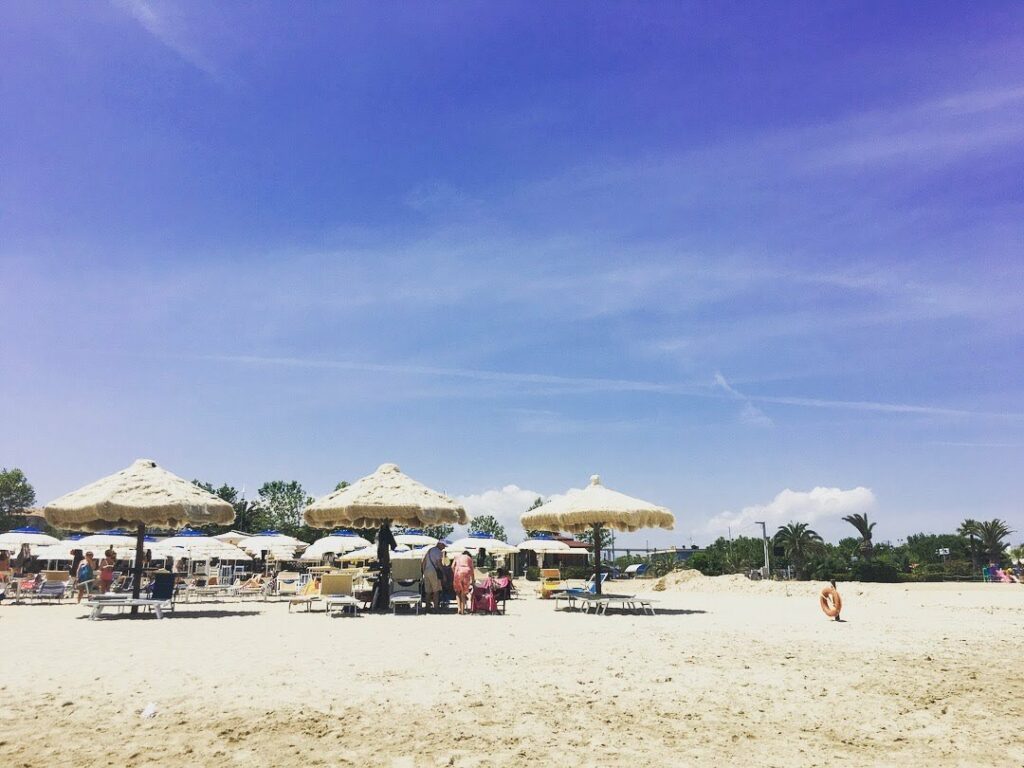 It's the hottest and driest month of the year in Abruzzo in terms of temperatures and a perfect month for discovering the hinterland, hiking, and uncovering its gastronomy with a variety of 'Sagre' food festivals that take place all around the region. Abruzzo is a fun and festive region in August! You'll find most Italians are off work and on holiday, so for us: expect all shops and factories closed during this day in particular and fully booked restaurants and hotels.
Is it crowded in Abruzzo in August?
August is a crazy month in Italy. For Italians, it is often the best month of the year – a time for vacation, family, friends, and the beach.  But it is also the height of tourist season, and hotel prices soar to 3 or even 4 times their usual rates while restaurants are reserved months in advance.
Ferragosto August 15th National Holiday
The reason for all this excitement centers around one particular day – 15th August or Ferragosto, when almost everyone in Italy takes a holiday. August 15th 'Ferragosto' is a national holiday (similar to Labour Day), and simply an Italian's day off from work when one would generally be surrounded by loved ones and plenty of food. However, the entire week around this festive day is usually celebrated as well.
The History of Ferragosto
Historically, Ferragosto is an ancient tradition with pagan roots dating back to 18 BC when Emperor Augustus created a holiday known as 'Feriae Augusti' or 'festivals of Augustus'.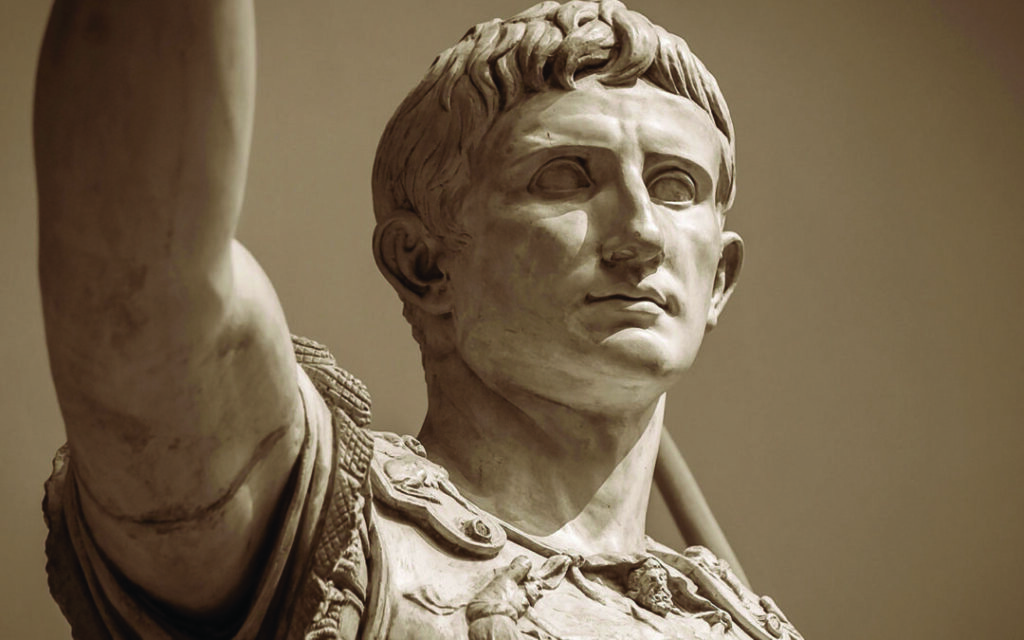 Festive horse races would be organized throughout the Roman Empire along with massive feasts and celebrations. August 15 is also Assumption Day for Catholics, being the day when it's said that the Virgin Mary ascended to heaven.
Finally, in the 20th century, Mussolini organized discounted trains for the Italian people, calling them 'the people's trains of Ferragosto' and for many Italians, it was their only holiday all year in which they could travel and see other parts of Italy or return to family in other parts of the country.
Folklore in Abruzzo
And for the visitors?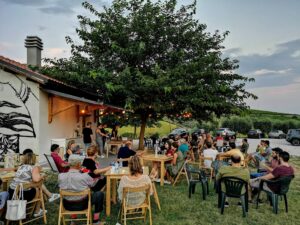 Expect many concerts, events, and outdoor festivals to experience. You'll witness many spirited local folklore in their lively small towns, enjoying festivities with family members whose sole purpose is to return to their roots and reunite with their relatives for some quality time during their summer holiday!
Weather in Abruzzo Italy in August
Expect temperature peaks over 90F (36C) on the coastline or dry hot wind in the countryside. It could also be a bit chilly at 4900 feet (1500 mt) above the sea level, especially after showers.
Given its contrasting geography, Abruzzo has distinct climates: one in the mountains, the other on the shore. August is a perfect month to enjoy outdoor activities in the region:
On the coastline expect humidity and generally sunny days (temperatures can range between 82/104F – 28/38C), however on the higher ground between 2700 and 3200 feet (820/975 mt) the weather has a nice dry breeze followed by a drop in temperature at night at roughly 71F (22C).
What to pack for Abruzzo in August?
The first thing you should bring with you is sunblock with a high SPF. Regardless if you are in the mountains, at the beach or in the countryside, you can't avoid the intensity of the hot Italian sun.
Although Abruzzo people are famously known to be hardy yet gentle, their skill in the English language is not their strongest suit. A small book of Italian phrases can be pretty useful to help with your local interaction. Bring a variety of outfits such as swimsuits, sneakers, sandals, hiking shoes, trekking gear, and light clothes as the region offers many activities and areas to explore.
What to Wear in Abruzzo in August?
For the beach and coastline 
Aside from the obvious beach attire and sunscreen, I suggest you bring durable water-shoes for the rocky beaches, a hat, and some light clothing to cover up. Many beaches have facilities and cabanas, however, if you travel by car you might want to bring your own beach umbrella for the wild and secluded public beaches along the coast.
For the countryside & hills
I would still suggest light clothing, mosquito repellent, sneakers for a comfortable walk in the vineyards, and a very light sweater or long sleeve shirts for the cooler nights when the temperature drops.
For the mountain 
Be sure to bring along good trekking shoes, a backpack, a sweater and long pants for the evenings. A flashlight is also useful for night excursions or camping. If you decide to hike, bring along light mountain-sport clothing, along with your standard essentials like sunblock, hat, small binoculars (if you have any) to spot eagles, falcons and other animals such as bears, wolves and other various wildlife you might encounter in the National Parks of Abruzzo.
Whether you're on the beach, hills on the mountains bring a towel so you can lay down and admire the beautiful sky at night and catch some 'stelle cadenti', especially on the night of San Lorenzo on the 10th of August.
Prices in Abruzzo in August
August in Italy can be quite expensive, however in contrast Abruzzo will not disappoint! Generally speaking, if you dine out or stay in hotels, you won't end up paying a fortune as if you were to holiday in Tuscany or on The Amalfi Coast. Rest assured in Abruzzo you will still get an authentic Italian experience through wine, food, culture, art, and nature. Just expect prices to be somewhat higher than normal during August, mainly for accommodations.
Foods in Season in Abruzzo in August
Fruit & Vegetables
In August it is a good opportunity to buy and sample fresh, in-season Abruzzo-grown organic fruits and vegetables such as plums, figs, watermelon, zucchini, aubergine, green beans, berries, table grapes, carrots & potatoes (famous from the Fucino area). At the end of August, if you're lucky you may come across some fresh porcini mushrooms too!
Truffles
August in Abruzzo is also the season for truffles, the summer black truffles which can be found all over the region. In the province of Teramo, you have the possibility to venture for a walk in the woods with the specially trained dogs and hunt for the precious tubers.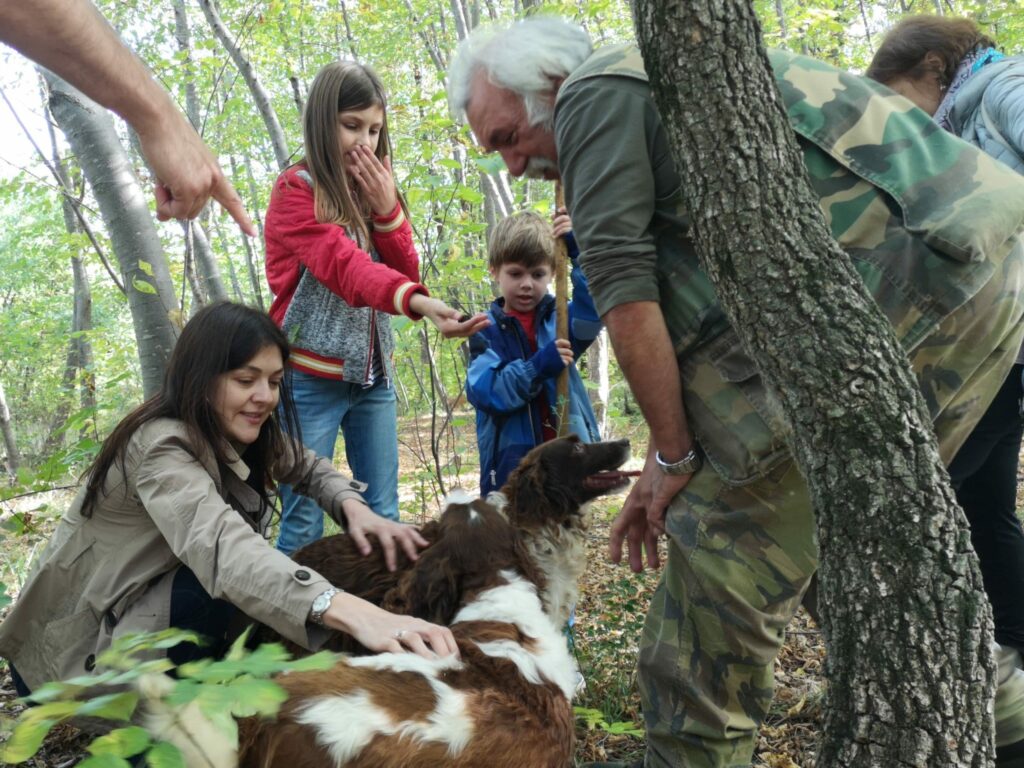 For a truffle hunt & dining experience, have a look at this Real Truffle Tour with a local expert.
Tomato Preserves in Abruzzo
'Pomodori', or tomatoes as we know them in English, deserve a standalone paragraph as August is the month of the 'conserve' and 'passata' (tomato preserve and puree). Families will wake up early in the morning (to avoid the heat) and start preparing and bottling the seasonal tomato conserve which will be used throughout the year. Watch the video of our Mamma making the tomato conserve.
View this post on Instagram
Seafood in Abruzzo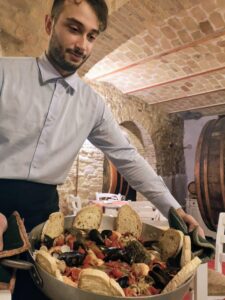 One of our favorite dishes is 'Pasta allo scoglio', the tastiest and fresh seafood pasta you will certainly find in all the sea restaurants. Made with clams, mussels, prawns fresh cherry tomatoes and parsley.
Traditional Dishes
There are so many different products and delicious meals to try! I would recommend the 'orapi', a wild mountain vegetable which is slightly similar to spinach and popular in the area of Marsica and the National Park of Abruzzo (Barrea, Pescasseroli, Pescina, Gioia dei Marsi).
For natives 'arrosticini' which is grilled mutton and/or lamb on a skewer, alon with bruschette is a must to eat during the summer.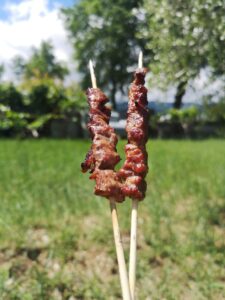 The 'Pecora alla callara', is an authentic, traditional shepherd's recipe of mutton. You can try this delicious dish prepared with oil, carrots, celery, onion, and various herbs and flavorings. This delicacy has to be cooked slowly in order to allow the meat to lose its fat and absorb all the various flavors, until it becomes soft and mouth-watering. Check its respective 'sagre' or food festival, in Antrosano and L'Aquila provinces. Another meat lover's delicacy is definitely 'porchetta', the famous slow-roasted suckling pig available in every town in Abruzzo.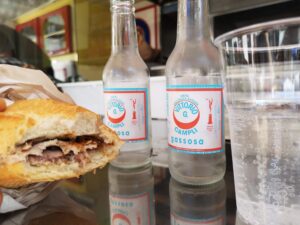 Seen in most Abruzzo towns you'll spot the little vans selling delicious 'porchetta panino'. Finally, if you'd like to experience the ultimate decadence, why not spoil yourself with the 'Pizza fritta' fried pizza, followed by a yummy authentic gelato.
You could also gift yourself an overall unique experience… A tour to a bee-farm, make cheese at a local farm, taste the best wines from Abruzzo, or even meet the locals at the weekly farmers market
If you're looking for a custom-designed personal experience in the Abruzzo region, we can help – don't hesitate to drop us a line
For more on specialty food festivals keep reading below!
What's happening in Abruzzo in August?
August is also the month of concerts, music festivals, and outdoor excursions. Many local operators and regional tourist committees have great agendas for locals and visitors during this joyful month.
On the celebratory day of 'Ferragosto' you can join the many beach parties and festivities along the coast organized by the beach clubs or venture through the mountains for a traditional Abruzzese style picnic, which includes arrosticini.
Abruzzo scheduled activities August
Food & local Festivals in Abruzzo in August & Current Events
From the beach to the mountain villages, normally August is a month jam-packed with festivals and cultural events in several locations throughout the region. Here are some of the festivals that will be organized this year (unless otherwise stated):
'Cantine Aperte' open wineries to visit. Have a look at the

map to see wineries

that are continuing their guest tastings.

The Porchetta Festival 20-22 August, check the

website

for more info.

'Paesaggi Sonori'. Attend beautiful open-air live music events at sunset. Visit their

FB page

to know more.
In Castelbasso (Teramo), for the whole month of August, immerse yourself in art, music & literature. For more info visit their website
More events and festivals to come, sign up to our newsletter to stay up to date
Why should you visit Abruzzo in August, or at all?
August in Abruzzo means having the chance to meet a lot of locals living in the region but also many 'Abruzzese' coming back to their own towns as they work abroad or in another part of Italy.
It is the month when most Italians are off from their jobs, so the atmosphere is pretty relaxed and joyful in general. Although the weather is pretty hot during this month, it will be possible to do many activities especially in the hinterland and nearby the mountain villages, explore the local nature, visit some wineries and get the best memories of the region.
Coming to Abruzzo assures you a once-in-a-lifetime 'off the beaten track' experience at a surprisingly affordable cost which allows for an even richer experience on a budget. It's really a smart way for a traveler to learn and experience a country's unique culture. Contact us today for a tailored Authentic Abruzzo Experience.