Margiotta Winery Peligna Valley – Abruzzo Wine Tour
[vc_row type="in_container" full_screen_row_position="middle" column_margin="default" scene_position="center" text_color="dark" text_align="left" overlay_strength="0.3″ shape_divider_position="bottom" bg_image_animation="none"][vc_column column_padding="no-extra-padding" column_padding_position="all" background_color_opacity="1″ background_hover_color_opacity="1″ column_link_target="_self" column_shadow="none" column_border_radius="none" width="1/1″ tablet_width_inherit="default" tablet_text_alignment="default" phone_text_alignment="default" overlay_strength="0.3″ column_border_width="none" column_border_style="solid" bg_image_animation="none"][vc_column_text]
In this blog post series discovering the most authentic wines of Abruzzo, today we've the pleasure to introduce you to Francesca from the Margiotta Winery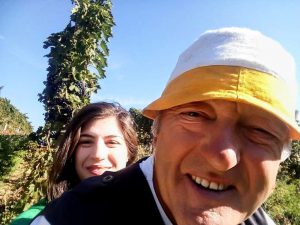 History of Cantina Margiotta
Located in the Peligna Valley, where for the first time the Italic people called themselves 'Italians'  the Cantina Margiotta continues with its winemaking tradition. The young Francesca Margiotta, now representing the 5th generation of winemakers in the Margiotta's Family will take us behind the scenes of her family's history and how with passion and innovation are producing excellent wines. Watch our in-depth interview on our video interview below to learn more about Cantina Margiotta.
Vines & Terroir of the Peligna Valley
Long and harsh winters, snow-covered mountains, and morning frosts represent the soul and spirit of this area, as well as their vineyards, which are authentic, luxuriant and strong are the genuine characters of the Margiotta's story.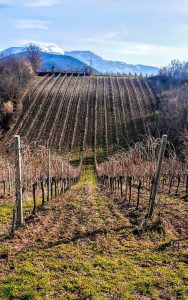 These conditions help with the natural winemaking process and the result are more intense flavours & color especially on the Montepulciano grapes.
The family philosophy
"The cultivated grape varieties are indigenous (Montepulciano, Pecorino and Trebbiano) and are made into long-living, elegant wines with lots of character. These wines are carefully produced, monitored from bud to bottle, and are the result of never ending research and innovation that aim to express the quality of a terroir so strong and gentle."
The decision to grow indigenous grapes represents the winery's concept of respecting biodiversity and the natural cycles of the environment.
Margiotta Wine List
Cretara is the name of the hill where the Margiotta family's ancestors, who have dedicated their lives to the noble art of viticulture since the early twentieth century, planted their first vines. The production includes the Cerasuolo Superiore & Montepulciano d'Abruzzo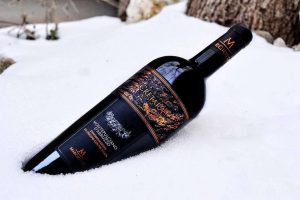 Pentima: a bright piece of land in the Abruzzo region. Risen from the ancient town of Corfinium, the Italic people, united against Rome, echoed the name 'Italia' for the first time. As a tribute to tradition and respect for archaic memory, the wine proposes the ancient generous grape variety of Montepulciano d'Abruzzo, ageing in oak barrels for at least two years.
Vellus was created to honor the ancient "tratturi" tradition as well as the memory of our shepherds and their rituals. Production includes: Pecorino, & Pecorino Brut
Psitia: following a long fermentation of the must in an autoclave from selected Moscato grapes. With a fragrant and aromatic bouquet and a fine perlage, this wine is sweet and delicate.
Ferax includes Cerasuolo, Montepulciano & Treabbiano d'Abruzzo DOC
Wine Tours at the Margiotta Winery
The Margiotta family invites anybody who is enthusiastic, interested, or curious about wine and gives a tour of the vineyards as well as guided tastings of their products, which are complemented with regional specialties.
Their objective is for you to enjoy a pleasant and authentic cultural experience, revealing the estate's innermost spirit, its virtues, and its future. Francesca speaks very well English and you won't have problems.
Margiotta Winery Map
Very close from Sulmona, at just 13 minutes by car
Simply follow the google maps direction for, Strada Provinciale Corfiniense, snc, 67035 Pratola Peligna AQ
Contacts
Phone: +39 3491009216
Tour the Best Wine Tours from Abruzzo
Let us guide you to the discovery of the best wineries of Abruzzo. Check out our wine trip planning and tour.[/vc_column_text][vc_column_text css=".vc_custom_1620305875904{margin-top: 60px !important;margin-bottom: 60px !important;}"]
Discover More Wineries of Abruzzo
[/vc_column_text][recent_posts style="slider_multiple_visible" category="wine-wineries-of-abruzzo" columns="2″ button_color="Accent-Color" hover_shadow_type="default" order="DESC" orderby="modified" image_loading="lazy-load" blog_remove_post_date="true" blog_remove_post_author="true" blog_remove_post_comment_number="true" blog_remove_post_nectar_love="true" posts_per_page="99″][/vc_column][/vc_row]