Di Cato Winery in Vittorito – Natural Wines of Abruzzo
In this blog post series discovering natural wines of Abruzzo, today we've the pleasure to introduce you to Mariapaola from the Di Cato winery in Vittorito, in the province of L'Aquila in Abruzzo.

History
Vittorito is a tiny town in the Peligna Valley in the province of L'Aquila, and it was formerly a place of shepherds and farmers, much like the rest of the Apennines. Everyone made wine here until 1990. If you are born and raised in Vittorito you have been immersed in the wine world since childhood! Mariapaola skipped school to pick grapes in her grandfather's and neighbours' vineyards.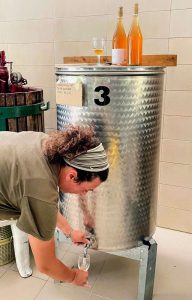 Mariapaola was fortunate to have her father, Francesco, who, although having another profession, never left the countryside, and when he retired in 2015, he reclaimed the family estates and resumed winemaking, just as his great-grandfather had done. Mariapaola was at university at that time, and never thought of going back to the country to hoe the ground.
The philosophy
"During the harvest, seeing my two grandchildren be free to eat the grapes directly from the plant not only makes me go back in time but … it makes me feel good! Because I know that through small simple gestures I have the opportunity to take care of their health and pass on to them, as my grandparents and parents did with me, very important knowledge for a lifestyle in harmony with the environment in which we live." Mariapaola di Cato
Terroir, Exposition & Pruning
The family have 2 hectares that permits them to follow the vine's whole life cycle. The vineyards were planted between 1963 and 2020 in various areas around the Vittorito municipality, all having a south-east exposure and cultivated using the guyot and bush vine methods. Some soils are clayey, whereas others are earth mixed with tiny gravels and have a distinctly more calcareous character. As we said it was an area of farmers who used to grow two or more grape varietals in a vineyard.
Di Cato Wines
Montepulciano, long white Malvasia, Campolese (Passerina) and Aleatico are the only vines grown on the estate. It is critical for them to conserve ancient grapes grafted on site in the 1960s by recovering and replacing native vines already existing, as well as to carry on a territory's identity and history, as well as its historical tradition.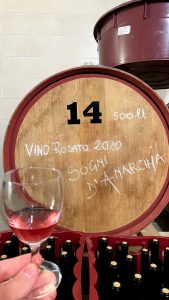 Eughenos Harvest moon, rose' from 100% Montepulicano d'Abruzzo – destemmed grapes is left to macerate for 1 night, then follow fermentation with spontaneous yeasts and after 7 months in stainless steel it gets bottled unfiltered and unrefined.
Nonno Mariano – the Montepulciano d'Abruzzo dedicated to grandpa Mariano, only the best vintages (2014 & 2019) from the older grapes get selected to make this wine. 6 months in stainless steel, it ages 1 year in durmast barrels before being bottles and resting for 12 additional months in bottle, before being sold.
Sogni d'Anarchia – the rebel rose', its grapes get pressed and left to fermentate in an old barrel free of control for 9 months.
Animerranti – A youthful red that may be enjoyed right away or stored in the cellar for vintage red enthusiasts! It's entirely up to you!
Eughenos Raggio di Sole – Malvasia 95%, ancient white grapes (Camplese, Trebbiano, Cococciola) – short spontaneous fermentation of unpressed grapes for 10 days then after the first decant it stays 6 months on its sediments in stainless steel tanks. It gets bottles unfiltered and unrefined on the first moon of May.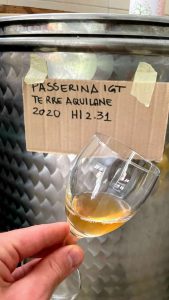 A new Passerina wine is on its way, I sampled an early edition directly from the tank and I loved it! It's hard to find such an interesting, flavourful Passerina.
Wine Labels
Eughenos & Animerranti wines have 4 different labels personally designed by Mariapaola to remember the 4 seasons. So you might get the same wine in 4 different labels.[vc_gallery type="flickity_style" images="2011395,2011393,2011391,2011389″ flickity_spacing="default" flickity_controls="pagination" flickity_overflow="hidden" flickity_wrap_around="wrap" flickity_desktop_columns="1″ flickity_small_desktop_columns="1″ flickity_tablet_columns="1″ flickity_box_shadow="none" image_loading="lazy-load" onclick="link_no"]
Di Cato Winery Map
This winery is near Sulmona at just 20 minutes drive.
Simply follow the google maps direction for, Via Colle della Fonte, 14, 67030 Vittorito AQ
Contacts
Phone: +39 349 248 1784
Taste the Best Natural Wines of Abruzzo
Up to visit and discover the best natural wines in Abruzzo? Let us guide you to the biodynamic and natural wineries of the region. Check out our wine tour and trip planning service.
Other Unknown Wineries of the Abruzzo Region
Uncover other natural wineries from Abruzzo