Top 10 Places to Visit in Abruzzo
If you haven't heard of Abruzzo, now is the perfect chance to know more about it. 
Abruzzo is in central Italy, a few hours' drive from Rome. It is located between the Apennines and the Adriatic coast. It is one of the country's lesser-known locations, but it has everything tourists love: pristine lakes, unpolluted parks, awe-inspiring mountain ranges, and enchanting medieval villages. It is genuinely a region where you can immerse yourself in local culture, sample a wide range of cuisine, and learn about the authentic Italian way of life.
In this article, we will take you to different places and show you what to do in Abruzzo.
Majella National Park
Majella National Park is one of the three national parks in Abruzzo. With over 100 square miles of stunning mountains and valleys to explore, it's one of the best-preserved Apennine ecosystems. Throughout the summer months, hiking in this area is perfect for individuals with a passion for the outdoors. 
The Hermitage of San Bartolomeo in Legio, Abruzzo's most famous cliff face retreat, the Hermitage of Santo Spirito, one of the Majella's most prominent monasteries and the Hermitage of San Giovanni all' Orfento, one of the remotest hermitage of Italy, are three additional must-sees.
Do you dare?
Passolanciano–Majelletta
At approximately 2000 meters above sea level, Passolanciano–Majelletta is a ski resort with a spectacular view of the Adriatic coast. You can go hiking and wander through the many magnificent views as well as the secluded hermitages found in the steep hillside. It's a beautiful place to visit!
In some seasons during March you can end up skiing in the morning and swimming in the afternoon. At just 1 hour away from the skiing resort you can find beautiful beaches of
Punta dell'Acquabella or Spiaggia di Punta Ferruccio
Fara San Martino
Abruzzo has a long history in pasta-making, which is why eating is one of the best things to do in the region. The charming town of Fara San Martino, located in the Majella National Park, is famous for the flavour and quality of its pasta. Giuseppe Cocco, De Cecco, and Delverde are three of the most well-known high-end pasta brands globally, and this is where they are made. You may enroll in a culinary class to learn the finest ways to make homemade pasta.
Apart from that, Fara San Martino is noted for its "gole," one of Italy's longest canyons, which is only a few minutes away from the town. This route is ideal for hikes and picnics.
Civitella del Tronto
It is one of the most beautiful hamlets of Italy. Civitella del Tronto secretly holds the narrowest street of Italy and its fortress. The fortress was built by the Spanish and now it holds the primate to be the largest fortress in Italy.

civitella del tronto, medieval village
Campo Imperatore
Campo Imperatore also known as the 'little Tibet' is a huge mountain plateau located between 1500 & 1900 meters above the sea level (4921-6233 feet) inside the Gran Sasso & Monti della Laga National Park. A vast glacier-formed intermountain plateau that spans over dozens of kilometers and creates a breathtaking natural landscape. Its old, heart-wrenching appeal has made it popular in recent years as a natural backdrop for scores of commercials and movies, some of which are rather well-known.
Fun fact to know: at the top of the astronomical observatory, the is the historical Campo Imperatore hotel where Mussolini was kept prisoner at the end of WWII.
L'Aquila & its Surroundings
L'Aquila city is known as the Florence of Abruzzo or the Salzburg of Italy was almost completely destroyed by the earthquake in 2009. Now is almost completely restructured and it's definitely worth a visit.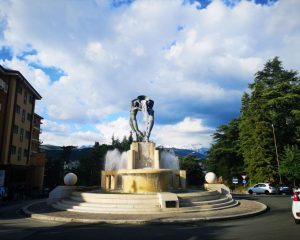 L'Aquila province, L'Aquila's surroundings alternate round high grounds with narrow valleys, cultivated with the open field system, and dotted with numerous villages such as Santo Stefano di Sessanio, Castel del Monte, Calascio, Navelli, Castelvecchio Calvisio and Fontecchio.
Pacentro
Pacentro is a medieval village in Abruzzo with a magical ambiance. There's nothing like spending a day wandering around the town's tiny stone-paved lanes, appreciating the architectural intricacies of the beautiful houses and taking in the spectacular vistas along the route.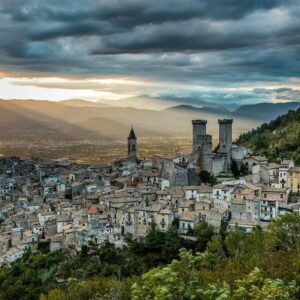 Roccascalegna
Perched on a mountain ridge, Roccascalegna is a fully preserved medieval town and one of the must-visit tourist attractions in Abruzzo. It's most famous for its 16th-century castle, which rises out of a limestone cliff and must be seen to be believed. It is, without a doubt, one of the most spectacular castles in the region, even if there are over fifty others in Abruzzo alone.
Vasto
Vasto, well recognized for its diverse beach options, is a hilltop village that overlooks the Adriatic Sea. Aside from its nature, the town center is a magnificent medieval site with lovely structures from the 15th century. The Caldoresco Castle, the San Giuseppe Cathedral with its Romanesque facade, and Palazzo d'Avalos, where you may explore its museums and Neapolitan-style gardens, are all within walking distance of Piazza Rossetti.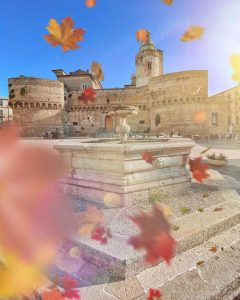 Punta Aderci Natural Reserve
With its rocky promontory, the Regional Nature Reserve of Punta Aderci preserves one of the most evocative and magnificent portions of the Abruzzo coast, which alternates vast and sandy beaches with natural cliffs, bays and coves of suggestive beauty.

natural reserve punta aderci
Conclusion
Abruzzo may be a lesser-known location, but it is well worth considering for your next trip. You'll get the opportunity to learn about different locations, cultures, cuisines, customs, and ways of life. Traveling to a less well-known place might help you realize how vast the world is and how much more there is to discover.
If you want to know more things to do in Abruzzo, Experience BellaVita can introduce you to the genuine and authentic Italian lifestyle. With us, you get to know the hidden gem of Central Italy. Get in touch with us today!