Scuppoz Craft Spirits – Traditional Liqueurs from Abruzzo
With my job, I'm so lucky…Every time I get the chance to meet passionate local producers that have so much passion in what they do. I get the opportunity to experience firsthand, the dedication these people put every day of their life. They embrace the traditions, often passed on from their family for many generations, to let normal people like us, experience unique traditional tastes and flavours. They are the living example of the past.  The Scuppoz family is one of those deeply passionate producers.
In this blog post series discovering the most authentic wines and spirits of Abruzzo, today we've the pleasure to introduce you to the Scuppoz Family making high-quality traditional Abruzzo craft digestives & liquors like Genziana, Ratafia, liquorice and Amaro Scuppoz.

From the left, Nonno Fiorindo, Anna, Adriano (the Boss), Marco and Domenico.
History of the Scuppoz Family
The family has a long tradition dating back to Adriano's grandpas, originating in the remote mountain town of Valle Castellana. Adriano tell us when his grandma was taking him though the mountain meadows to collect wild herb and spices they would use for cooking and to make their home-made liqueur, today called Amaro Scuppoz, exactly like the original. In 1982 Adriano and his father Benito decided to transform their passion into their job producing traditional spirits from the tradition. After the last earthquake in 2016, they were left without a base and they worked harder to relocate their production from the heart of the Abruzzo's mountains to the feet of an ancient pre-Italic town, Campovalano dating back to the X century B.C.
To learn more about the family tradition, watch our in-depth interview on our video interview below .
The First Gentian Plantation of Italy
They are the pioneer of the first gentian plantation of Italy at 2000 meters inside the Gran Sasso & monti dell Laga National Park. This means that in the next years they will be able to produce a liquor with 100% ingredients made in Abruzzo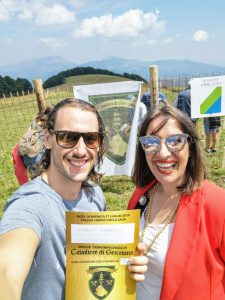 This is a picture of the beautiful event 'adopt a gentian' where I took part, adopted a plant and become 'Cavaliere di Genziana'.
Scuppoz Spirits List
They produce a range of local liquors and digestives, among the most popular, you will find: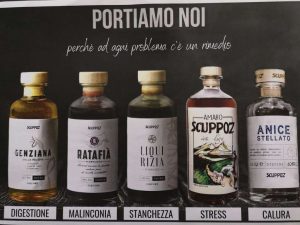 'Amaro Scuppoz' the traditional Amaro, with the

ancient recipe, handed down by shepherds and brigands.

Dwine, a gentian liquor made with selected roots.
'Genziana delle Pecore' literally ' Gentian of the sheep' made with a blend of three hand-cut gentian roots
'Liquirizia' made with liquorice's roots growing by the sea in Atri.
'Ratafia' (cherry liquor) made Amarene (wild cherries) macerated in M

ontepulciano d'Abruzzo

wine. You can check out their recipe
'Anice', anise liquor traditionally used with coffee but also as an aperitif.
Their new line 592: includes a Gin, a Bitter and a Vermouth
Worth a mention their Limoncello, less sweet and stronger than the classic limoncello from Amalfi
Scuppoz Map
At just 10 minutes by car from Teramo City.
Simply follow the google maps direction for, Zona Industriale Campovalano, 64012 Campli TE
Tastings at the Scuppoz Spirit in Campli
Anna speaks English well and you won't have problems to organise a visit by yourself there. Make sure to contact Anna at her website or instagram (info below) and schedule an appointment.
Contacts
Phone: +39 0861 56625
Tour the most Authentic Businesses of Abruzzo
Let us guide you to the discovery of the most genuine businesses of Abruzzo. Check out our  trip planning and tour.
Discover Interesting Wine & Spirits Makers in Abruzzo