Francesco Massetti Winery, Colonnella – Best Wine Tastings from the Teramo's Hills
Today we meet young winemaker, Francesco from the Massetti Winery family in Colonnella (Teramo), Abruzzo.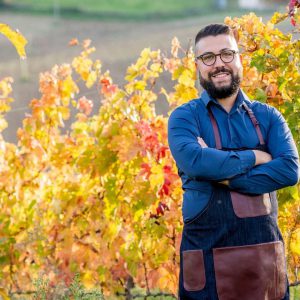 Tasting the Best Wines from Abruzzo
We discovered about Massetti after a tasting with more than 15 wine producers, that day we tasted more than 50 wines and the only ones who left an outstanding mark were Francesco's wine. His wines are a true representation of tradition and Innovation at a very high standard. After that day, we couldn't wait to go visit Francesco at his winery…by following google maps we ended up taking the wrong road full of mud, was like going an off-road trip, the only difference is that we had a low Audi and almost got stuck. How can we forget that day?
But getting to the Massetti winery isn't a big deal, it's actually very easy and the road is all paved. If you end up on gravel, turn back or call the winery.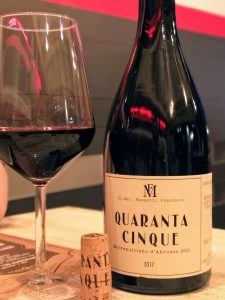 Francesco's Philosophy is to produce little but good, hence his production is very limited and the yield per hectare is extremely low so that all the flavours and character of grape variety can concentrate in the glass
The History of the Francesco Massetti winery
Francesco knew he wanted to become a winemaker when he was just 4 years young Since 2014, he is producing high-quality wines from Montepulciano and Trebbiano D'Abruzzo. Stepping into his cellar, you will understand the obsessive-attention he has about cleanliness.
If you want to discover more about the Massetti winery, check out our in-depth interview on our video interview below.
Wines Produced
Cè – Cerasuolo d'Abruzzo DOC
Quaranta Cinque (45) – Montepulciano d'Abruzzo
Mezzo Pieno – IGT Colli Aprutini Trebbiano
Passito – when we visited the winery, Francesco was experimenting the making of Passito, we look forward to visit him again and try it.
Francesco Massetti Winery Map
Simply follow the google maps direction for, Contrada Giardino, 64010 Colonnella TE.
If you get lost call Francesco (info below) he speaks very little english, better if you can speak italian or get guided by us
Contacts
Phone: +39 3297266209
Discovering the Best Wines from Abruzzo
Up to discover some of the best and undisclosed wineries of Abruzzo? Let local expert guide you to the discovery of the wine scene in Abruzzo. Check out our wine trip planning and tour.