Bossanova Winery Controguerra – When Music Meets Awesome Biodynamic Wines in Abruzzo
The Bossa Boys…Andrea & Nat, two young souls with a passion for music and a dream in common…be winemakers!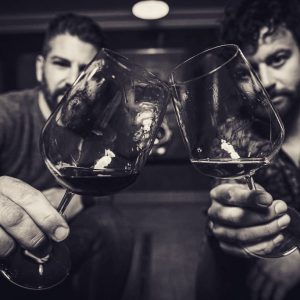 History of Vini Bossanova
In 2018 Andrea & Natalino first met and was love at first sight! With a dream in common (be winemakers) and connected by the passion for music, the decided to embark this adventure made of true wines, music and awesome events. We've to say that their wine history starts with Andrea's Nonno who had been making wine for 40 years and left this fortune (the oldest vineyards) to the Bossa Boys.
If you want to discover more about the Bossanova winery, check out our in-depth interview on our video interview below.
Bossanova Wine – The Winest
Trebbiano d'Abruzzo DOC – 2500 bottles per year
Cerasuolo d'Abruzzo DOC – 3500 bottles per year
Montepulciano d'Abruzzo DOC – 3500 bottles per year
Montepulciano d'Abruzzo DOC "IL BOSSA" – From the oldest vines of Montepulciano, only 1300 bottles are made. With 20 months of rest in concrete tanks and at least 6 months in bottle
Not Just Wine – Music & Fun
Tasting their biodynamics wines is cool, but experiencing one of their events is something unique. Andrea & Nat are young (fun) and have a deep passion for music! All their events will have live music either played by them or by awesome music bands.
View this post on Instagram
We're very proud to have the Bossanova boys next to our home and to visit them quite often with our guest for wine tastings. We look forward to join the next amazing summer events.
Bossanova Winery Map
On you visit to Abruzzo, the Bossanova doors are always open, and trust me you will have a fantastic experience, drinking fantastic wines and sharing long lasting memories.
Simply follow the google maps direction for, Contrada Pignotto, 87, 64010 Controguerra TE
Nat speaks English very well so you won't have problems for the tastings, but you can always explore them and other wineries nearby with our help.
Contacts
Phone: +39 346 950 4581
Discovering the Best Wine Tours from Abruzzo
Up to discover some of the best and undisclosed wine tours of Abruzzo? Let local expert guide you to the discovery of the wine scene in Abruzzo. Check out our wine trip planning and tour.