Abruzzo in December: Travel Tips, Weather, Food & Wine
Abruzzo in December – At a Glance
Abruzzo in December – What to Expect
Is Abruzzo crowded in December?
December is a quiet month for tourism. Therefore accommodation is quite readily available and affordable during the festive season. 
Weather in Abruzzo Italy in December 
With Abruzzo's varied geography, you have two distinct climates. The 'maritime' coastal climate and the 'continental' climate of the interior mountainous area between 500-700 meters (1640-2296ft).
Along the coastline in the maritime area and you can expect temperatures of 12°C-16°C (54°F-68°F) with more humidity and rainfall while the continental climate average temperatures range from 8°C-12°C (46°F -54°F). This area is more likely to get snowfall, which makes conditions great for skiing/cross-country skiing enthusiasts. Expect a favorable climate for these outdoor activities between December and the beginning of April.
What to pack for Abruzzo in December?
Bring your Gortex and puffy coats! A warm impermeable jacket/windbreaker over layers is good for sunny yet cooler afternoons along the coast. As a wardrobe staple hiking shoes, and suitable trekking gear are best if you plan to visit the National Parks and explore over more rugged terrain. And just in case, don't forget your umbrella or perhaps a compact rain poncho you can stuff in a handbag or pocket during wanderings around villages and cities.
What to Wear in Abruzzo in December?
For the beach and coastline 
You'll still need to dress warm even along the coast as you'll find the temperatures can be quite crisp. However there are days along the coast where the sun is bright, the skies are clear and we can leisurely enjoy the warmth of the sun with our coats unzipped. 
For the countryside & hills
It's best to wear long sleeves. A sweater and jacket, or dressing in layers, and definitely some well-soled sneakers or trekking shoes for more comfortable walks.
For the mountain 
Good trekking shoes are always a must and bring along, a backpack and enough layers to keep you dry and warm. For hiking, suitable wind-proof, mountain-sport clothing for the season is advised and don't forget standard essentials like hat, small binoculars (if you have any) to enjoy some birdwatching. Within the three Abruzzo National Parks you're bound to come across eagles, falcons, and maybe even bears, wolves and other resident wildlife.
Prices in Abruzzo in December
As summer tourism has come and gone, accommodation prices are very reasonable at this time. 

Foods in Season in Abruzzo in December
Fruit, Vegetables & Nuts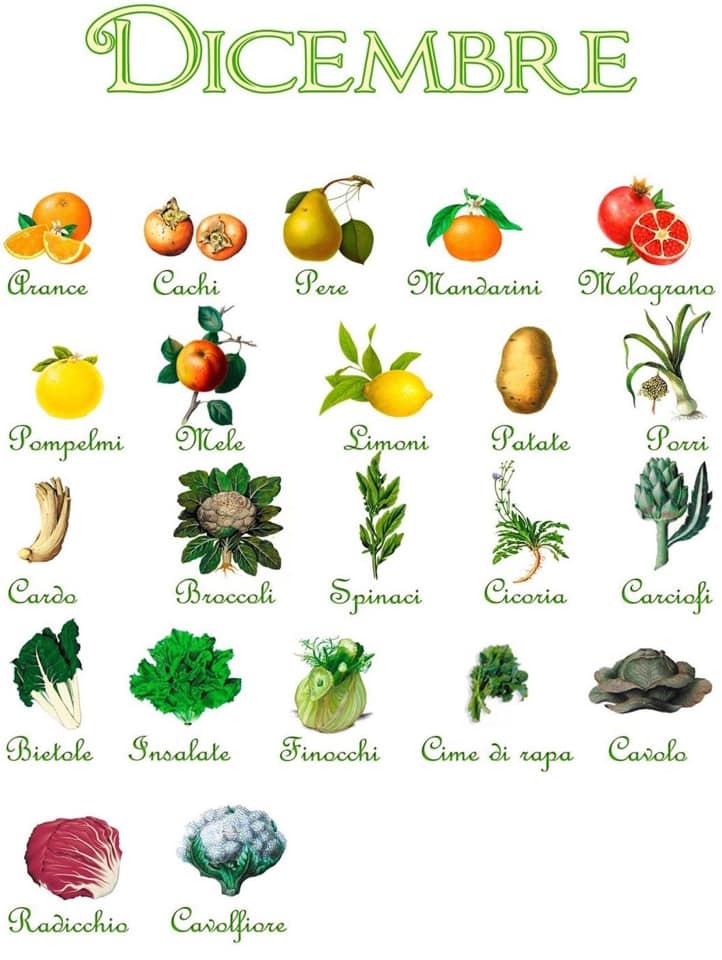 Beetroot, swiss chard, artichokes, thistle, carrot, brussel sprouts, cabbage, turnip greens, onion, tarragon, chives, fennel, mushrooms, lettuce, olives, potatoes, pepper, leek, parsley, radicchio, turnips, spinach, oranges, chestnuts, clementines, apple, pear are some of the seasonal fruit and vegetables in Abruzzo and Italy.
Wild Game
Abruzzo sprouts a variety of wild animals within its vast parks. Dicember is the perfect season to find wild game offered in restaurants, especially the 'cinghiale' wild boar.  
Truffles in Abruzzo in December
December is the season for white truffles (Magnatum Pico), the 'Uncinato' and also the beginning for the 'Nero Pregiato'. If you want to learn all about truffles, you should read the essential guide for truffles in Italy.
If you already know truffles, you can indulge yourself with some truffle delicacies from the earth of Italy.
Eating Well and Traditional Dishes from Abruzzo to enjoy in December
During December and in the holiday season, shopping in Abruzzo is focused on food. Much more food is bought in Abruzzo than in other regions in Italy. It's true! The Abruzzesi will spend 294 million euros on food and drinks, 49% more than the annual average! There are so many traditional meals to fill your belly and satisfy your hunger during December. Here are a few dishes typically found on an Abruzzesi table during the holidays…

Abruzzo Traditional Christmas Dishes
Zuppa di cardo' or Cardoon soup, is made from thistle stalks which are known as 'Christmas greens', It is typically served during lunch on Christmas Day.
Despite it could be considered light compared to other holiday fares, it's actually very filling and rich in flavor.
Not just a dish for all-year-round 'scrippelle', or 'crespelle' mbusse are also traditional during the christmas holidays. These delicious crepes are filled with parmesan and served in hot broth of poultry and meat. This is one of our favourites and Nonna Amina's signature dish.
The classic antipasti cannot miss on the table. Let's star the day with the one-year aged lonza (loin), prosciutto and pecorino cheese.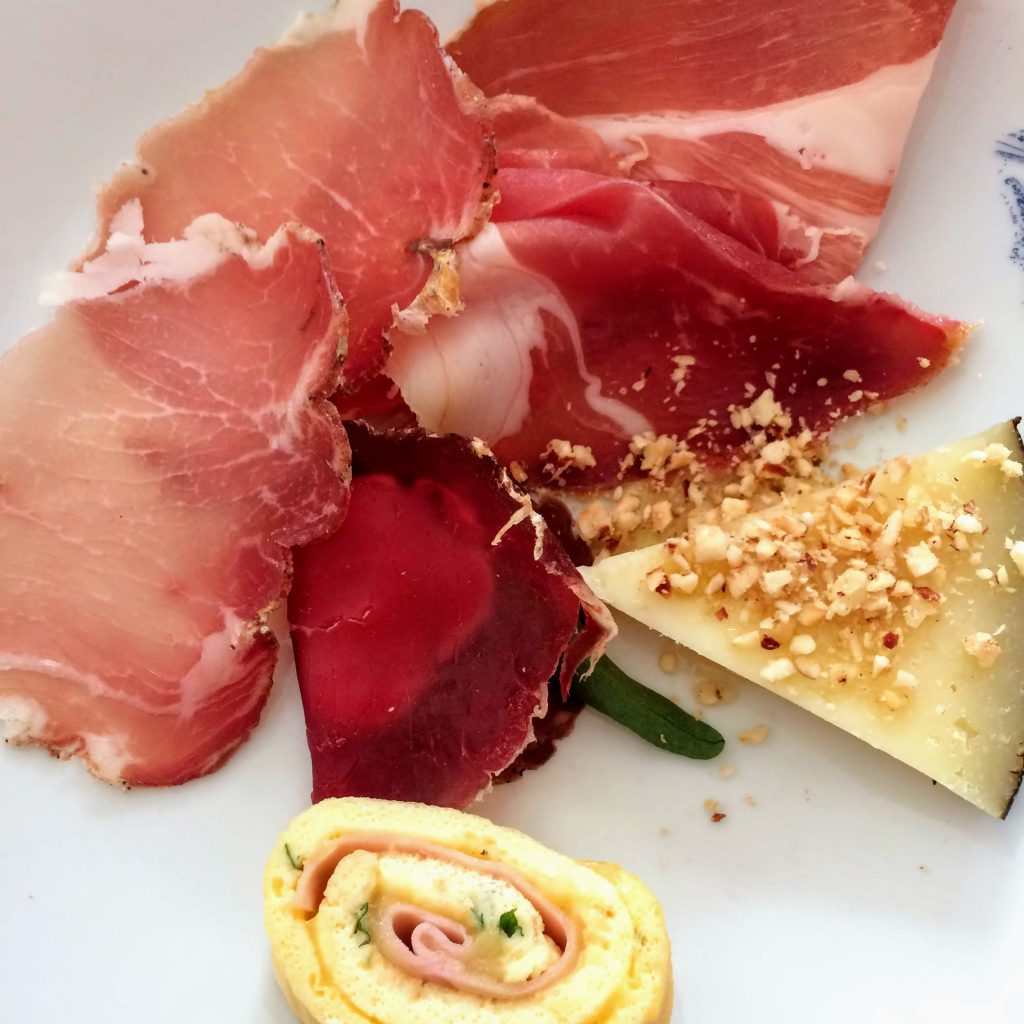 And why not some 'Olive all'ascolana', although originally from Ascoli Piceno are widely used and part of the tradition in the teramo province as very close to Marche region border.
Did you say 'secondo'? Sii! On our family is tradition to make roasted lamb and chicken and potatoes. Nonna Amina is responsible to cook it.
'Baccalà fritto in pastella' is simply a dried and salted cod which is battered and pan-fried to a golden brown. But eat them while they're hot as that's when they taste the best!
Abruzzo Traditional Christmas Pastry and desserts
Sfogliatelle, bocconotti, pepatelli, calcionetti, parrozzo, mostaccioli, uccelletti ripieni, pizza dogg, the list is infinite.
Do you kown bocconotti? Either ways have a look at the video and check out the traditional bocconotti and the version with the Ratafia, the Abruzzo's sour cherry liquor.
'Parrozzo' is a traditional cake so revered that even famous Italian poet Gabriele D'Annunzio wrote about it; La Canzone del Parrozzo' or 'Song of the Parozzo'. Made from corn flour, this traditional dessert is also topped with rich dark chocolate.
Sweet ravioli you say? Caggionetti are the perfect conclusion to an Abruzzesi meal. 
The Best Year-round Dishes from Abruzzo
On offer all-year round these delicious and hearty Abruzzo 'must-trys'
Nothing fills your belly like 'Porchetta', the region's famous slow-roasted suckling pig. You can find it in throughout Abruzzo, especially during the farmers' market days. Enjoy it inside a crunchy panino (ask for the 'crosta' crust) and don't fofget to wash it down with a bottle of sparkling lemon soda 'gassosa' from

Campli

.

'Arrosticini', Abruzzo's tender, char-grilled mutton and/or lamb skewers is a must-try and you certainly can't just eat one!

'Chitarra con pallottine' – Handmade thin squared spaghetti which is Abruzzo's national dish,. It's made fresh with a guitar-like instrument! We make it at home!

Join Nonna & Marino

in the kitchen to make this fresh and delicious traditional pasta. 
Traditions in December
Salami, Salsiccie & Prosciutto
December is the time for home-made meats that are going to dry for few months or for years in case of Prociutto (ham).

Things to do in Abruzzo in December
Although in Italy various stages and levels of lockdown is implemented and travel may be limited during these current periods, you can still plan ahead!
Gift yourself an overall unique experience…Visit our large traditional home-kitchen to make Spaghetti 'alla Chitarra', organise a tour to visit our bee-farm, make cheese at a local farm, taste the best wines from Abruzzo, or even meet the locals at the weekly farmers market.
If you're looking for a custom-designed personal experience in the Abruzzo region, we can help – don't hesitate to drop us a line.
For more on the best festivals in Abruzzo in December keep reading below!
Abruzzo scheduled activities December
Food & local Festivals in Abruzzo in December & Current Events
December is a month for Christmas markets! Locals will flock to festive markets Campo di Giove, Avvezano, Pacento, Mannopello, L'Aquila, Pescara, Roseto degli Abruzzi, to name a few!
Let's have a look at what Abruzzo offers annually in December! 
Every year Avezzano's 'Christmas Magic Market' presents beautifully decorated and festively lit stalls with handmade crafts, an ice skating rink, children's entertainment, food, sweets and mulled wine, while Campo di Giove Market features fine artisan and gastronomic products from the region. 
Magical Manoppello Scalo's 'Feast of all Saints' includes dancing, nativity scenes, and a visit by Santa Claus, while Tornareccio comes alive with entertainment, workshops for kids, music, handicrafts, sweets and traditional Abruzzesi dishes.
Pescara's Market in the town center hosts festive events, shows, and marvelous Christmas lights displays, with a special visit from Father Christmas himself! Further north In Piazza Re di Puglia at Roseto degli Abruzzi, Abruzzo tradition meets Northern European culture in this festive fusion event of crafts and delicious culinary offerings.
For a very special holiday experience, you can enjoy a historic train journey on the 'Trans-Siberian' of Italy which winds through some of the most stunning natural landscapes of Abruzzo. No longer used for regular train routes, this panoramic railway organizes schedules on 2 routes, specifically for festive excursions departing from Sulmona, then stopping at Campo di Giove and then finishing in Rocarasso or Castel di Sangro. During your journey, you'll enjoy breath-taking views of the Majella Mountains and National Park, and be able to hop-on/hop-off to explore the region's traditional Christmas markets and take in beautiful, festive light displays in the towns.
Routes are as follows, including return trips:
Sulmona-Campo di Giove-Castel di Sangro
Sulmona-Campo di Giove- Rocarasso
Here are a few other events scheduled annually for the month of December:
First weekend of December – I Faunghi (Fire festival)- Atri (Teramo)
Sant'Egidio alla Vibrata (TE): Festival of Children's Songs "Fiore d'Oro"
Trasacco (AQ): Festival of Potatoes and Sausages
More events and festivals are coming! Sign up to our newsletter to stay up to date.
Why should you visit Abruzzo in December, or at all?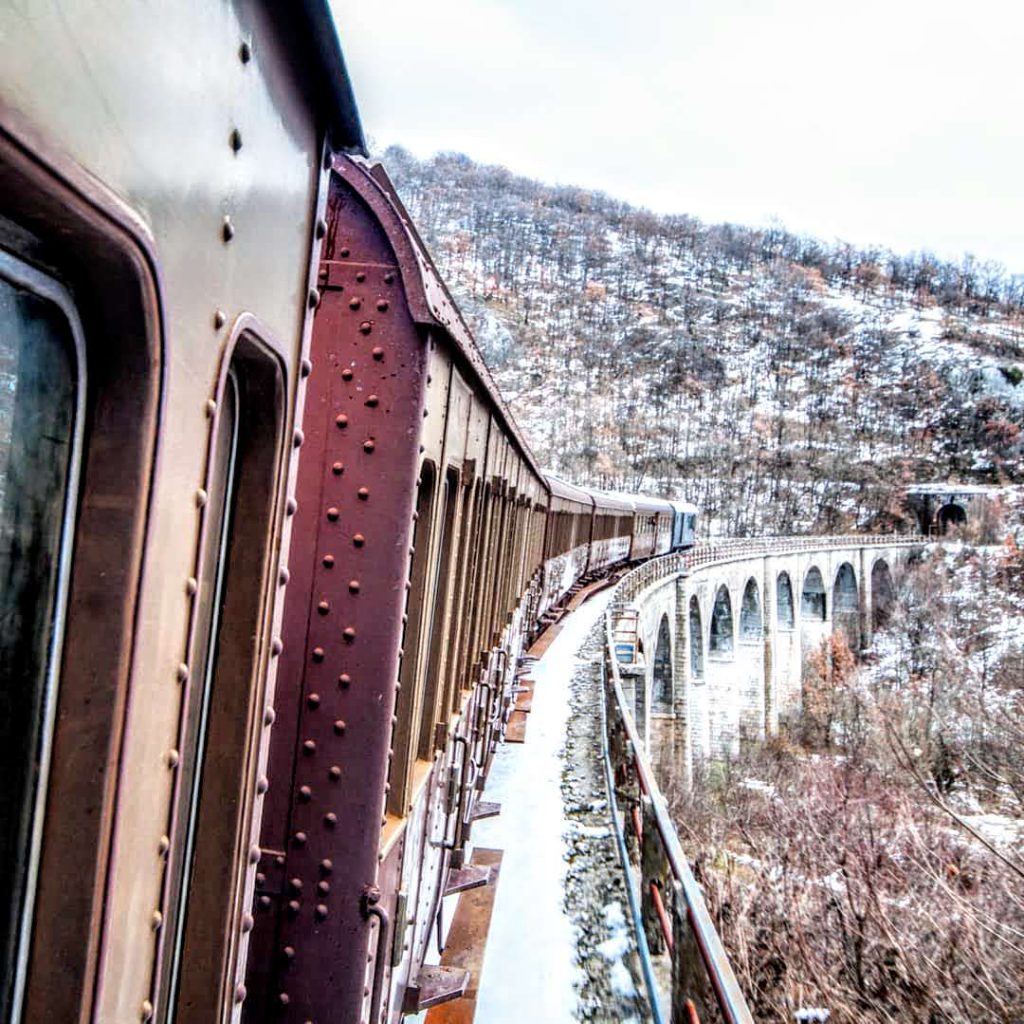 December is a great month to attend the many events of the holiday season. There is so much to discover aside from what Abruzzo already has to offer. From traditional Christmas fare, music, performances, artisan crafts, the Trans-Siberian Italy railway, and if you are travelling with children there are plenty of activities to keep them entertained!
Contact us today for a Private Authentic Abruzzo Experience.