Necropolis of Campovalano Abruzzo, Italy
[vc_row type="in_container" full_screen_row_position="middle" column_margin="default" scene_position="center" text_color="dark" text_align="left" overlay_strength="0.3″ shape_divider_position="bottom" bg_image_animation="none"][vc_column column_padding="no-extra-padding" column_padding_position="all" background_color_opacity="1″ background_hover_color_opacity="1″ column_link_target="_self" column_shadow="none" column_border_radius="none" width="1/1″ tablet_width_inherit="default" tablet_text_alignment="default" phone_text_alignment="default" overlay_strength="0.3″ column_border_width="none" column_border_style="solid" bg_image_animation="none"][vc_column_text]Have you ever visited a necropolis? In the small town of Campovalano within the municipality of Campli, in Abruzzo, there is one of the most important Necropolis of Central Italy, with tombs dating from the 10th century BC (late Bronze age) until the 2nd century BC (Roman conquest). These tombs were used by pre-Italic populations, the 'Pretuzi' (Pretuttii), a small tribe belonging to the larger group of 'Piceni' (Picenian) who were mainly living of their pastoral life.
Until now the archaeologists have excavated around 680 tombs and these excavations have made it possible to ascertain the great size of the necropolis and the wealth of the tombs. (According to the recent research, there shall be 20 thousand  tombs still uncovered).
Deep Connections
I have a special connection with this place, not just because I live here, but most importantly because of my Nonno (Grandfather). He discovered this necropolis during the late 70′, when he was working in the fields of the church with his cows and plow. For this reason, I know many exclusive stories he used to tell me when I was a child, and I will be more than happy to share them with you.
Guided by a local archaeologist
Our tour here was accompanied by my local friend & archaeologist who showed us the exclusive skeleton rests from a tumb of about 3000 years ago.
In a few words, it is a magic place, little known even by locals. Allora, do not miss it!
Tumulo Multimediale
Unlike pyramids, it was not possible in the past to go inside the tombs, therefore a 'Tumulo multimediale' was built. It is a realistic recreation of the tomb to allow visitors to explore it from the inside and see how the body and artifacts were placed.
King or Warrior?
The reconstruction is of an exceptional big tomb with a diameter of 25 meters, the largest one found in Abruzzo. Only one person was buried here, supposedly the 'king' or a 'warrior', anyways someone of high importance. Also, they also found here a chariot, a huge terracotta amphora, and other exclusive artifacts. Inside the tomb, it is possible to admire the pictures of some of the artifacts found & archaeological works during the seventies.
Archaeological Museum of Campli
Part of the real artifacts can be found at the local museum of Campli, just 3 minutes drive from the Necropolis. If you are interested in history, this is a must-go place.
Opening hours
Necropolis
Monday to Friday: from 9:00 to 15:00
Satordays: from 9:00 to 13:00
Sundays: Closed
Free entrance
Archeological Museum 
Tuesday-Sunday from 9:00 to 19:30
Closed on Mondays
Entrance 3€ for adults – 1€ for kids
Take me to the Necropolis
The Best Events nearby Campovalano
Truffle Festival
Sagra del Tartufo di Campovalano is one of the best food festivals in Abruzzo. The Truffle Festival in Campovalano is a must go. Locals from all over the region come to this festival to taste exclusive truffle based meals every year during the second week of July. What you can find here? Big portions, amazing quality, lots of truffles, fast service despite the queue, and ridiculously low prices, like 6-7 € for a huge portion.
When: 2nd week of July every year
Where: Campovalano (Province of Teramo)
Avg. price: 6€
Craft Beer Festival Civitella del Tronto
Taste lots of local and international craft beers and walk through the narrow streets of the ancient town of Civitella del Tronto: did you find the narrowest street of Italy?
When: 3rd week of July every year
Where: Civitella del Tronto
Avg. price for a beer: 3€
Craft Beer Festival Castellalto
The best Craft Beer Festival in Abruzzo and beyond. More than 200 craft beers, local and internationals to taste through 7 nights. Accompanied by live music and food stalls placed in the different parts of the medieval town.
When: 4th to 10th of August 2019 – from 19:00 to 1:00
Where: Castellalto (Province of Teramo)
Avg. price: 3€
Porchetta Festival
The ancient 'sagra' (festival) of Abruzzo. More than 20 'Maestri porchettai' (porchetta's artisans) fight to win the aspiring contest to win with the best porchetta of Abruzzo.
When: 3rd week of July​
Where: Campli
Avg. price: 3€
Virtù
The 'Virtù' is a traditional dish made in Teramo, in Abruzzo only on the day of 1st May. This ancient 'minestra' (soup), is prepared by following an ancient complex recipe (i takes 3 days to make it), believed to be propitiatory, so much to intrigue foodies, chefs, and anthropologists from all over the world.
Made up of about 50 ingredients among different types of beans, legumes, chickpeas, seasonal vegetables, wild herbs, cut of meats all carefully prepared, and cooked separately. A propitiatory dish to clean the pantry and welcome the warm season.
When: 1st of May
Where: Different restaurants in Teramo – I plan to organize a 7-10 day Tour where we will be preparing the dish and exploring the region, contact us for more info.
Avg. price: 25€
9 Places you should not miss nearby Campovalano
1. Campli & the Holy Stair
Recently awarded as 'one of the most beautiful hamlets of Italy'. Located amongst the mountains of the "Gran Sasso & Monti dell Laga" National Park and the Adriatic coast in Abruzzo. Also, holding one of the 3 Holy Stairs in the world.
2. Civitella del Tronto
It is one of the most beautiful hamlets in Italy. Civitella del Tronto secretly holds the narrowest street of Italy and it is famous for its fortress. The fortress was built by the Spanish and now it holds the primate to be the second-largest fortress in Europe.
3. Teramo
Teramo was once an ancient Roman city: it still holds its ancient Romani ruins, architectural and artistic treasures. Have a look at my blog post on Teramo to discover more.
4. Castelli
The Metropolitan Museum in New York, the Louvre in Paris, and other international museums collect the Castelli Majolica ceramic, which is one of Italy's most important ceramic traditions. You can visit the workshops of some of the fifty Artigiani, as well as the ceramic museum and the stunning 'Sistine Chapel' of Castelli, a whole church covered by hand-made ceramic tiles from the 15th & 16th century.
5. Controguerra & Torano Nuovo
Hilltop villages are famous for wine production.
6. Giulianova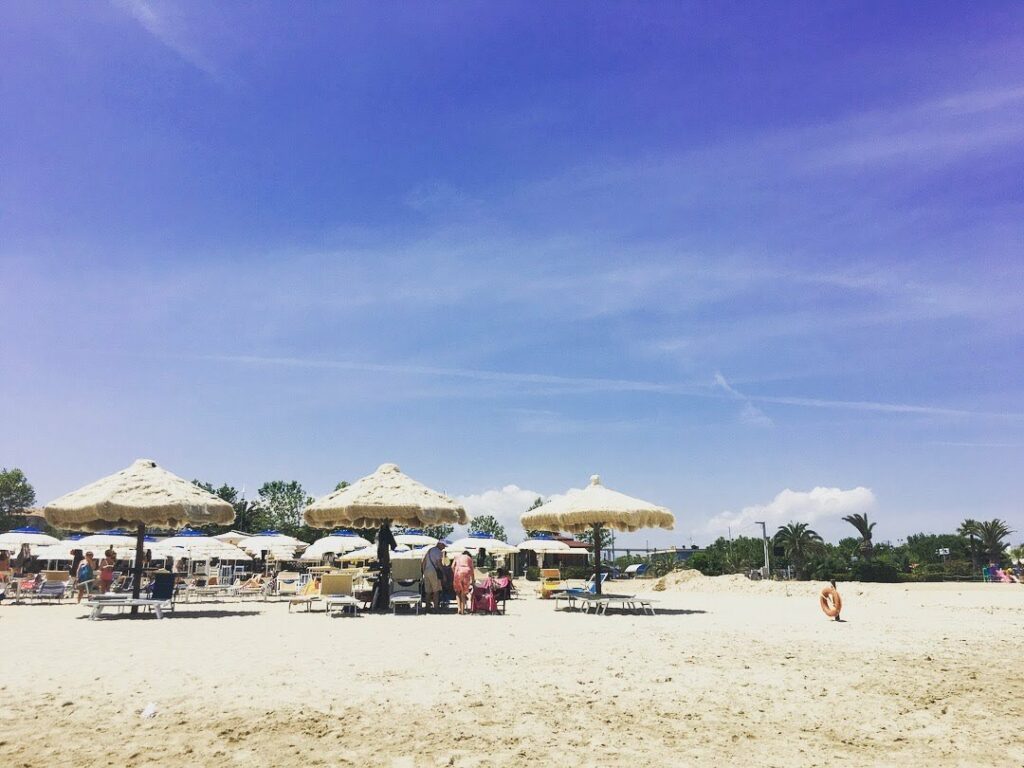 Giulianova 'alta' (at the top) is a hilltop medieval town with narrow streets and beautiful decor. Meanwhile, Giulianova 'bassa' (at the bottom) is famous for its fishing harbour and 'lungomare' (seafront).
7. Montorio al Vomano
Small hilltop village is full of history and excellent family-owned food & craft artisans.
8. Campotosto
Famous for its amazing lake and nature.
9. Amatrice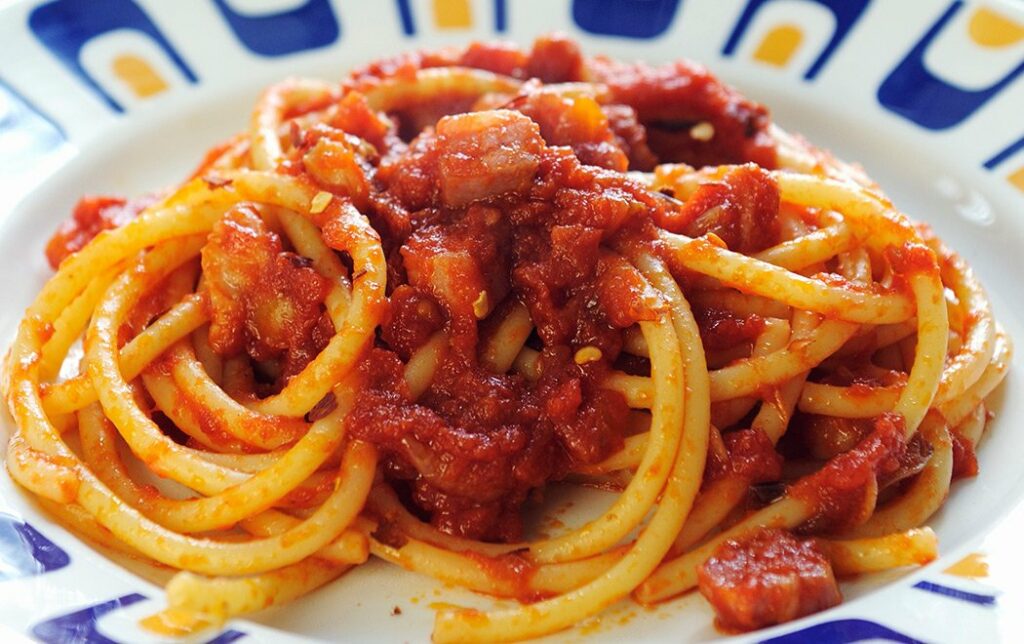 Once it was part of Abruzzo, but now belongs to the Lazio region. You can taste here the town's famous spaghetti or to be more specific, the  'Bucatini alla Amatriciana', as well as its guanciale (pork's cheek). Unfortunately, the town is under reconstruction due to the recent earthquake.
If you are looking for organizing your trip to this area of Abruzzo, please do not hesitate to get in contact with me.
With Amore From
Marino Cardelli[/vc_column_text][/vc_column][/vc_row][vc_row type="in_container" full_screen_row_position="middle" column_margin="default" scene_position="center" text_color="dark" text_align="left" overlay_strength="0.3″ shape_divider_position="bottom" bg_image_animation="none"][vc_column column_padding="no-extra-padding" column_padding_position="all" background_color_opacity="1″ background_hover_color_opacity="1″ column_link_target="_self" column_shadow="none" column_border_radius="none" width="1/1″ tablet_width_inherit="default" tablet_text_alignment="default" phone_text_alignment="default" overlay_strength="0.3″ column_border_width="none" column_border_style="solid" bg_image_animation="none"][vc_raw_html]JTNDc2NyaXB0JTIwY2hhcnNldCUzRCUyMnV0Zi04JTIyJTIwdHlwZSUzRCUyMnRleHQlMkZqYXZhc2NyaXB0JTIyJTIwc3JjJTNEJTIyJTJGJTJGanMuaHNmb3Jtcy5uZXQlMkZmb3JtcyUyRnNoZWxsLmpzJTIyJTNFJTNDJTJGc2NyaXB0JTNFJTBBJTNDc2NyaXB0JTNFJTBBJTIwJTIwaGJzcHQuZm9ybXMuY3JlYXRlJTI4JTdCJTBBJTA5cG9ydGFsSWQlM0ElMjAlMjI1MjczMzY2JTIyJTJDJTBBJTA5Zm9ybUlkJTNBJTIwJTIyZmVmMTEwNTUtNTRhZC00MTM3LWEzM2MtN2YwYzQ5MTEwOGIxJTIyJTBBJTdEJTI5JTNCJTBBJTNDJTJGc2NyaXB0JTNF[/vc_raw_html][/vc_column][/vc_row]