6 Things to Do When you Travel to Abruzzo: Italy's Idyllic Destination
Abruzzo in Central Italy has always been a destination–at least to those who knew about it–mainly Europeans. But now, Abruzzo is in the center of an international travellers boom as more and more people search for idyllic destinations. 
And what luck, Abruzzo has it all! This region, which is so much more different from modern Italian cities and has the most beautiful winter season, has lakes, mountain ranges, medieval towns, and even a UNESCO heritage site! 
You can't lose when visiting Abruzzo, and with that, here are what you can expect and do as a traveller in this incredible idyllic destination in Central Italy. 
1. World-Class Wine
Abruzzo natives boast a world-class cuisine, from wines to pasta to seafood. Initially, Europeans visited this region for its national parks and winter skiing, but recently, locals began to understand the quality of food and wine selection as another hook for visitors.
Abruzzo's wine production is spread across the 4 provinces: Teramo, Chieti, Pescara & L'Aquila. It is famous for its red Montepulciano d'Abruzzo, which is made with the Montepulciano grape. The most common grape varieties together with the Montepulciano d'Abruzzo are the: Trebbiano Abruzzese, Pecorino, Cococciola, Montonico (used mostly for sparkling wines), Passerina, Pergolone and Moscatello di Castiglione. Bought already your plane tickets, the you should definitely tour the most authentic wines & wineries of Abruzzo.
2. Award Winning Extra Virgin Olive Oil
Aside from fantastic wines, worth a consideration are the award-winning extra virgin olive oils. Many people, especially Italians thinks that Abruzzo is all a rural and mountainous area. Although this is in part true, with 65% of the territory covered by mountains, the remaining 34% of the rolling hills is shared by grapes and olive trees. In fact, Abruzzo is the 5th region in Italy for Extra Virgin Olive (EVO) Oil production. There most common cultivars in Abruzzo are "Leccino", "Dritta", "Gentile", "Troccolana" are "Intosso"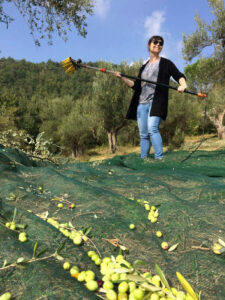 There are 3 recognised DOPs in Abruzzo:
the "Aprutino Pescarese" in the province of Pescara
the "Colline Teatine" in the province of Chieti
the "Pretuziano delle Colline Teramane" in the province of Teramo
And lots  Slow Food recognised EVO oils: "Intosso di Casoli", "Olivastro di Bucchianico", "Monicella", "Cucco", "Rustica", "Intosso", "Nebbio", "Monicella" and "Crognale". If you love EVO oil, you should definitely take part in a local olive harvest experience.
3. Pasta, Meat, and Seafood Cuisine
Abruzzo is strategically placed surrounded by mountains and seas, which means that the locals primarily live on fishing and farming. Inland cuisine, which is prominent in legumes and meat, differs from the coast, which offers a wide variety of seafood. Abruzzo is primarily known for its thin, salted, and flame-grilled mutton skewers, 'arrosticini' that travellers need to experience when visiting the region. If you're not yet an Arrosticini lover, you will definitely become one after watching this video below.
View this post on Instagram
This region boasts a long history of pasta-making, more prominently handmade spaghetti alta chitarra for over 200 years. This type of egg pasta is produced through a wooden contraption that has guitar-like strings made with stainless steel. You can make this pasta at home of a 85y old granny.
4. Pristine Waters 
Abruzzo is situated in the Adriatic coastline, with Chieti and Teramo receiving the Italian blue flag ratings for their pristine waters. The locals' main beach destinations are Ortona and Pineto, with the latter famous for its sandy beaches and pine trees. 

ortona's castle

To the south of Chieti, the Roman fishing village of Vasto shows off its characteristically medieval town that overlooks the sea. In San Salvo you can book a boat tour and visit the Trabocchi Coast and the Tremiti Island.
5. Idyllic Medieval Towns
Abruzzo is called Italy's greenest region since it hosts a couple of national parks and towns that dramatically sit off cliffs or on the foothills of mountain ranges. Towns like Pescasseroli, Santo Stefano di Sessanio, Civitella del Tronto and Tagliacozzo are some of the medieval towns that boast stunning scenery and an authentic regional experience.

civitella del tronto, medieval village

Some of these towns even have castles! Rocca Calascio has a watchtower built in the 10th century and still stands as the highest fort in Italy today. 
6. The Majella Geopark (UNESCO World Heritage Site)
View this post on Instagram
The National Park of Maiella with the name of Majella Geopark in April 2021 becomes a unesco World Heritage site for its special characteristics that combine geology, biodiversity, the historical presence of man and all the culture developed over time.
The Last Stop
This Italian region, Abruzzo, boasts so much more destinations than what are included in this article. Now it's up to you, adventurer, to explore them! With the beautiful, sandy beaches, and the idyllic medieval towns, I know I'd want to visit this place!
Still unconvinced about the beauty of Abruzzo? Experience BellaVita can show you more. We arrange tours for visitors to experience the authentic Abruzzo in all its glory. Meet the locals, visit national parks, medieval villages, eat local cuisine, and see cultural traditions in detail with our packages. Let's build memories together, get in contact with us and receive local insights.