Can I travel to Italy right now: How to get the right information on travel restrictions
Can I travel to Italy right now?
How to get the right information on travelling to Italy from the US, Canada, the UK, EU… and pretty much everywhere else!
Have news reports and a mass flow of info got you confused? Do you just want to know if there are travel restrictions to Italy from USA, Canada and UK and other countries, what you should do, and most of all; 'When can I travel to Italy?!'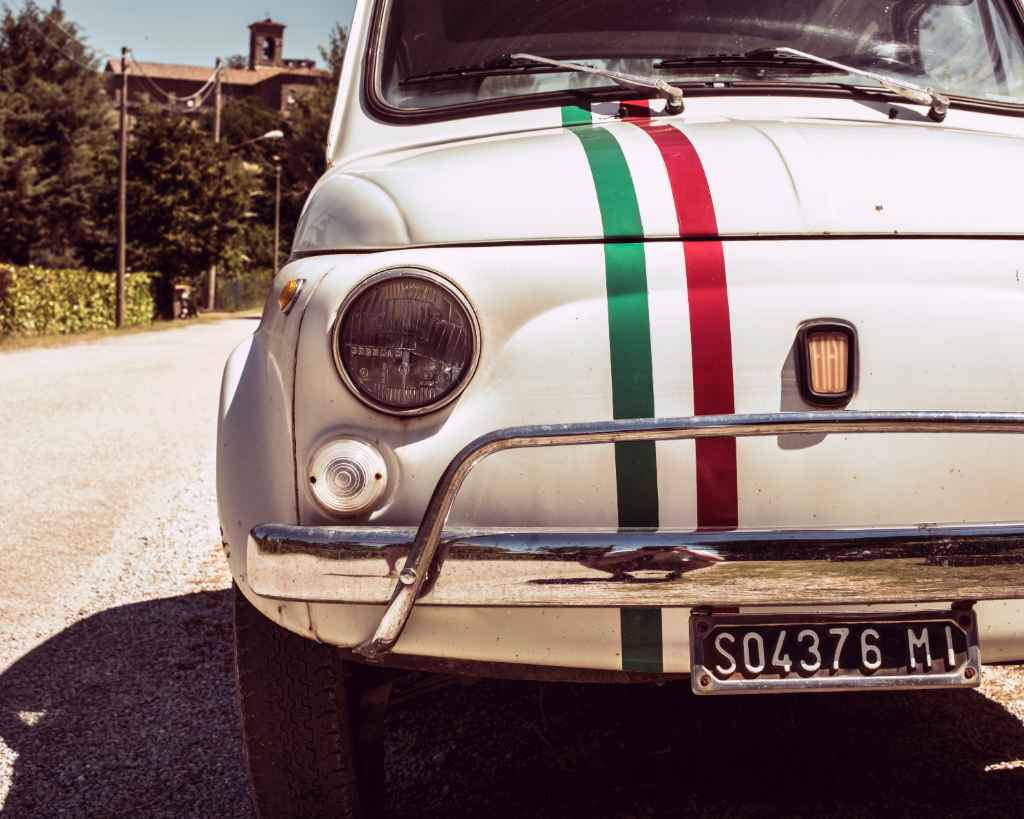 Let's try and make sense of this shall we!
What are the travel restrictions to Italy during COVID?
When Can I travel to Italy?
During this past year with the spread of COVID-19 around the world and various regulations in place to curb the spread, have you been waiting in anticipation for the day you can once again make plans for an enjoyable holiday? I think for most of us explorers-at-heart this is definitely the case!
Will I be able to travel to Italy this summer?
The answer is: Yes! You will be able to fly to Italy this summer 2021!
Where do we look to find the best and most up to date news on travelling to Italy during COVID 19?
We've put together some travel information and links for our American, Canadian, British friends (and others!), for travelling safely to Italy from America, Canada and UK, plus getting back home, and also for Italians that want to travel themselves, all from Italy's official sources! These links direct you to the official state websites that are detailed and frequently updated – if and when regulations change!
Can I travel to Italy from the UK?
YES! Travelling to Italy from the UK is possible and also from the EU, Schengen area and Israel. Italy has applied health regulations for visitors, which may vary depending on their home-country. If you're coming to Italy from the UK, EU, Schengen area or Israel you don't need to quarantine provided that you had a molecular or antigenic swab taken no more than 48 hours prior to entry and your result was negative.
BUT double-check and cover all your bases just in case!…
Via a short Q&A on the government's website COVID-19 SURVEY (viaggiaresicuri.it)
AND specific info at viaggiaresicuri.it, you can find out exactly what you need to do to enter Italy from your country so you can be prepared with anything you need to present to the border officials.
But I'm American, how can I travel to Italy?!?!
When will americans be able to travel to Italy
Can Canadians travel to Italy too?
Am I even allowed to travel to Italy from Canada or the USA?!
Yes!
It's possible!
Don't Panic!
You can actually enter Italy for any reason, provided you follow the rules!
According to the latest news: Canada, Japan and the United States of America currently are now required to take a Covid-19 swab test within 72 hours prior to entry.
The authorisations for Covid-tested flights have been extended to the following Countries: Canada, Japan, United Arab Emirates and United States of America.
As we know, regulations can change! Be sure to visit the government website:Info Covid ViaggiariSicuri and complete the simple questionnaire for the latest updates to see what you need to do before you go.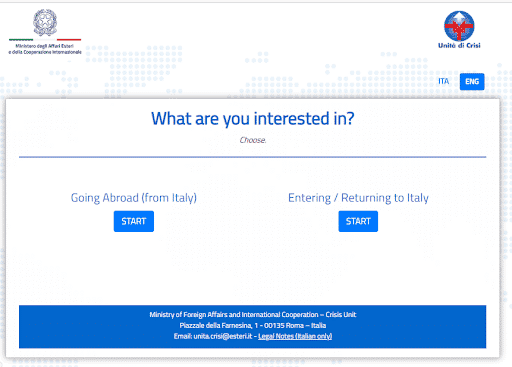 After you're finished, you you'll know if there are any restrictions for travel to Italy from your country, plus the documentation you will need present to border officials and any conditions for when you arrive.
QUICK QUESTIONS:
Do I need covid test to fly?
YES!
Do I need to quarantine when arriving in Italy?
It will depend on the country you're flying from, some countries – no. Again check which ones by completing the simple government questionnaire at:
COVID-19 QUESTIONAIRE (viaggiaresicuri.it)
DO I need to quarantine if I'm flying back home to Italy from abroad?
Again, it will depend on the country you're flying from. Italian nationals and residents returning to Italy and foreigners residing in Italy can check the frequently asked questions at Esteri.it  and also at Viaggiare Sicuri
Do I have to wear a mask?
YES. In most cases. In some regions you will need to wear a mask more often than others.
For the most up-to-date rules pertaining to masks, using public transport, travelling by car, beaches, various public spaces and businesses, and understanding Italy's coloured 'risk zones' check the National Tourism Agency website
Here in Italy our government is working hard in conjunction with localities to ensure that companies and tourism professionals can guarantee safe services and environments for visitors and customers. Mutual cooperation and compliance on both sides is important and it's the only way to make sure everyone can stay safe. Taking responsibility respecting others and Italy's landmarks, culture, history and traditions is our gateway to future travel. This industry is a big art of our economy and helps tourism businesses thrive, provides employment and supports our families.
Some simple COVID-19 rules to follow while travelling in Italy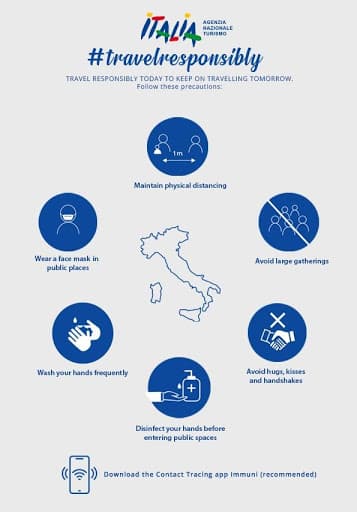 The Immuni App is an import resource if you're travelling to Italy from the USA, UK or Canada!
All foreign citizens who arrive in Italy can use the Ministry of Health's Immuni App, which helps to limit the spread of COVID-19. It can track contacts between people and warns users that may have been exposed to the virus.
The app consumes very little energy and works with Bluetooth Low Energy Technology. It's safe, anonymous and doesn't involve your identification or geographic location. It was developed under the supervision of the Italian privacy guarantor and it only keeps data in encrypted form on Italian servers.
To read more information, check the government website on the Immuni App.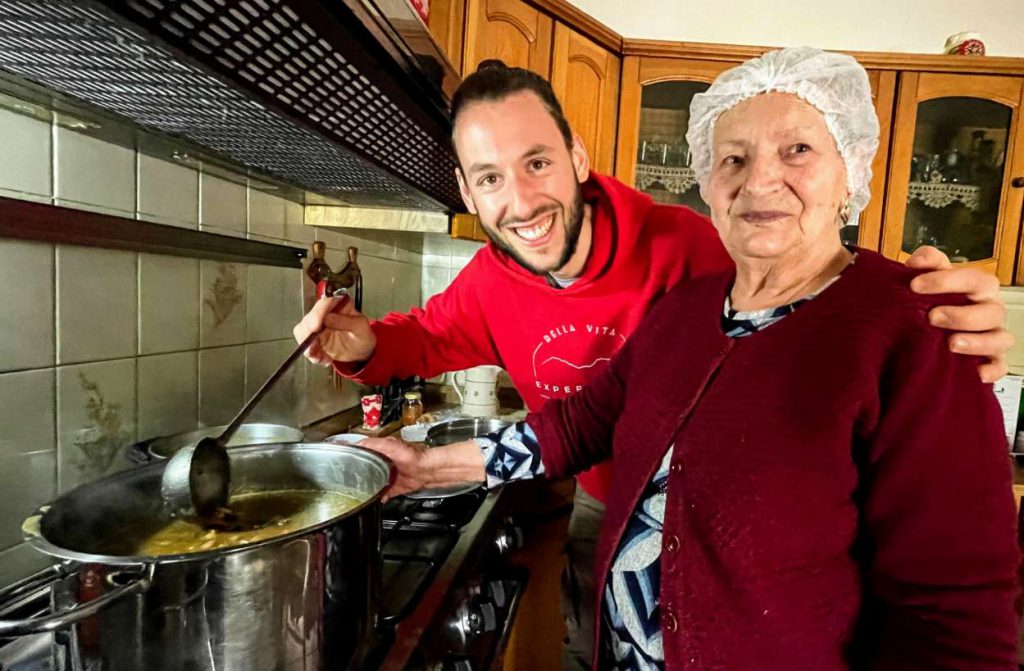 More than anything we've ever experienced in our lifetime, COVID-19 has changed our habits and lives, and as travel and border restrictions are loosening, awareness is crucial. We need to consider the effect that our behaviours have on ourselves as well as others and that everyone must do their part and behave responsibly.
Covid Tested Flights
Flights that have been marked as 'covid-tested flights' are those that were authorized by the Ministry of Health through a special ordinance.
Passengers on "Covid-tested" flights must do the following:
hand in a certification attesting to the negative result of the molecular test (RT PCR) or antigenic test, performed with a swab, to the carrier and whoever is in charge of carrying out the controls, no later than 48 hours prior to boarding,
Complete the Passenger Locator Form (PLF) – a digital dPLF must be presented before boarding.
Take another molecular (RT PCR) or antigen swab test upon arrival at the destination airport
As a result, airlines can now operate "Covid-tested" flights on the following routes as of today:
Atlanta – Rome Fiumicino
New York – Rome Fiumicino
Atlanta – Milan Malpensa
New York – Milan Malpensa
from Canada
from Japan
from United Arab Emirates
Visit the dedicated Ministry section to learn more about the requirements and the mandatory procedure.
Covid 19 Green Certifications
The Covid-19 green certification is a document that demonstrates:
that you were immunized against COVID-19,
that you recovered from infection with COVID-19, and
that you tested negative in a rapid molecular or antigen test
Vaccination certification is valid for nine months after the vaccination cycle has been completed: if the vaccine requires two doses, the nine-month validity period begins with the administration of the second dose. After the first dose, certification is also issued; in this case, validity begins fifteen days after administration and expires upon administration of the second dose.
The certificate of complete health recovery is valid for six months. COVID-19 negativity certification is valid for 48 hours.
In the absence of work, health, or proven urgency, green certification is required to move from one region of white or yellow to another region of orange or red color. In some cases, you may be required to have a green certificate in order to attend certain events or shows, such as sporting events in stadiums.
All subjects over the age of two years must be certified.
Travel Around Italy
The Italian government has introduced a classification of regions based on the colors white (low risk), yellow, orange, and red (maximum risk) to ensure the safety of residents and tourists.
Each color corresponds to a specific precautionary measure that governs movement within the region, movement between regions, and the establishment of businesses, restaurants, and cultural sites.
On the Ministry of health's website you can check at any time the updated colour classification of each region you're visiting.
Curfew in Italy
Current restrictions limit people to be outside only between 05:00 and 23:00.
As of 7 June 2021, you may be outside from 05:00 to 24:00.
As of 21 June 2021, there will be no time limits regarding mobility. Oh yeah!!
Public Places: Restaurants and other shops (in yellow zone)
Bars, pubs, restaurants, ice cream parlors, and pastry shops will be open as usual. They must post a sign stating the maximum number of people who are permitted inside at any given time.
Only outdoor table service is allowed in restaurants for both lunch and dinner. Unless they are cohabitants, a maximum of four people per table can sit together. Food can be delivered to your home before 11 p.m.
As of June 1, it will be possible to eat at a table even in indoor venues until the closing time specified by mobility regulations.
Restaurants in hotels and other hospitality establishments have no time restrictions as long as the service is limited to customers staying on the premises. This will mean if you're staying in an agriturismo you won't have time restrictions!
Be Informed
It's important to keep up-to-date if you're travelling to Italy this summer and beyond! Italy's National Tourism Agency have put out a guide on following regulations for getting around, and how best to enjoy your trip while following these guidelines. COVID-19 UPDATES: TIPS FOR SAFE TRAVEL.
Also, before travelling to Italy (or from Italy abroad), have a look at on the Ministry of Foreign Affairs' website.
And from your country specifically be sure to visit Info Covid Viaggiare Sicuri
Have a safe and happy holiday and we hope to see you in the Greenest Region of Italy